Taking the Lunch Bunch South With a Tex-Mex Menu
Each week, Catherine Borkowski, Registered Dietitian delivers a menu to me that outlines the food that I'll be enjoying in the next week for lunch. I try it a week before you get to and let me tell you – it's a pleasure to see your food future.
The Lunch Bunch next weeks takes you to Texas where you'll enjoy some border-based flavor-fusions. The presence of chipotle peppers and adobo-flavored chicken all with pops of lime and cilantro make this one of my all-time favorite weeks.
There are combo-plates, quinoa bowls and salads, all topped with one amazing sauce.
If you choose to use the meat-based protein, the chicken is beyond amazing. Inspired by This How Sweet It is recipe for Honey Chipotle Chicken Bowls.
With you pulled your chicken off of the grill or out of the pan, it's like the BBQ sauce I've always dreamed of: a little bit sweet, a little bit tangy and just enough kick.
Catherine uses a base of quinoa and lettuce to give the chicken a home throughout the week – all with a chipotle dressing that I could drink, but I will refrain from doing so because the dressing has a delicious kick of cayenne and I was not planning to do the master cleanse this week.
The quinoa bowl, packed with veggies and more was filling and delicious.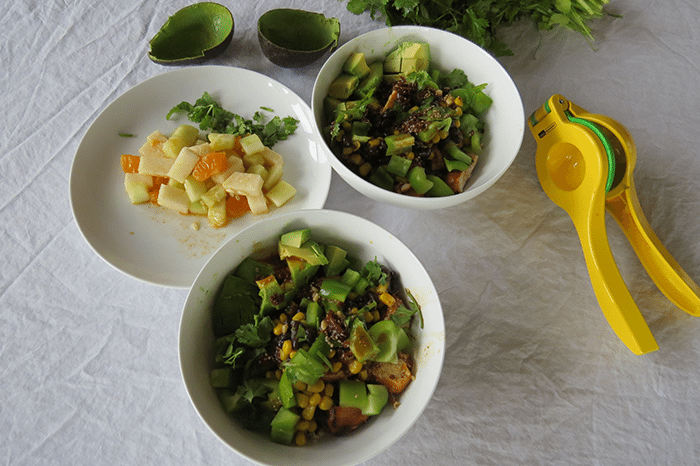 The salad, with the refreshing crunch of jicama and the pop of citrus on top of it was a salad that even I – a lettuce hater – enjoyed.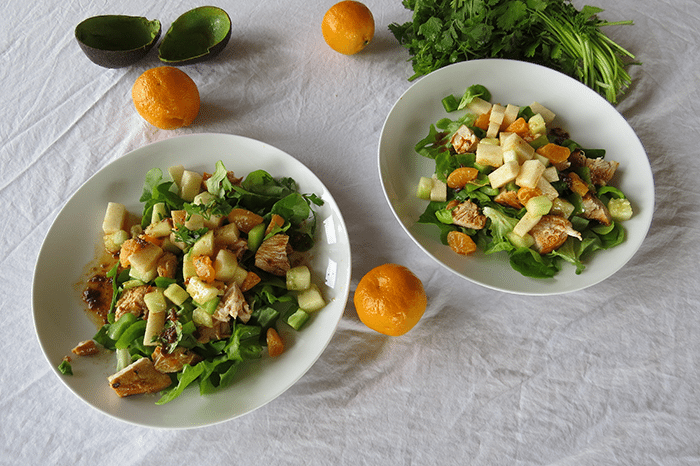 As always, before you prep for the week, remember:
You can choose to keep the protein in the menu or adjust for your meat-eater or vegetarian needs.
This guide is meant to be flexible for you. The quantities listed each day are a general serving-size guide. You may need more or less depending on your activity level.
If you know that you don't like something, sub it out for something you do like!
This guide is built for one, so if you're cooking for two, double everything.
Get the complimentary Lunch Bunch guide.