The Lunch Bunch Is Going on a Paleo Picnic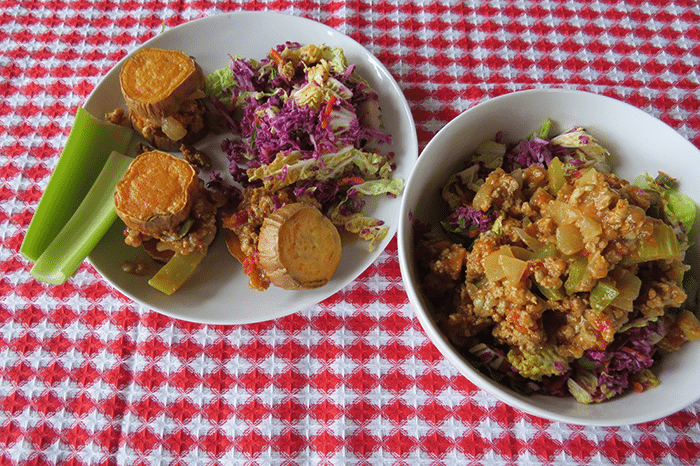 At aSweatLife, we care a lot about lunch, which is why we created the Lunch Bunch, our weekly lunch planning and packing toolkit that helps you plan for a healthy week. The plan meant to help you cut your meal-prep time on the weekend, allowing you to conquer the last meal that most people think to care about: lunch.
Each week, this guide comes with:
A lunch plan for one person (keep that in mind if you're shopping or cooking for two – be sure to double your recipes and ingredients)
A categorized shopping list that you can take to the grocery store
A list of items to prep, including tasty recipes that you'll create at the start of your week
A day-by-day guide to help you mix and match your recipes, so you'll enjoy a variety of fresh and delicious options that you won't get bored of by the end of the week
Next week, the Lunch Bunch is going on a paleo picnic, and this is not a week you'll want to sit out. We're enjoying sloppy joe's that are all of these things that seem like they can't possibly be true at the same time: easy, healthy, from-scratch and delicious.
I'm not sure if you have any memories of sloppy Joe's that you devoured as a kid, but I have one very strong memory of my mom singing a song from SNL titled, "Lunch Lady Land" which included the phrase "sloppy joe," repeatedly. The song would just roll off of her tongue whenever we would even mention the messy sandwich, which is a totally normal memory about sloppy joes.
Next week, you don't have to sing a song, you don't have to get your Sloppy joes from a can and you don't have to worry about a lunch of soggy buns. This recipe is clean, paleo-friendly version of the lunchroom favorite. And it is insanely flavorful.
If you prefer to this week, you can enjoy your sloppy joes on wheat bun (just be sure to alter your shopping list) otherwise we're going with sloppy sliders on sweet potato "buns."
This recipe will also be used to create salads, wraps and bowls. I can't wait for you to try it out. You'll also get a healthy, refreshing cole slaw packed into this menu, which you might just want to set aside for your next picnic.