The Lunch Bunch Takes on a Thai Menu
Did you catch the announcement that the Lunch Bunch is now complimentary for aSweatLife readers? This just in, deliciousness awaits. Want to see what you've been missing? Go back though our Lunch Bunch archive and choose some of your favorites.
Just like every other week, next week's lunch is inspired by global flavors, but this time all the inspiration we needed was on the team. When Catherine Borkowski – the registered Dietitian who uses her expertise to create these guides – was seeking inspiration for this week's menu, she had to look no further than our very own Thai-born Mananya.
Mananya host Thai cooking classes, knows the true value of a rice cooker and was the first to introduce me to Thai basil.
Like every week with the Lunch Bunch, with this Thai week, you'll have the option to create lunch with or without animal-based protein. The Thai Chicken Patties are packed with protein and flavor, but if you don't eat meat, there's a plant-based version made with tofu and flax "eggs."
Between these patties, an avocado-based "mayo," a peanut-chili dressing and loads of veggies, you can expect a healthy and delicious week of lunches ranging from bowls to lettuce wraps to salads.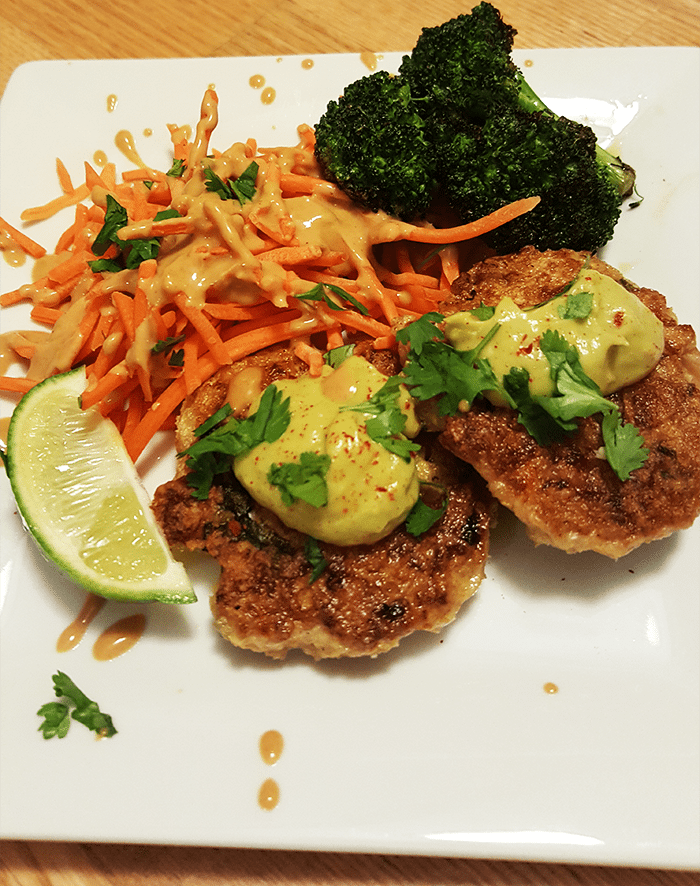 This week's guide to lunch is meant to inspire you to create flavorful combinations to get you through the week. The guide is built for one, but if you're prepping for two, simply double the contents of the grocery list and the recipes.
Before you prep for the week, remember:
You can choose to keep the protein in the menu or adjust for your meat-eater or vegetarian needs.
This guide is meant to be flexible for you. The quantities listed each day are a general serving-size guide. You may need more or less depending on your activity level.
If you know that you don't like something, sub it out for something you do like!
This guide is built for one, so if you're cooking for two, double everything.
Hungry?