The Lunch Bunch is spending Afternoons With This Japanese Menu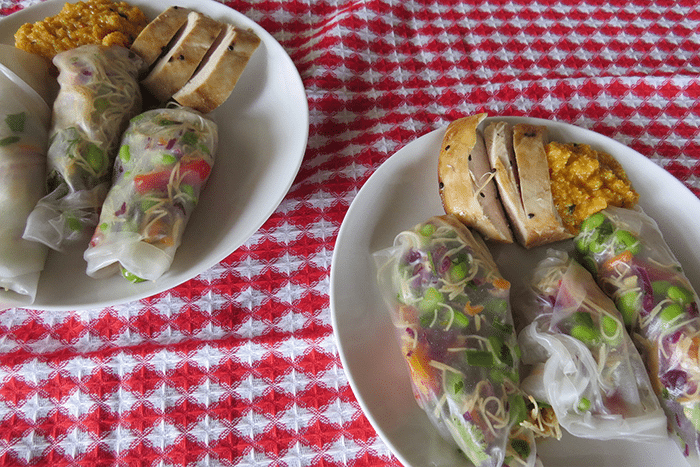 At aSweatLife's headquarters, we take great pride in the day's middle meal, which tends to be the last meal that the health conscious conquer. That's why we created the the Lunch Bunch, a weekly lunch planning and packing toolkit that maximizes your time by focusing on recipes that can easily be mixed and matched. The recipes follow the same flavor profile so you know that the work you're doing on Sunday to meal-prep will carry you through the week in unique and interesting ways.
Each week, as I receive the Lunch Bunch menu from aSweatLife's Registered Dietitian, Catherine Borkowski, I'm floored by her creativity. When she shared the menu for next week, a flavor-trip to Japan, just in time for cherry blossom season (Sakura), I couldn't wait to try it. It will not disappoint.
We're eating a flavorful menu that's going to have your colleagues wondering if you have a private chef preparing your meals as you unpack you flavor-packed salads and spring rolls.
"Home made spring roles? I can't do that," you might think. Oh yes you can! And after you do, you're going to think of the spring-roll themed dinner parties you'll throw.
An important note on making spring rolls: Catherine reminds you that if you're using rice paper wraps, only prepare night before or the day of eating them. To prepare them, one at a time, dip rice paper into warm water for 5 seconds. Remove and place on a clean towel. Place ingredients in the center (horizontally), wrap & tuck the sides, then the bottom flap, and then carefully tuck and roll until closed.
There's also an insanely good soba noodle salad included in this menu. The soba noodle salad will be best for the first few days, so this menu uses that salad up in the first three days of the week. Because Catherine is a genius.
This menu includes a sesame tofu, which is delicious, but if you live with an avid meat-eater as I do, you can swap out your tofu for chicken. And don't get me started on the from-scratch carrot ginger dressing.
As always, The Lunch Bunch is a guide that will include the following:
A lunch plan for one person (keep that in mind if you're shopping or cooking for two – be sure to double your recipes and ingredients)
A categorized shopping list that you can take right to the grocery store
A list of items to prep, including tasty recipes that you'll create at the start of your week
A day-by-day guide to help you mix and match your recipes, so you'll enjoy a variety of fresh and delicious options that you won't get bored of by the end of the week