This Week's Lunch Bunch Features a Harvest-Inspired Menu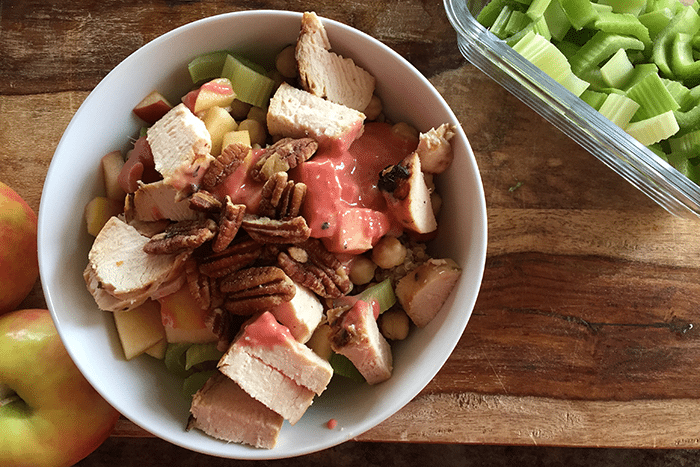 We work with Registered Dietitian Catherine Borkowski to create the Lunch Bunch for a lot of reasons. Three come to mind after eating this week's menu (I'm lucky, I get to eat a few weeks ahead to try everything out):
She understands what it takes to be healthy as a busy professional because she's is a busy professional.
She puts the needs of our vegetarian friends first, but makes menus flexible for meat eaters.
Her food is the stuff of healthy dreams.
This week's menu features a mix of textures and flavors ranging from sweet, crisp apples to salty, soft goat cheese to a lemony chic pea salad – all of it will make your week.
The highlight? A raspberry vinaigrette that is so fresh, delicious and natural that you'll think of all of the ways that you can use it on new foods as you lay in bed. Its simple ingredients keep it clean, but the main ingredient in this sauce shouldn't surprise you – it's raspberries.
Mmmmmmmmm. Raspberries.
Join us as we plan our lunches together! Why just lunch? We chose to tackle lunch because it tends to be the last meal that healthy eaters plan. Breakfast? Easy. Eggs or a smoothie. Dinner? Protein and veggies, check and check. But lunch can be a free-for-all of semi-healthy options at whichever quick-service restaurant is closest to your office.
When you're only planning lunch, the task of meal planning that can feel insurmountable is suddenly much smaller. When I make the lunch bunch menu for the week, it takes me less than two hours from the time I get into the car to grocery shop to the moment I put my fresh, prepped ingredients away.
Ready for lunch? Get the menu!