How to Eat Vegan on Thanksgiving
When you think of a classic Thanksgiving celebration, you usually don't think of the word "vegan." No meat, dairy, or eggs at the table — quelle horreur! However, it's a lot easier than you think to create a delicious vegan Thanksgiving feast — not to mention kinder and more sustainable.
With a little creativity, the right resources, and an open mind, cooking a completely plant-based holiday meal doesn't have to be as daunting as it sounds.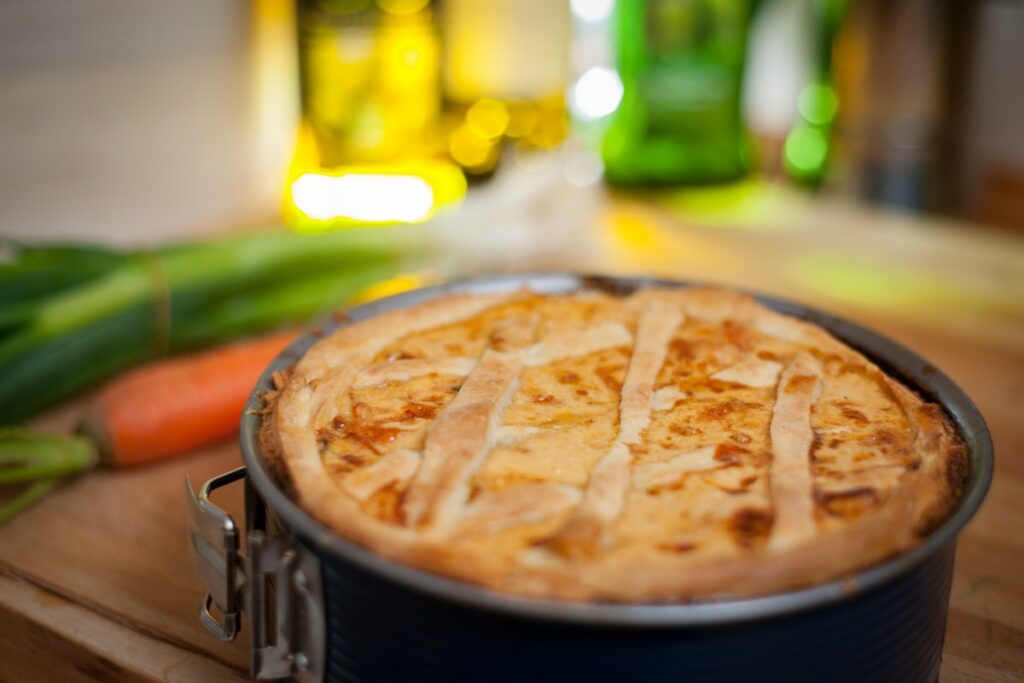 Tips for a vegan Thanksgiving
Choose a turkey alternative
Let's talk turkey. Most people think of a turkey being the centerpiece for your Thanksgiving table. So depending on if you want your plant-based bird to look like the real thing or you're open to alternative main dishes, you have options.
For a turkey-like experience, look no further than turkey substitutes (they've come a long way). Some of the best swaps for turkey, according to plant-based experts, include Tofurky and Gardein brands, with the Trader Joe's turkey-less roast coming in third. These roasts can be sliced, served with gravy, and sometimes even come with stuffing, depending on the brand. They have a meaty texture, and due to the herbs and spices, smell like the real thing too. But they can be salty and, of course, are processed.
For an alternative main dish, try serving a shepherd's pie with lentils, whipped potatoes, and carrots, or a seitan roast (seitan is a popular high-protein meat sub made of wheat gluten).
Recreate your favorite side dishes
Thanksgiving side dishes are really the star of the table, according to Natalie Slater, director of marketing for Upton's Naturals and the author of Bake and Destroy: Good Food for Bad Vegans. And because Thanksgiving dinners are usually buffet-style, you can take what you want and leave the rest.
"I'm all about the side dishes," she says. "I could skip the entree all together and just eat sweet potatoes, green bean casserole, dinner rolls, and mashed potatoes with gravy." And Slater notes that it's incredibly easy to swap vegan options into your favorite family recipes.
"Most well-stocked grocery stores have plant-based mayo, butter, cheese, yogurt, even marshmallows," she says. And Thanksgiving classics like mashed potatoes, sweet potato casserole, roasted Brussels sprouts, stuffing, and even macaroni and cheese can be made vegan and are virtually indistinguishable from the regular versions.
A classic bacony Brussels sprouts dish can be made vegan with coconut, carrot, or rice paper bacon, Upton's bacon, tempeh bacon, or a bit of liquid smoke.
Stuffing traditionally made with pork sausage can easily be made vegan with a high-quality sub like Field Roast or Beyond Meat, both of which are very close to the real thing in taste and texture. For a more homemade approach, recipes for vegan sausage made with walnuts, lentils, or mushrooms are excellent and tasty with the addition of savory herbs like rosemary and sage.
The trick, Slater says, is finding the right combination of swap-outs, solid recipes to turn to, and experimenting so you know what works versus what doesn't (such as knowing that soy milk tends to be a bit sweeter and may not work as well in savory dishes, like mashed potatoes, but that Miyoko's butter or Earth Balance can be a nearly identical butter sub in those same spuds recipes).
"My recipe for Nacho Chee-Zee Sauce is a fan-favorite," Slater says. "Even non-vegans tell me this is the one they make for nachos, tacos, and other dishes where they want a savory, slightly spicy sauce. The star ingredient is nutritional yeast which packs a double punch of B-12 and protein."
Serve a vegan charcuterie board as an appetizer
When it comes to appetizers, Slater says there are some fantastic vegan cheeses out there (really!). "Cheese tends to be the biggest sticking point for folks and admittedly, not every vegan cheese is great," she says. "You just have to keep trying them until you find your favorites. I personally love Follow Your Heart American slices for grilled cheese, and cheeses from Miyoko's and Cheeze and Thank You for charcuterie boards."
Don't forget about dessert
As for dessert, this is actually the easiest since many are so close to being vegan already or are accidentally vegan (Costco apple pies, Oreos, and even Pillsbury crescent rolls are 100% vegan).
For a homemade dessert, baking a pie, batch of cookies, or a quick bread can be a cinch to make vegan since butter, eggs, and milk are the usual suspects for a dessert not being vegan. Again, using a reputable recipe (especially for baking) is key.
"There are lots of guides online to help you figure out when to use which one," Slater says. "JUST Egg is a great egg replacement, and at this point I think everyone has tried non-dairy milks and found their preference."
The bottom line on vegan Thanksgiving
With a few tweaks to your standard Thanksgiving fare, you can be just as thankful (if not more!) that there are so many delicious options available.
In addition to Slater's book and blog, other foolproof vegan recipe bloggers and cookbook authors to check out include Chloe Coscarelli, Erin McKenna, Minimalist Baker, Post Punk Kitchen, ElaVegan, and Oh She Glows.
Making your Thanksgiving table a little more plant-based is really as easy as pie.