The Best Plant-Based Thanksgiving Recipes
If you usually practice a plant-based diet and lifestyle, holidays can be a struggle—especially one where the main dish is a turkey. Enter a plant-based Thanksgiving.
This year, don't let the traditional trappings of a classic Thanksgiving feast throw you and your plans off course. Instead, celebrate Thanksgiving with the best plant-based Thanksgiving recipes that you and all of your fellow guests will enjoy.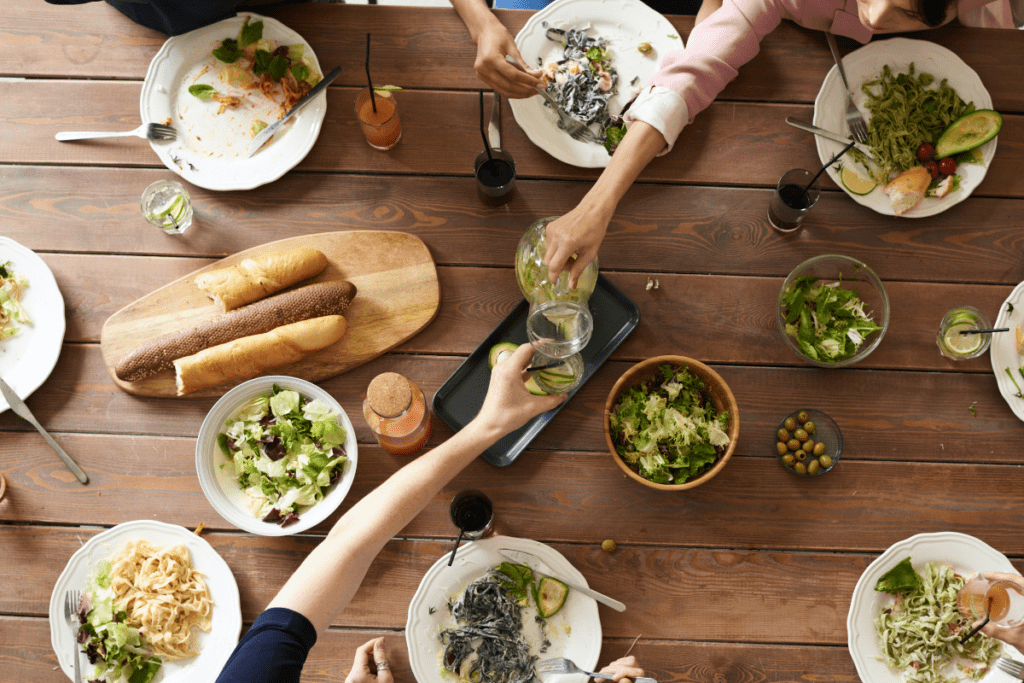 Why choose plant-based Thanksgiving recipes
Whether you are plant-based or not, we could all probably afford to eat a little more vegetables, especially around the holidays. Not only are vegetables teeming with powerful phytonutrients, but many veggies also contain a filling amount of fiber. This can potentially help us eat less and feel satiated for longer. Plus, the extra fiber can help keep things moving along so we can possibly avoid any uncomfortable constipation. This year, skip that second helping of stuffing and instead, fill up on these plant-based Thanksgiving recipes.
The best plant-based Thanksgiving recipes
Plant-based bread basket
One of the best parts of a holiday tablescape is a hot breadbasket. If you are baking or cooking without the use of any animal products, consider a plant-based breadbasket for you and your guests to enjoy. 
Lisa Richards, nutritionist and author of The Candida Diet, recommends her Coconut Bread Stuffing. Simply swap out the chicken broth for vegetable broth and use homemade coconut bread, which is completely void of any animal products making it a perfect plant-based Thanksgiving recipe.
Paleo pumpkin pie
Nothing says Thanksgiving than a dessert table adorned with pies, pies, and oh yeah, more pies. Whether it is apple pie, pecan pie, or sweet potato pie, Thanksgiving would not be complete without a slice of homemade pie. 
Instead of buying a store-bought crust that is laden with artificial ingredients and refined sugars, choose a brand that offers grain-free bread and pie crust options for your Thanksgiving table. One of my personal favorites is Simple Mills Artisan Bread, perfect for holiday bread baskets and pie crusts alike. It is a holiday two-for-one! (You're welcome).
For that after-dinner dessert, try Simple Mills' Simple Paleo Pumpkin Pie. It is my family's holiday favorite! If you are baking and cooking for vegans, swap out the dairy-based eggs for homemade chia seed eggs or flax eggs.
Plant-based gravy
I think we can all agree everything is better smothered in gravy. Turkey, vegetables, you name it, gravy is a topping that pairs perfectly with everything at the table, including vegetarian Thanksgiving recipes. 
To satisfy guests with an array of different dietary requirements, whip up this easy and delicious recipe for Plant-Based Gravy recipe made using plant-based milk. Your stomachs and taste buds will thank you.
Vegan turkey roasts
Thanksgiving turkey is usually the main dish at the holiday table, but if you are hosting vegetarians or vegans, consider a vegan turkey roast. Michelle Cehn, author of The Friendly Vegan Cookbook, and co-host of The Plant-Powered People Podcast, shares how vegan turkey roasts are becoming quite popular and are easy to find these days.

"If you want to skip the roast altogether, you can replace it with another centerpiece dish like a hollowed-out pumpkin stuffed with colorful rice pilaf, or hearty plant-based pot pie decorated with leaf cookie cutter dough leaves," shares Cehn. Another plant-based Thanksgiving recipe perfect for replacing that turkey – Herbed Nut Roast. Yum! Someone, please pass me a fork so I can dig in. (Insert mouth watering emoji here).
Vegetable side dishes
One of the best parts about Thanksgiving is the majority of the side dishes are roasted vegetables, which makes a plant-based Thanksgiving super simple. Here are some of our favorite vegetable recipes.
Not a plant-based chef? Don't sweat it
The holidays are a time to enjoy yourself, so if plant-based Thanksgiving recipes and vegetarian Thanksgiving recipes are not in your culinary arsenal, don't sweat it.
Mary Wirtz, MS, RDN, CSSD and Nutritional Consultant at Mom Loves Best says, "Do not shy away from catered or already prepped [foods]. "Many grocery stores and local restaurants sell pre-made Thanksgiving entrees and sides. Pick up a plant-based side (or two) if cooking is not your forte or you are running short on time." There is no shame in that game, people!

This Thanksgiving, choose more plant-based Thanksgiving recipes and vegetarian Thanksgiving recipes you and all of your family, friends, and loved ones will enjoy. Happy (plant-based) Thanksgiving everyone!