6 Trader Joe's Fall Items You Have to Try
Although this grocery store chain does pretty much all seasons well, I'd have to say Trader Joe's fall items take the cake. As soon as you walk into your local TJ's, you'll notice that the star of the show is pumpkin (per usual).
That said, they have plenty of other intriguing new products that really bring in those autumn vibes. I was truly overwhelmed with all of the eclectic new items and wanted to share with you some of my favorites.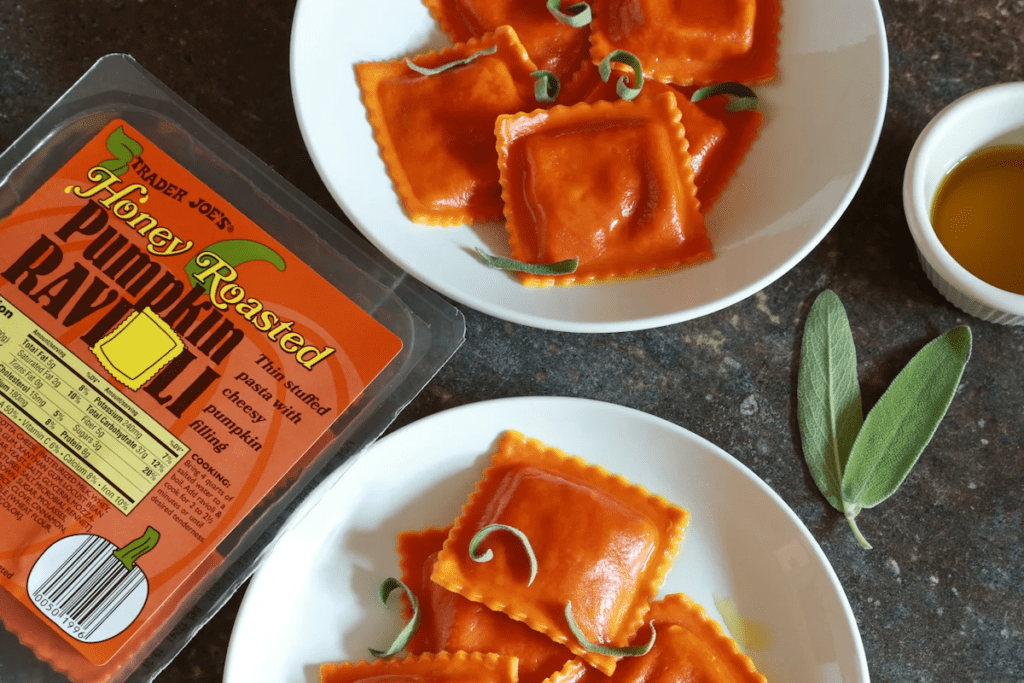 Best Trader Joe's fall items of 2022
1. Pumpkin overnight oats
Overnight oats are gaining popularity, and I love that many companies are now producing easy, portable overnight oats in yogurt-like cups. While working with clients, I often add this to the list of easy grab-and-go items to keep on hand for busy mornings or easy snacks.
These overnight oats kick it up a notch by adding pumpkin, date paste, nutmeg, cinnamon, and almond butter — a very complementary flavor profile. My one caveat would be that they're low in protein, so it would be helpful to pair them with hard-boiled eggs or a protein shake for a quick breakfast. 
2. White bean chicken chili soup
Fall is notoriously chili season, and cozying up with a bowl of chili and a football game just feels right. This chili is loaded with flavor, protein, and fiber to keep you full and satisfied.
This has a southwestern-style flavor profile with garlic, chili powder, cilantro, cumin, oregano, cayenne, and lime juice, which definitely has my mouth watering. You can simply garnish it with fresh cilantro or jalapenos, use it to make enchiladas, or add it on top of potatoes for a loaded potato. 
3. Pumpkin chipotle roasting sauce
This is a hearty and unique item, with a mixture of pumpkin, apple cider vinegar, molasses, and chipotle seasoning. There are so many ways you can use this, but overall I would say it's a great addition to your protein dishes.
You can add this to your crockpot to make pulled chicken or pork or use it to roast chicken thighs in the oven. This can add flavor to your animal proteins and also help it keep better if you're cooking in bulk. This also would be great for roasting baby cauliflower (another new item) as an easy side dish. 
4. Greek and cashew pumpkin yogurt
Here's another way to sneak the classic pumpkin flavor into our everyday items. These taste great — and the best part is you have the option of dairy or dairy-free. This can be used as a snack, an addition to a smoothie, or you can add a dollop on top of your oatmeal.
One thing to note is that the cashew yogurt is much lower in protein than the traditional Greek yogurt, but you can mix in a half serving of vegan vanilla protein powder to ramp up that protein.
Trader Joe's has added active cultures/probiotics to the cashew yogurt, something that's commonly lacking in traditional dairy-free yogurts. This can help support your microbiome. This is slightly higher in sugar than I generally recommend for yogurts but can be good to keep in rotation with your other snacks. 
5. Organic vegetarian chili
This is another easy item for your busy week — with a decent source of protein for a vegetarian item and loaded with fiber. Chili is my favorite for easy lunches that promote satiety.
This one comes in a can and is ready for you to heat and enjoy! I'd also recommend it over your favorite chickpea pasta with some added garnishes for more of a well-rounded meal. 
6. Honey roasted pumpkin ravioli 
This one screams comfort food and is packed with so much flavor that it would be delicious just drizzled in olive oil.
It's filled with a mixture of pureed pumpkin and ricotta, with the pumpkin giving it nutrients to support immune, skin, and eye health. Add this to some salmon or other protein and roasted veggies for a balanced dinner. 
Putting it all together
These are my favorites — but they just scratch the surface when it comes to seasonal items at Trader Joe's this year. I encourage you to check out the Fearless Flyer, TJ's monthly newsletter, for recipes with these and more seasonal items. They also release new products each month, so stay tuned for more festive foods. Get your tote bags ready and enjoy!