9/7/22: Workout with POMSQUAD Fitness at Lincoln Common Chicago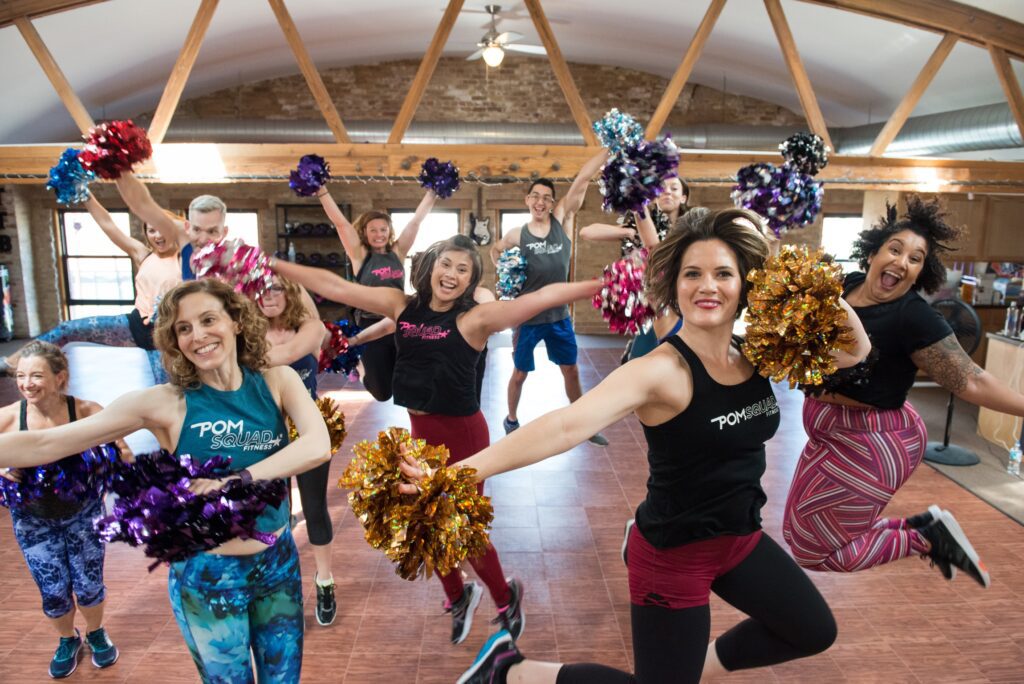 Join us for a special aSweatLife workout as we kick it into high gear with our friends at POMSQUAD Fitness™ at Lincoln Common Plaza in Chicago.
In honor of aSweatLife Ambassador applications being open (Sept 1st – Sept 30th), we're hosting a totally free workout with our friends at POMSQUAD Fitness™.
On Wednesday, September 7th at 6pm you will take on a bootcamp style workout that will include POMSQUAD's signature dance moves along the way. For those of you that are ready to shake your pom poms on a Wednesday evening – the dance floor is yours! A little intimidated by dance? We got you! Not only is POMSQUAD the most welcoming fitness community, we will take on their strength bootcamp class during this workout to give you some fitness courage to bust a move.
Get your sweat on in the Lincoln Common Plaza where we will be joined by local retailers Clean Your Dirty Face, Blowout Junkie, Elephant+Vine, Pure Green, and Kohler Waters Spa. Expect complimentary hair braiding, vegan bites, mini acai bowls and juice shots, spa infused water and surprise giveaways.
Tell me more about POMSQUAD Fitness™: POMSQUAD is a super fun, immensely positive, high energy dance fitness class! You'll be shaking your poms while prancing, dancing, bending, and snapping to today's hits and yesterday's favorites. Inclusive, encouraging, and easy to follow classes are designed to maximize caloric burn while strengthening and toning the body. Featuring a variety of dance styles and unique choreography, there is something for every type of spirit leader in each and every class. And you'll get to experience it with the co-creator and aSweatLife Ambassador Jena Ertel (The Jenarator).
Tell me more about Lincoln Common: Lincoln Common is home to world-class residential, retail, dining and fitness experiences, featuring 100,000 square feet of retail space, 538 upscale luxury apartments at The Apartments at Lincoln Common, elegant condominiums at The Orchard, a five-story boutique office building, and a central plaza offering year-round events for all to enjoy.
Here are the details!
What: aSweatLife & POMSQUAD Fitness Workout at Lincoln Common
When: Wednesday, September 7th at 6 pm
Where: 2345 N. Lincoln Avenue, Chicago, IL 60614
Cost: This workout event is complimentary for aSweatLife Ambassadors + Friends as part of our September Studio of the Month.
Interested in becoming an Ambassador? The application closes on Sept. 30th. Learn more and Apply here!
Tickets: Grab your free ticket today!