Miraval Austin, For Whatever Your Intention Is
Our team had the unique experience of visiting all three of the Miraval properties, each with a different set of sensory triggers. The property in the Berkshires was awash in the tapestry of the changing fall colors. Arizona's location is just west of a mountain, allowing it to experience two sunrises each morning – one at daybreak and one when the sun clears the mountain.
aSweatLife's resident creative director, Christiana Basso said it best: "One of the biggest discoveries I've had at Miraval properties is that every inch is intentional, beginning with the location. We're always close to civilization and yet tucked away somewhere quiet so you feel as though you're really 'away.' … every property is consistent in quality, but varies by what's a part of the local flavor and culture, which makes each experience unique."
Miraval Austin's location is somewhere you probably haven't ventured to, even if you've spent a lot of time in Austin. It's in the hills that overlook Texas's capital city. For me, its sensory cue is a smell. It's hard to put my finger on exactly what to call the aroma (a little bit fancy-wine-cellar-meets-florals), but if you made that scent into a candle, I'd buy a case of them a month just to keep up with my own demand.
Our arrival at Miraval Austin came after nightfall, following our team's 13-hour drive from Tucson across the deserts and ranchlands of Arizona, New Mexico and Texas in our Lexus GX. Maybe that's why scent sticks out so much to me in Austin, regardless of how beautiful the trees and winding trails were, the first thing we experienced was scent.
We walked up to our room with entrances looking over the city to find Texas natives and aSweatLife team members happily chatting on their room's balcony. I looked at aSweatLife ambassador Kia Brown and aSweatLife's Strategic Partnerships Consultant Rachel Schultz and exclaimed, "it smells amazing here."
Kia agreed, and since it was our first time meeting her in her physical form (not on a Zoom), I knew we'd all be fast friends. We were there to connect with each other, sure, but as much as we were there to connect with each other, we were there to connect with our own unique needs and purpose.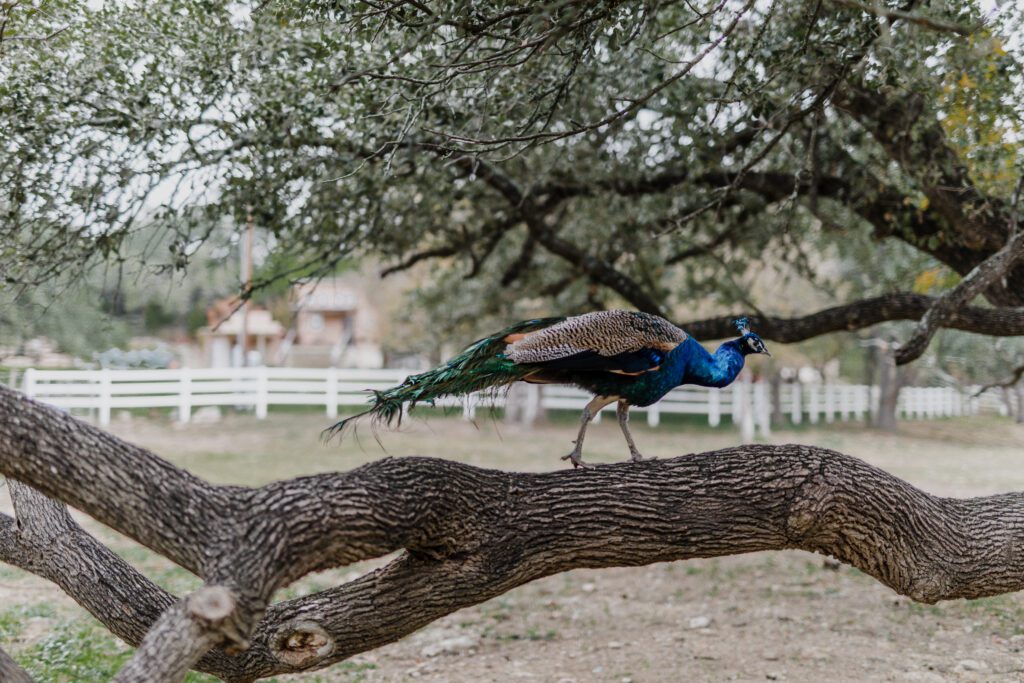 Setting our individual intentions to get exactly what we wanted out of our time
Miraval Austin observes Miraval Mode, or the mindful policy of disconnecting from tech in shared spaces. That simple shift makes everything feel more intentional and the dynamic of group dinners more open and lively.
At our first night's dinner everyone shared an intention for the trip. By the time we got to Austin we understood a fundamental truth about Miraval: if you set an intention for your trip and ask an experience coordinator to help nudge you in the direction of what you're looking for, you're going to be surprised by something magical. You're going to get it and then some.
Miraval is kind of like life in that way.
So we all set unique intentions to get what we needed out of our precious time. For me, with a new moon and a lunar eclipse happening during our stay, I sought out opportunities to meditate, journal and move gently.
Kelly's intention – outside of her movement classes – was to dig a little deeper into some insights she'd found on our last day in Arizona. "Traveling from Tucson to Austin, I became interested in the idea of meeting with a psychic – which I have never done before. It seemed like a fun and interesting way to maybe dig a little bit deeper into my emotions in a lighthearted manner."
Kristen took time and space to connect with herself. "I'd felt harried in the weeks before our visit, and I realized I needed to be a little selfish and prioritize my own needs. Miraval Austin was perfect because I had plenty of opportunities to enjoy the outdoors — in our Lexus Drive Experience, by the pool, and on my own self-guided walk around the property — but I could also join the group for activities whenever I wanted."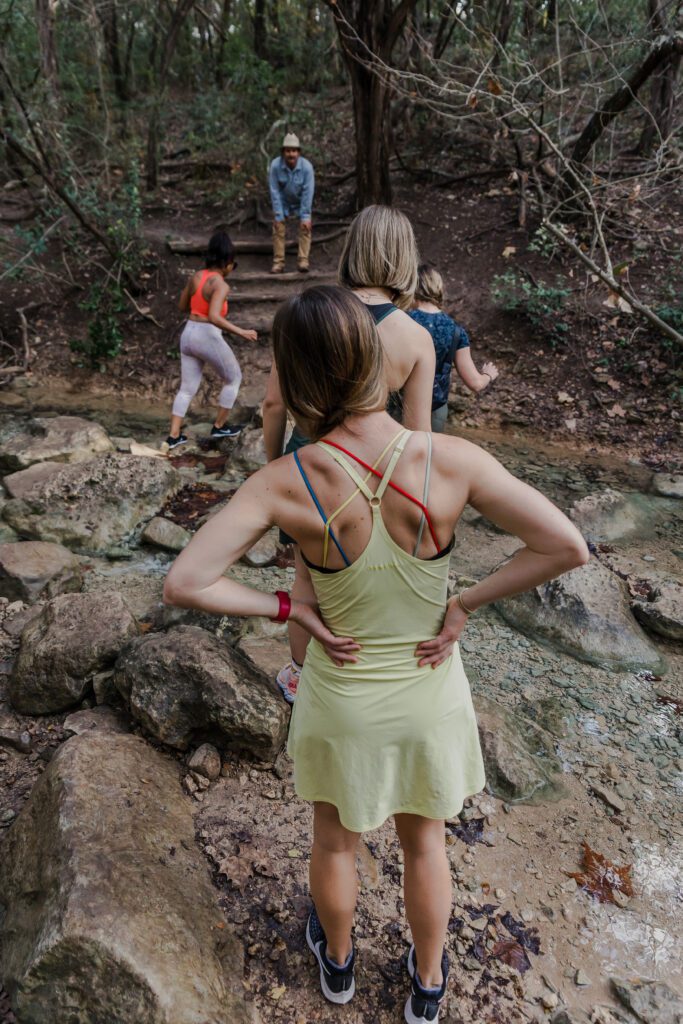 Kia needed to push the pause button on life. "With so much chaos in seemingly every area of life, I was most looking forward to getting away from the hustle and stress of my everyday routine. I knew that I needed to slow down and refocus on my self care rituals that keep me grounded and centered on the things that are most important." She could be found doing just that everywhere from yoga classes to a chaise by the pool to the spa in the world's most luxurious robe.
Rachel viewed the trip as a way to close out the year. She wanted to walk away feeling balanced, reflective, grateful and inspired. "I feel like I accomplished it in ways that will stick with me for a long time," She reflected. A pinnacle of that intention for her was the moonlight meditation set on the deck outside of the property's yoga barn just as the sun was setting.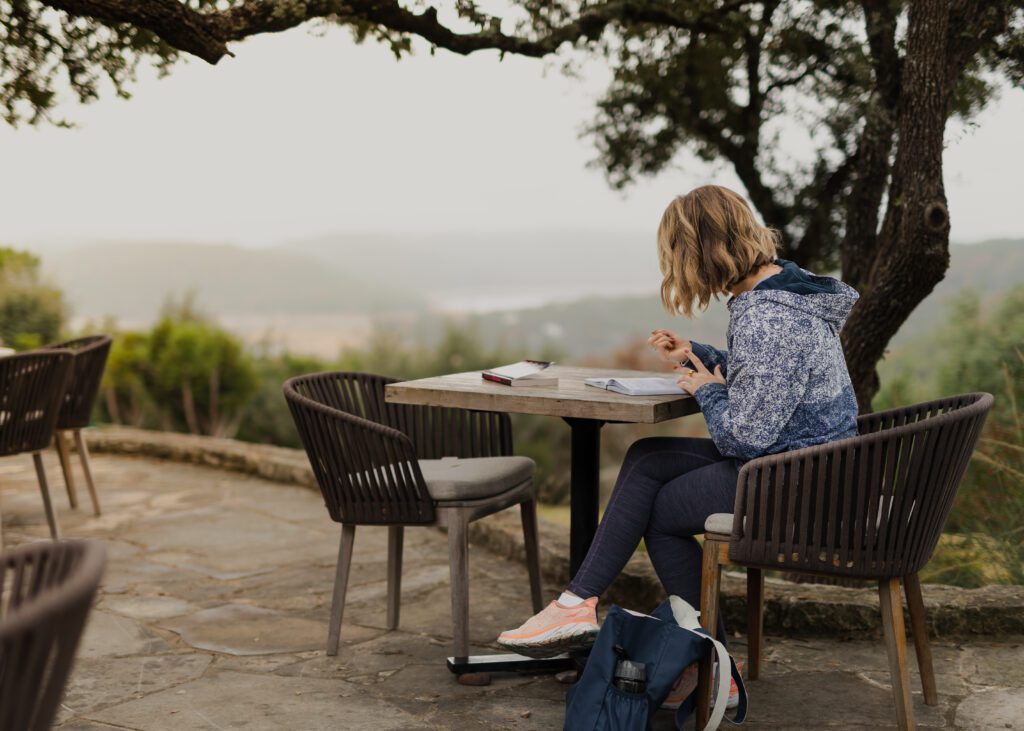 "It was an incredibly beautiful and moving experience that I'll never forget. I can't think of the last time I've seen so many stars and felt so very small," she said.
Christiana shared at dinner that she wanted to recharge her body and creativity. She could be found wandering the property's paths, and in the spa getting the Jade Meridian massage that I tried (after asking the spa what was unique to the property) and raved about.
Christiana described the treatment as gentle guasha helping to flush the lymphatic fluids out. Asked how she felt after, she said, "When I stood up to walk out, I can honestly say I have never felt more rooted and 'in' my body. My whole self felt quiet and grounded."
Reflecting on new experiences together
When we weren't sharing the day's pits and peaks over dinner, we were meeting at the pool overlooking Lake Travis to chat about what we'd learned and done. Even if we'd taken on an experience together, we all took away something completely different. 
A tenet of mindfulness is the beginner's mindset, or looking at your experiences or surroundings as if you're experiencing them for the first time. Novelty heightens joy in small ways in everyday life and makes you feel more present. Trying new things at Miraval Austin was truly special, because not only were we overwhelmed with novelty and taking in what mattered to us, our teammates shared the specific details that stuck with them later as well.
We started a Lexus Drive experience with a trip to a barn where bows, arrows, targets and balloons were waiting for us. Yes, we were doing archery, but with a Miraval edge. At Miraval, every experience has a takeaway that everyone can personalize and internalize.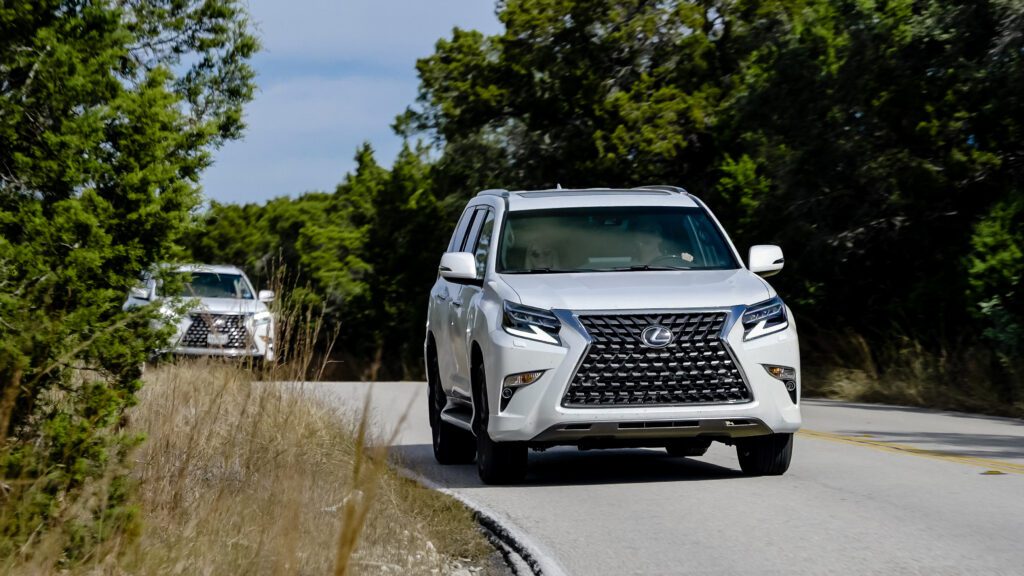 So as we loaded up our quivers with arrows, we were aiming at a balloon on which we'd written something that we wanted for our futures. Metaphors, but make them pop like champagne.
"My favorite thing our guide said was that in life we have as many arrows as we need, so if we don't hit our target on the first try all we need to do is make a slight adjustment and keep shooting until we hit it." Kia shared.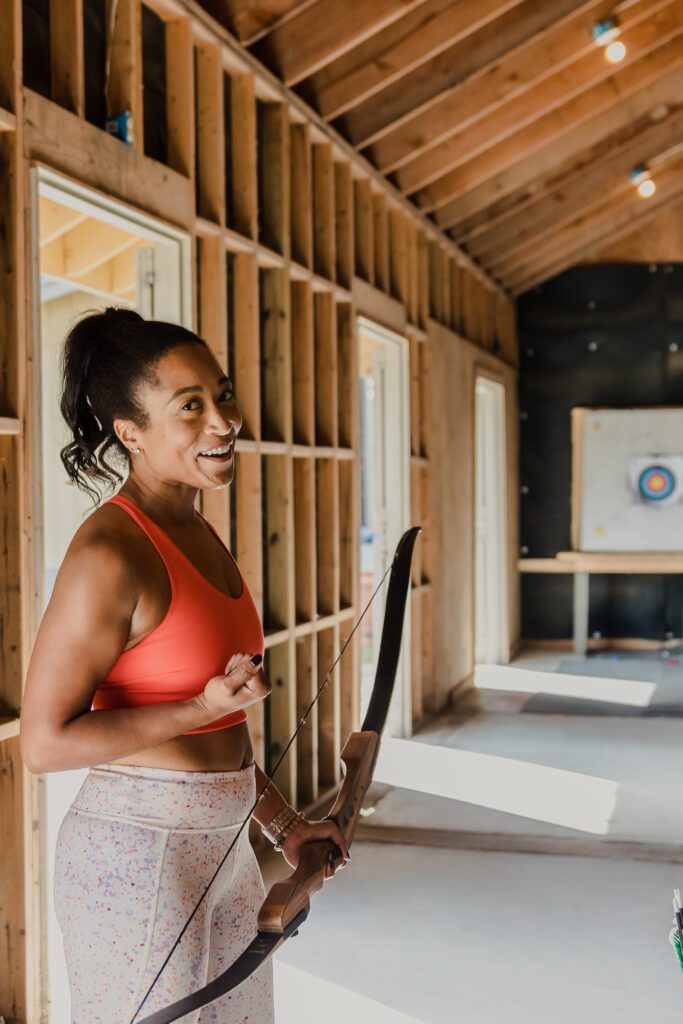 After all of us hit our balloons, we loaded up our Lexus vehicles to picnic on Lake Austin, where our guide shared nuggets about the cypress trees that line the shore before heading to a trail in the hills. "I lived in Austin for eight years and never knew this beautiful trail existed. Our guide was so knowledgeable about the nature around us that it made the few hours go by so quickly," Rachel recalled.
Another standout was a creative arts experience that Kristen had lobbied for as we were planning our time.
In one of the property's yurts, our specialist Jayne Wick shared about the origins of the Japanese art form of Kintsugi, or repairing broken pottery by mending it with gold. Our time started with Jayne sharing her personal connection to the beauty we share in embracing imperfection. And just like that, we smashed bowls with hammers before painstakingly putting them back together.
"Crafting offers this calming space and connection to mindfulness," Kelly shared after.
We each took home a completely different pot, both in the way it was cracked and in how we chose to repair and embellish it. There's a metaphor there, too if you're looking for it.
Who would we bring back to Miraval Austin
The best way to explain a Miraval experience is who you'd want to take with you. Why do I know that? People keep asking us to share which property has been our favorite.
It's a fair question, but the answer is going to make you mad, dear reader. All of them. Each has a certain quality that makes it my favorite for a kind of experience I'd like to share with someone in my life. For me, Miraval Austin is the place I'd like to share with my best friend who just had a baby when she's ready for a tiny trip away. I can picture having wine at dinner after a day of shared and solo activities. She'd pull the crystal she bought for herself out of her bag and then I'd laugh and do the same.
Kristen, who needs a periodic recharge, can see herself coming back alone. "We met a woman on a solo trip while we were staying at Miraval Austin, and that kind of travel really appeals to me. It's a chance to decide exactly what you want and what you need, without taking anyone else's priorities into consideration."
Kelly has her sights set on a trip with girlfriends she misses. "It is the perfect place to reconnect with friends by the stunning infinity pool, at the spa, over a delicious meal, upside down at an aerial fitness class and during a hike through the rolling hills of Austin."
Rachel can see herself back with friends. "It would be a powerful way to stay connected, learn more about each other and have that fine balance of both group and individual activities which is something I always look for when traveling. Ultimately, I want to share the magic of Miraval with those I love!"
Kia, reflected immediately on taking her mom back for some much-needed pampering. "She is someone who does so much for everyone and she deserves to take some time to relax and have some spa time."
For Christiana, everything is better with friends. "Honestly, I would go back with this aSweatlife crew or any group you're looking to spend some time actually connecting with … Miraval Austin is the type of experience where there is zero pressure. You don't have to plan, think up activities, take care of meals, scheduling, etc. Once we got on property we were so cocooned and taken care of, it actually felt like a bit overstimulating once we stepped back out into our regular lives."
But the real question is, how soon can we go back?