12 Best Press-On Nail Sets to Nail Your Next Mani
Press-on nails have come a long way since the late '90s and early '00s when they all used to be long and square with French tips. Now you can find press-ons in lots of different shapes, lengths, and colors to suit your style. Many of them even come in fun, trendy patterns and designs.
If you love the look and long-lasting power of gel polish but hate what it does to your nails, then press-on nails could be right for you. The press-on nails of today are easy to apply, come with non-damaging glue or adhesive tabs that are gentle on nails, and can last up to a week or more. Some press-on nails are even reusable so you don't have to feel bad about tossing them after you take them off.
Below, we've rounded up the best press-on nail sets to get your hands on right now. We're certain they can help you nail your next at-home manicure.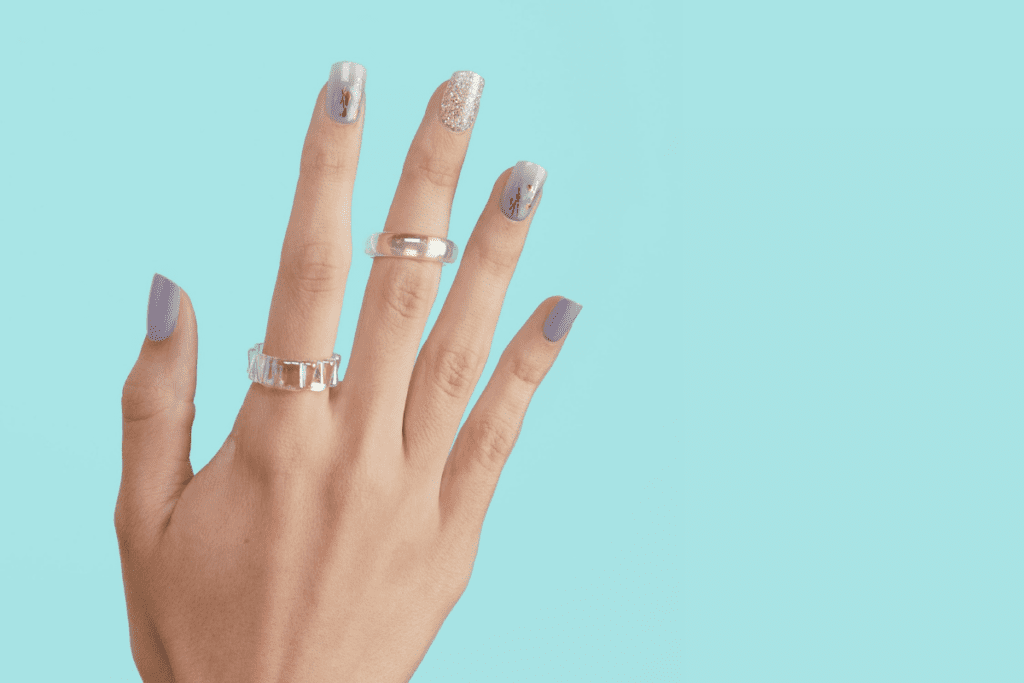 The best press-on nail sets
Olive & June The Press-On System: This kit comes with everything you need for a goof proof at-home manicure, including the press-on nails of your choice, a carry-all pouch, nail clipper, nail file, nail buffer, cuticle pusher, cuticle serum, nail strengthener, and removal kit. The press-on nails are available in squoval, round, oval, and almond shapes as well as lengths ranging from extra short to long. Choose from solid colors or nail art designs like a minimalist dot or checkerboard French.
Static Nails Reusable Pop-On Manicures: Whether you want to rock trendy coffin nails or sophisticated almond nails, eye-catching holographic shades or classic nudes, this brand offers everything. These press-on nails are reusable so you really get your money's worth. Plus, they're easy to reshape with a file or clipper so you can find your custom fit.
imPRESS Press-On Manicure: If holiday-themed nail art is up your alley, then you'll love these press-on nails that are available in tons of limited edition patterns and designs. imPRESS continually releases new press-ons with trendy nail art throughout the year so you can always sport a seasonal mani without having to shell out for pricey gel at the salon.
Dashing Diva Magic Press Design: The intricate nail art designs on these press-on nails look so good they'd fool anyone into believing you got your manicure at a salon. There are also plenty of solid color options if you'd prefer something a little more low-key. Choose from short, medium, and long lengths and coffin, oval, square, and stiletto shapes.
KISS Gel Fantasy Nails: These drugstore press-ons come in longer lengths, trendy shapes, and a huge array of colors and patterns. They're sculpted with a high arch to really mimic the look of sculpture acrylic nails you'd get at the salon. They come with self-adhesive tabs and glue, so you can use whichever application method works best for you.
Mani Muse Perfectly Pressed Gel Mani: Whether you prefer bold animal print or pastel pink ombre, this brand has press-on designs to complement your personal style. Depending on how much glue you use, you can get these salon-quality, reusable press-on nails to last for up to two weeks. 
Tella Nails: This brand makes size-inclusive, reusable press-on nails to fit everyone. The coffin-shaped nails are super-chic, but there are also more traditional round and square shapes available too. Choose from short, medium, and long lengths, glossy and matte finishes, and solid colors and prints.
Glamnetic Press-On Nails: These press-on nails are made with a thick, high-quality material that won't break, bend, or split. The reusable nails come in a slew of gorgeous nail art designs, including cow print and neon tips. Short, medium, and long lengths are available as are almond and coffin shapes.
Chillhouse Chill Tips: Show off salon-quality nail art without having to leave your home. These reusable press-on nails come in sophisticated designs and really stay put when you glue them on. Your nails will look like a work of art.
CliqOnU Press-On Manicure: From half moon manis to ombre tips and everything in between, this brand makes press-on nails in unique designs that'll have you standing out from the crowd. Whether you prefer short or long, almond or oval, you can find your perfect fit here.
Nails of LA Press-On Extensions: Created by celebrity manicurist Brittney Boyce, these press-on nails are some of the most stylish we've seen. They feature hip, minimalist nail art that rivals what you could get at any salon and come with adhesive tabs and glue so you have application options.
Facile Reusable Press-On Nails: This collection of reusable press-on nails is full of dazzling patterns that would look especially great when worn for a special occasion. Jazz up any outfit with floral prints, marbled rose, and more in just about every nail shape you could imagine. Lengths range from medium to extra long so you can choose just how dramatic you want your nails to look.