What You Should Know About Nail Enhancements
Manicures and nail art are so much fun. Getting a manicure can be a nice way to relax during the week and it's fun to play with seasonal colors and express your personality. Nail enhancements have been around for a long time and have become incredibly popular in the past few years with people trying new ways to extend the life of their manicure.
Gel, dip, and acrylic manicures all create a type of artificial nail that's strong, durable, and lasts for weeks without chipping. They sound great if you want to avoid immediately returning to the salon for touch ups, but there's also evidence suggesting they may not be the healthiest option.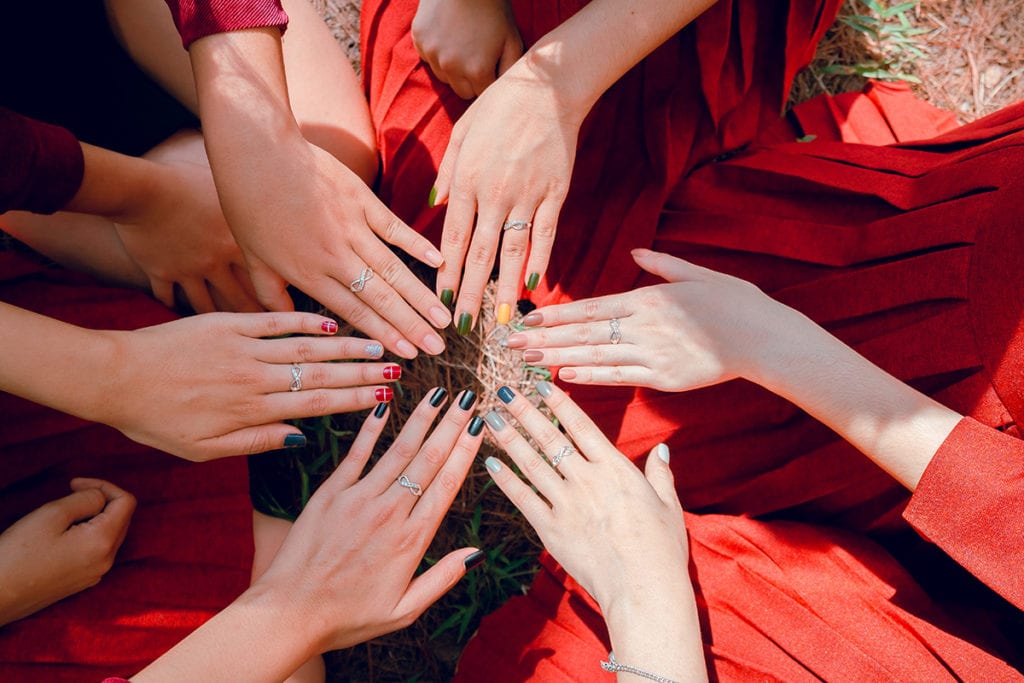 I've seen more and more scary headlines popping up lately claiming that gel manicures increase skin cancer risk, dip manicures contain harmful ingredients, and acrylics pose threats to general nail health. As much as I love a gel manicure that lasts for weeks, over time these headlines have started to freak me out a little bit.
And with so much information out there it's hard to know what the real science is behind these bold and frightening claims. I turned to Dr. Robin Evans, a board-certified dermatologist and clinical instructor at the Albert Einstein College of Medicine, to break down some of these headlines and shed light on the health implications of nail enhancements.
The dangers of artificial manicure options
As much as I love a good manicure and hate to be the bearer of bad news, according to Dr. Evans, these unfortunate claims have some weight behind them. Referring to gel, dip, and acrylic nail enhancements she says, "all in all these types of nail treatments can be linked to allergies, infections, local damaging changes to the nails, premature aging of the skin and cancers."
 "Any type of artificial nail can cause damage to the nail plate," she says. Additionally they "act as an occlusive barrier to the nail plate and bed area creating an environment that can facilitate the growth of organisms particularly yeast, fungus, and bacteria."
This means that all types of artificial nails can potentially lead to weakening nails and possible infection. Speaking to the risk of skin cancer, Dr. Evans said all three treatments carry risk.
"Application of gel nails involves placing the nails and the hands under UVA light. Excessive exposure to UVA light is associated with an increased incidence of skin cancer," she says. Additionally, acrylates a type of chemical in both acrylic and dip nails, "have been described to be associated with cancer."
Given these risks, it's not surprising that some salons have chosen to do away with nail enhancements and artificial nails altogether. Ale Breuer of Chicago's ezza, states that "due to the toxic chemical smells" they do not provide artificial nails at their salon.
What to know about the safety of traditional manicure options
Forgoing nail enhancements and sticking to regular manicures helps to cut down on some of the potential risks of nail treatments, but even old fashioned or DIY manicures carry some threats if you're not careful. Some of these risks include "infections if instruments are not clean, damage to the cuticle area from aggressive clipping and pushing back of cuticles" according to Dr. Evans.
Finally, even if you're painting your nails at home you want to be careful about the nail polish you're using. Dr. Evans says that most contain chemicals like "formaldehyde, toluene, and phthalates, all of which have been linked to cancer."
So, what manicure option is best?
All this information might feel a little bleak, but it doesn't mean that you have to give up manicures and nail polish for good if they're something you really enjoy. Not all salons are created equal, and some take great care to ensure safety by making sure all instruments are properly sanitized and that they are gentle with your nails.
Additionally, some salons now provide organic manicures, using only polishes that are free of those harsh chemicals that carry health risks. And if you really want to be on the safe side, Dr. Evans suggests "bringing your own instruments, tools and polish to all salons" to decrease risks associated with traditional nail polish and sharing instruments with the customer before you.