How to Build Resolutions Around "Yes" This Year
This post was written in partnership with N!CK's. As always, we only work with brands that we really love—and we love everything N!CK's has to offer. Take 20% off your N!CK's order using code YESASL.
Think back on the resolutions you've made in years past. Did you want to stop snacking after dinner? Give up alcohol on the weekdays? Quit watching the delicious trash that is Real Housewives once and for all? (Personally, wouldn't recommend that last resolution—this season in Salt Lake City is everything.)
It's tempting to go hard on New Year's Resolutions and use the "fresh start" effect to make lasting habit change. However, a recent Swedish research study advocates for a different approach. In the largest-scale study on New Year's resolutions to date, researchers examined the difference between "approach-oriented goals" and "avoidance-oriented goals." 
Approach oriented goals were defined as those where the participant adopted a new habit or introduced a new activity, while avoidance-oriented goals involved avoiding or quitting something. So, instead of cutting out all post-dinner snacks cold turkey you'd instead resolve to replace your nightly treat with a healthier, still tasty option (like N!CK's Swedish-Style Triple Choklad Kräms).
The results? "Participants with approach-oriented goals were significantly more successful than those with avoidance-oriented goals (58.9% vs. 47.1%)," according to the study authors.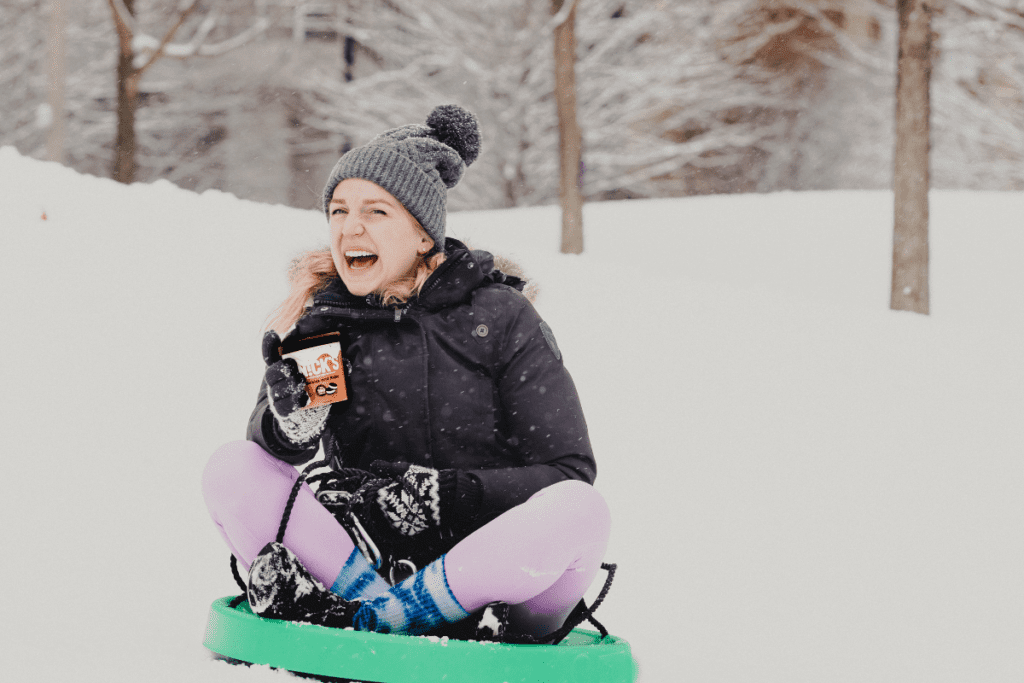 How to make 2022 your "year of yes"
So, how can you make 2022 the year of "yes" and still hit your health and happiness resolutions? Here's your process.
Decide on your goals for the year. Grab a piece of paper and a pen, and set your timer for 20 minutes. During that time, write down as many goals as you can think of, in any area of your life—health, happiness, relationships, learning, hobbies, financial, et cetera. This is a general brainstorming process, so there are no "wrong" answers here. Anything goes.
Narrow your focus. From there, choose a handful of goals to start with, knowing you can always come back to the others. Personally, we'd recommend starting with a mix of low-hanging fruit and tougher goals. That way, you ensure a few easy wins to keep your momentum going. At the same time, you can take advantage of the "fresh start" effect and your motivation from those easy wins to tackle harder goals.
Then, make your approach. For each goal, think about 1-2 habits or activities you can add to your life that will get you closer to this goal (and help you enjoy the process along the way). Need ideas? Here are a few examples:
Perfecting a new hobby? Find an accountability buddy or a partner to practice with. Or, pair your "practice time" with a slightly guilty pleasure to create a positive association (like crocheting while listening to romance novels on audiobooks, or treating yourself to a fresh pint of N!CK's when you finish a 1,000-piece puzzle).
Want to follow a more plant-based diet? Identify exciting plant-based swaps to add to your pantry and freezer. For example, swap out whey protein powder for plant-based protein powder, or fill your freezer with vegan options from N!CK's.
Getting your finances in order? Look through your recent receipts and identify anything you could add to automated orders for a discount. You're always going to need toilet paper and paper towels, so might as well subscribe for a slight discount, right? (And in this household, ice cream is a freezer staple—so saving on N!CK's just makes sense.) 
After a few months, check back in on your progress to see what added habits have stuck, and which ones you might need to revisit. No shame in that—adjusting is just part of the journey when reaching your goals.
Meet N!CK's, your partner in HEK, JA!
To paraphrase, if it's not a "HEK, JA!", it's a no for us. Luckily, N!CK's lineup of better-for-you Swedish-style desserts offers something for every approach-oriented goal-setter out there. From ice cream to snack bars to ice cream cookie sandwiches, each N!CK's dessert is something worth saying yes to.
Even better? They're made with health in mind, so you can say "yes" to the snacks you love without ignoring your health goals. N!CK's products are low in calories and net carbs, with no added sugar—but they've still got the creamy, delicious taste of your favorite desserts.
This year, make 2022 the year of yes—yes to the snacks you love, yes to a healthy lifestyle, and yes to you. To help make this your year of yes, take 20% off all N!CK's products* with code YESASL.
*Excludes gift cards