6 Simple Swaps for a Plant-Based Diet
Most of us know adopting a plant-based lifestyle is good for you and the planet, which is why it's no surprise so many meat alternatives are popping up in grocery stores these days. If you have considered all of the reasons why you should try a plant-based diet and are ready to hop on board with a plant-based lifestyle, add these easy plant-based swaps to your weekly grocery list so you are well-prepared for a plant-based diet.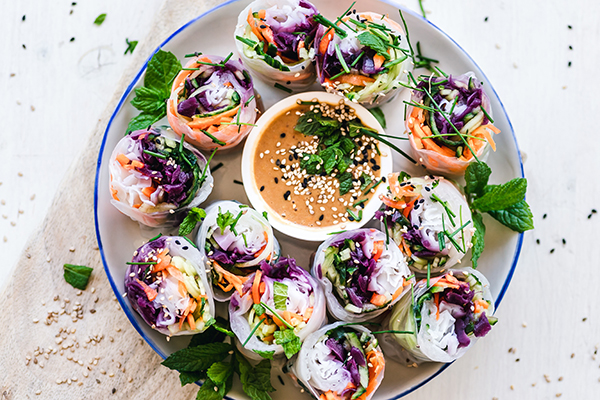 #1 Swap chicken and red meat for plant-based meat alternatives
This may be stating the obvious, but when adopting a plant-based lifestyle, swap out all animal proteins for plant-based proteins like legumes, vegetables and even tempeh or tofu if your body can handle soy products. Get creative and take a walk down the frozen food section of your local community grocery store and look for beet burgers, chickpea chicken tenders and vegetable empanadas.
#2 Swap eggs for applesauce, bananas or flax eggs
If you have decided to ditch dairy in your pursuit of a plant-based lifestyle, upgrade your plant-based baking by using apple sauce, bananas or a flax egg.
To make a flax egg, mix three tablespoons of water with one tablespoon of ground flax seeds until well combined. (You can also use chia seeds instead of flaxseed if you prefer). Chill the flax seeds in the refrigerator for up to 15 minutes then use as you would a dairy-based egg.
If you are looking for a substitute for dairy-based cheese, try nut cheese or grab for a bag of my personal favorite, nutritional yeast.
#3 Swap cow and goat's milk for nut-based milk alternatives
One of the simplest plant-based swaps you can make is switching cow's milk to a plant-based milk made from nuts or seeds. The options are endless: Almond milk, Brazil nut milk, cashew milk, coconut milk, hazelnut nut milk, hemp milk, macadamia nut milk, oat milk, pistachio milk, pumpkin seed milk, sesame seed milk, walnut milk…decisions, decisions.
#4 Swap store bought salad dressings for homemade salad dressings
Make your own homemade salad dressings by adding avocado or unsweetened coconut yogurt for a super-creamy and delicious topping. Be sure to add your favorite nuts and seeds to your lunchtime salad for an additional source of sustenance.
#5 Swap whey protein for plant-based protein
If you love your morning smoothies post-workout, take a closer look at your protein powder and upgrade your whey protein, which is an animal byproduct, to plant-based options like hemp or pea protein. Plus, plant-based proteins contain many of the nutrients found in plants themselves.
#6 Swap honey for natural sweeteners
Although some people choose to continue consuming animal products (though minimally) while practicing a plant-based diet, others choose to go all in and ditch all animal foods and products. If you are the latter, then be sure to trade in your honey for a different natural sweetener like 100 percent pure organic maple syrup, agave, cinnamon, coconut sugar, date paste, fresh fruit juice, maple syrup or monk fruit.

Adopting a plant-based lifestyle doesn't have to be intimidating or difficult. Remember these super simple substitutions the next time you plan out your weekly meals with these six plant-based swaps.