For Hygge, Nights In, and Cozy Vibes: The Lounge Mode Gift Guide
Scroll to the bottom to enter our Happy HAUL-idays giveaway—and a chance to win over $3,000 worth of prizes!
We've talked about hygge a lot on the website, and for good reason: winter's reality (at least in the Midwest) means we spend a *lot* of time indoors from November through March. And when it comes to gift-giving, giving a cozy, warm, textured gift just feels seasonally appropriate to us. Don't give me a bathing suit or a new beach towel in December, unless you're following it up with an all-expenses-paid trip to Bora Bora (in which case, fine. We accept).
In this gift guide, you'll find our favorite gifts for curling into the couch and accepting—maybe even looking forward to—a fresh snowfall. These are the best gifts for staying in, hanging out, and reconnecting with your nearest and dearest.
The Lounge Gift Guide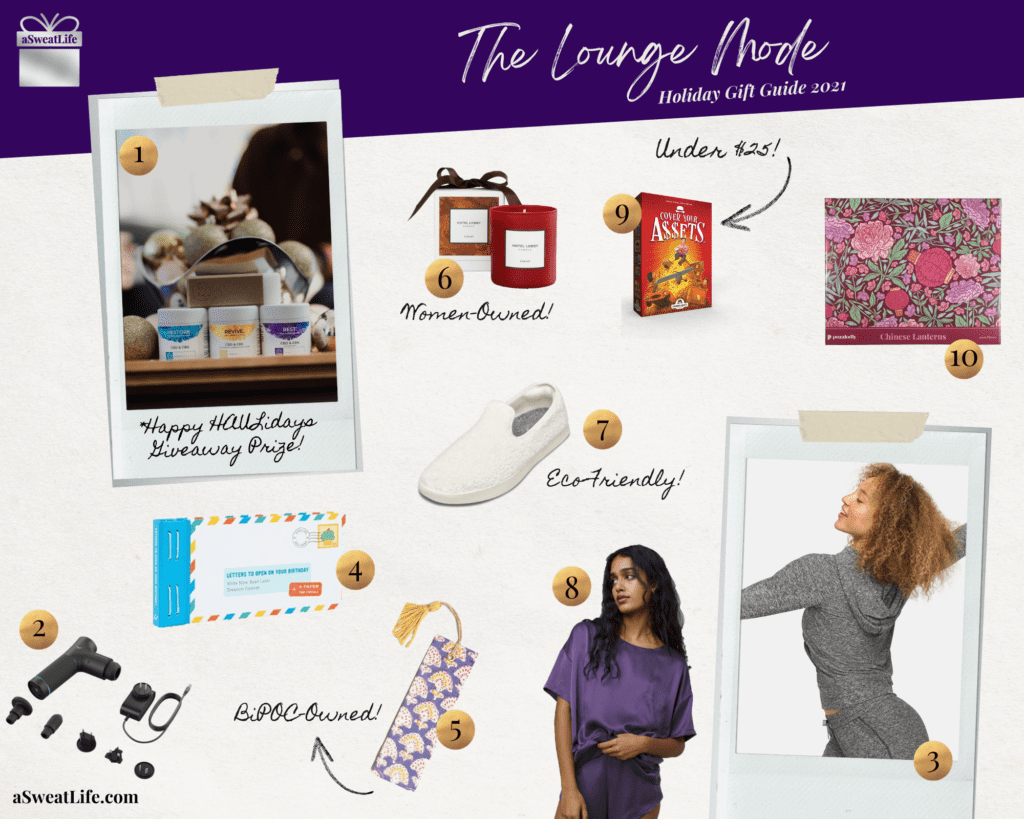 1. The Daily Routine from Impact Naturals: From what we're learning about the endocannabinoid system, CBD is the first ingredient for a truly chill lifestyle. And while CBD brands can tend to get a little vague when it comes to exactly what the benefits are, we love that Impact Naturals is passionate about the science behind CBD. More on why we love Impact Naturals to come soon, but trust us when we say we'd get this three-pack for the best friend going through a stressful time *and* our parent who's called us to ask if they should try CBD themselves (answer: yes, of course). For a bonus, add on the plastic-free, compostable pill case to make sure it's easy to commit to a daily CBD routine.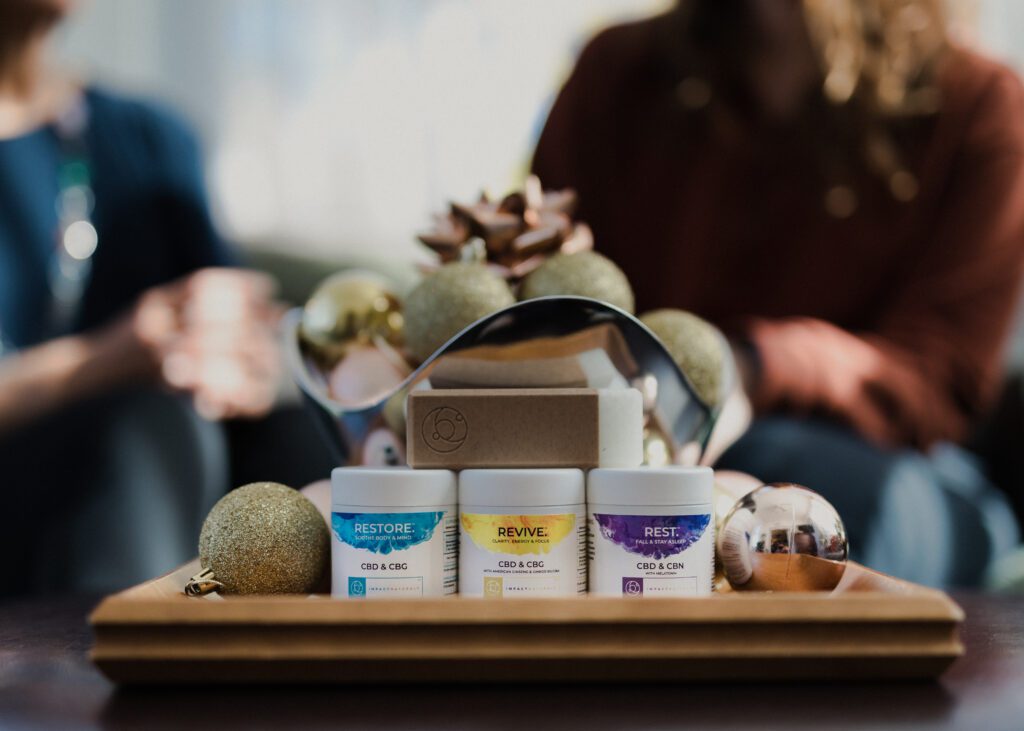 2. Hypervolt Go from Hyperice: Everything is cuter when it's miniature, and luckily, the Hypervolt Go is just as powerful as its bigger sibling. At half the size of the original (and a lower price point), the battery still lasts 2.5 hours and features three massage speeds, which we find to be plenty. We also love that the smaller version feels more accessible. The Go is great for the more casual fitness enthusiast who doesn't want to spend $300 on the HyperVolt Go's big brother, but who still appreciates the percussive technology as a way to treat everyday aches and pains. It's the perfect thing to do while watching the latest Princess Switch movie.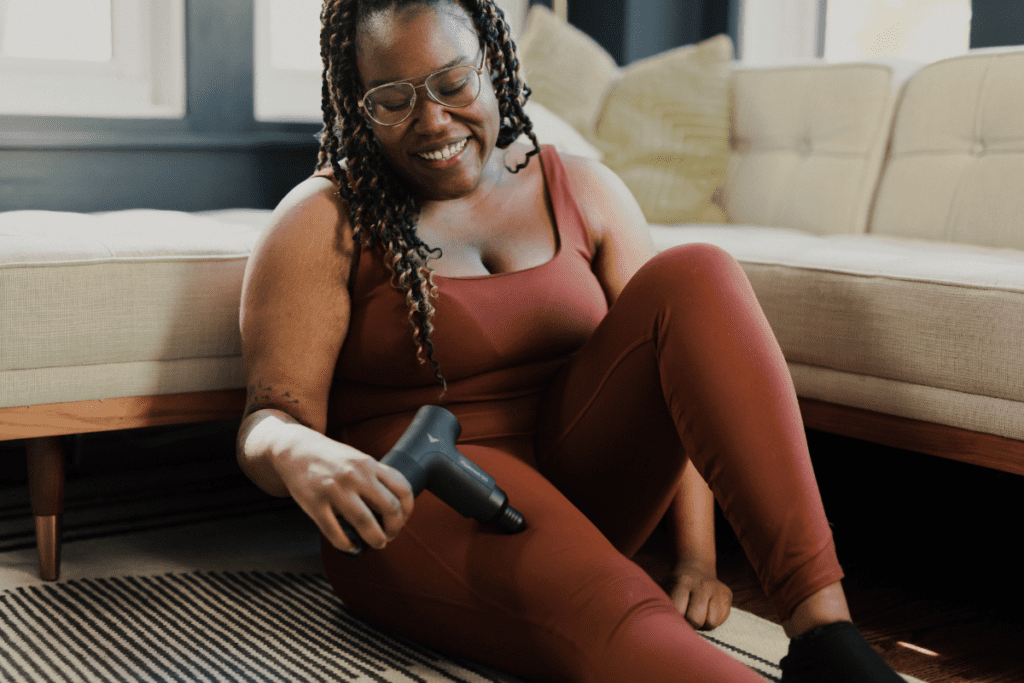 3. CloudKnit Collection from Outdoor Voices: Outdoor Voices may be known for "Doing Things," but if I'm being honest, I wear CloudKnit most when I'm "Doing Nothing." The All Day Sweatpants are my go-to for early morning dog walking, and I add on the matching hoodie when I want to lean into the indoors life and wear a full-on groutfit (IYKYK).
4. Letters to Open When…: Shoutout to our summer intern Liz for this find. With so many friends moving due to COVID, we love this little pen pal activity as a way to stay connected. Here's how it works: The gift-giver fills this book of letters, seals each envelope with a sticker, and gifts this keepsake for future opening. The recipient gets to open each letter when they need it most, so they can read their loved one's encouraging words. So yes, this gift does require a little pre-work—but it's 100% worth it.
5. Tassel Bookmark Set from The Jungalow: For the bookish friend who's juggling a fiction, a non-fiction, and a celebrity memoir.
6. Hotel Lobby Candle: Do I feel like a chump for buying a $54 candle? Kind of! (I have the Miami candle, for those asking.) Do I care whenever I light the wick and the scents of bergamot, amber, and rose fill my living room? Absolutely not. Pro tip: This is a small business (women-owned, too) that's gone Internet-famous several times over. So order early, expect that some candles are probably sold out (they're all good, swear), and know that you will pay for shipping.
7. Women's Wool Lounger Fluffs from All Birds: "Fluffs" is the perfect name for what looks to be a house shoe fit for a sheep.
8. Washable Silk Tee Set from Lunya: Long-time readers will know that I've waxed poetic about Lunya for literal years, and I'm not stopping now. The Washable Silk Tee Set (especially in the deep navy or amethyst) is luxurious but still practical (washable! Silk! people!), and it's also modest enough that you'd feel comfy giving this to a mother-in-law (or someone who'd wear it around her mother-in-law). For a lower price point: head straight to the silk sleep mask, and do not pass go. Don't worry, the guys aren't left out: Lunya's brand brother Lahgo features elevated work from home and sleep basics (we're eyeing this henley that just *may* accidentally end up on our side of the closet).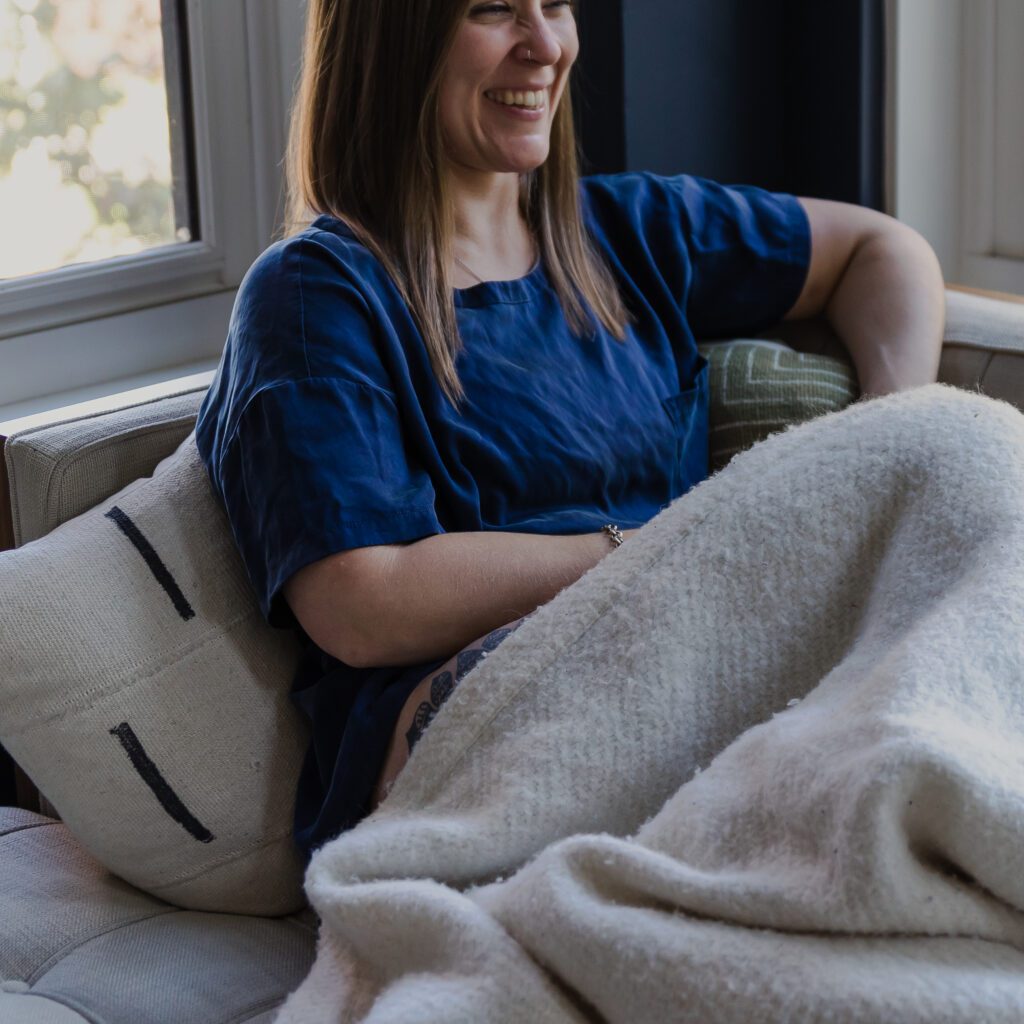 9. Cover Your Assets card game: Fun for the entire crew the next time game night rolls around. It's super easy to play, which means the one person who always takes on the roll of game-explainer doesn't have to study for thirty minutes before trying to wrangle the group back from the snacks spread.
10. Puzzledly jigsaw puzzle: Gorgeous, geometric-inspired puzzles that you won't mind redoing regularly over the winter months (is anyone else weird about wanting to do a puzzle only one time, or is that just me?). I have my eye on "Simply the Zest," unless "Desert Blooms" gets restocked.
Remember, our gigantic holiday giveaway is open—and one lucky reader will get a major haul, including Impact Naturals, a Hyperice, a gift card to Outdoor Voices, and a PJ set from Lunya. Enter below for a chance to win!