Make the Most of the Final Days of Summer with Tips From the Swedes
[This post was created in partnership with N!CK'S, the Swedish better-for-you sweets brand. As always, we only post about the products that we actually love – and we super love N!CK'S. Use promo code SWEATLIFESUMMER by 8/7/21 for 25% off your next order of Nick's ice cream or bars!]
Swedish summer reminds me a lot of what I learned of hibernating bears as a child. The winters are dark and cold, so bears take up residence in cozy caves until spring. What then? The warmer months mean a blueberry bonanza, and a fishing jamboree while bears live their most awake, best lives for 100 perfect days.
Not unlike bears, the Swedes come out of their cozy homes and put away their sweaters to fully take in long days of sunshine, maximum time outdoors, and every flavor of ice cream summer has to offer. They don't want to waste a second of summer because they get just a few precious days. 
So what can we learn from Swedish Summer as we head into our final precious days?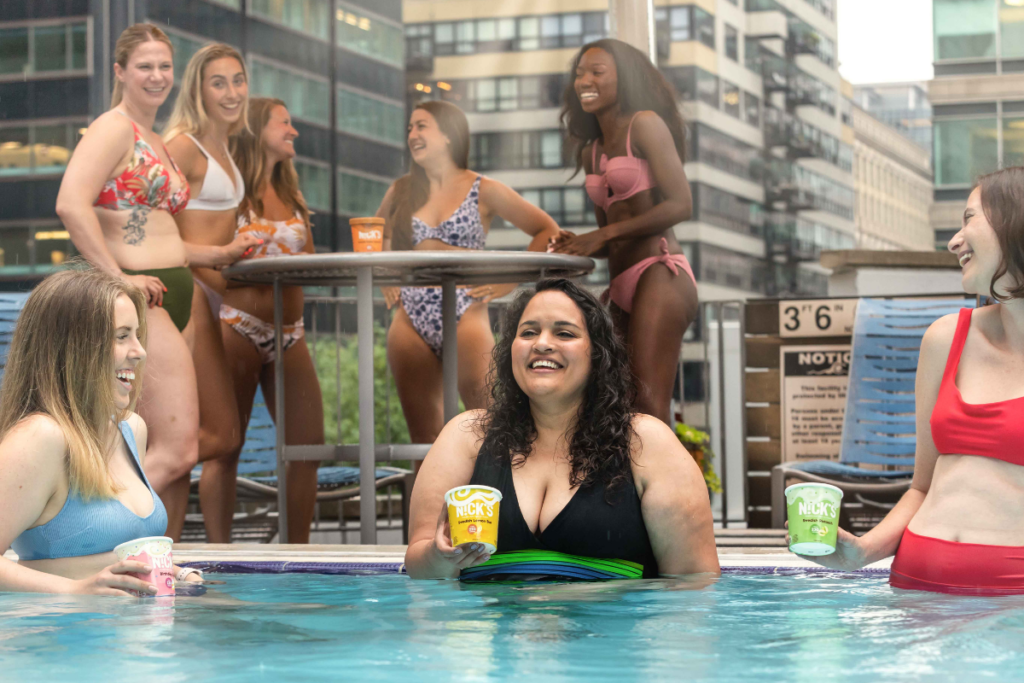 They spend the entire summer outside at summer houses
According to the New York Times, "Sweden has about 700,000 summer houses for its 9.3 million inhabitants and, given that many of these cottages are owned by extended families, a majority of Swedes have access to at least one." 
And the summer house you're picturing might be tainted by a certain Bravo show where the 20-to-30-somethings take up residence in a multi-million dollar home and "send it." Swedish summer homes are simple on purpose, because they exist to take Swedish people away from the pressures of modern life and get back to nature. These small dwellings are equipped with the basics – and indoor bathrooms are a luxury amenity. And the Swedes don't mind. The point of summer houses is to get into nature, so they don't spend that much time inside. 
They BBQ
Part of being outdoors as much as possible during Swedish summer means not going indoors to cook. And to do it, the barbeque is an important accessory. Bon Appetit examined one of the grills that dominate Swedish BBQ culture: a single-use Swedish engangsgrill, which is a small metal pan with a grate on top that lights in seconds. I feel the need – as the child of a retired firefighter – to remind you to always be aware of the wind and drought situation and have ample water and a shovel with you when building any sort of fire outside. 
And what do Swedish people grill? The number one thing you'll see on the grill is rows of sausages and veggies – sometimes corn on the cob and sometimes skewers. But there are some foodie ideas from The Local in Sweden, like shellfish, peaches and watermelon. Our favorite combination? Grilled peaches with a simple yet decadent vanilla ice cream.
They celebrate Midsommar
In Sweden, Midsommar is the "second most important holiday of the year." And we've talked about celebrating Midsommar here before, but the key idea of the day is spending it celebrating the outdoors, the wildflowers you can pick yourself, and your loved ones. That's something we can get behind. 
So, how can YOU carpe diem during the final few days of summer?
We're taking a lot of inspiration from the Swedes this summer as we think about the final few guaranteed sunny days. Here's what our ambassadors are doing to make the most of it.
Traveling and enjoying the outdoors with the intention of recharging
We've heard all about revenge traveling, or the collective release of pent-up travel demand. 
"I'm traveling most of August, for the first time since the pandemic! I'm excited, but also kinda mentally unprepared for all the excitement." Mary Kesinger said.
If you're getting out there for the first time, take on a Swedish mentality by planning for trips that give you ways to release energy and restore energy. For example, spend days unplugged in nature to restore and see city sites on foot to do the opposite. This balance will help you return to regular life feeling like you actually took a vacation.
And while you're outside, if you need a refresher on some phone-free activities to do in nature, Christie Evenson recommends reading outside or an outdoor movie and a picnic. Kelly Matkovich, our Senior Director of communities, is embracing adventure travel through camping, hiking a big mountain and rafting. Amanda Hoefnagel is trying something new – she'll be popping up on a stand-up paddle board this summer.
Take on something challenging, like an endurance race
For some, making the most of summer means getting in long runs and tackling a new challenge. Sarah Kelly told us that she's using the summer months to complete her first triathlon, including her first open water swims.
If spending your summer months training for a race doesn't feel like a feat that will bring you joy, may we suggest a walking challenge. Grab some of your dearest or most missed friends and ask them to see a nearby neighborhood or city on foot for the day. Consult your favorite influencers and make stops for coffee, and an impromptu ice cream picnic at an inviting park. You'll be amazed at how many steps you'll take in an adventure and you'll get the win-win of catching up with a friend.
Taking care of yourself and making time for things you missed over the long winter
It might not feel bucket-list-y to say that self-care is a to-do for the summer, but with vacation days stacking up and Zoom fatigue setting in, we can decidedly say that it is. Create a practice of taking care of yourself or set aside a little bit of budget for a service that makes you feel good (for me, that's a mani), or a modest splurge like fancy sprinkles, Magic Shell, or waffle cones to amp up your at-home sundaes.
Use promo code SWEATLIFESUMMER by 8/7/21 for 25% off your next order of Nick's ice cream or bars!