How Yoga Is Helping Me Heal From My Trauma
In honor of today being International Yoga Day, I want to share more about my life changing journey with yoga. I stumbled into the world of yoga when I was at my low point in rehab. Because I was in residential rehab during COVID, there were limited activities and options. Yoga was one of the few offerings that wasn't a meditation on Zoom or group or online therapy—so yoga became this new activity that I looked forward to each time we had class. Plus, the yoga instructor would come teach in person, even during the height of COVID. Not a lot of people were interested, so I often had amazing solo sessions with her.
For the first time, guided meditation prompts really resonated with me. I started internalizing the affirmations that we covered. When I used to do affirmations sometimes, it didn't feel like anything but some cheesy words. However, in yoga, it felt meaningful.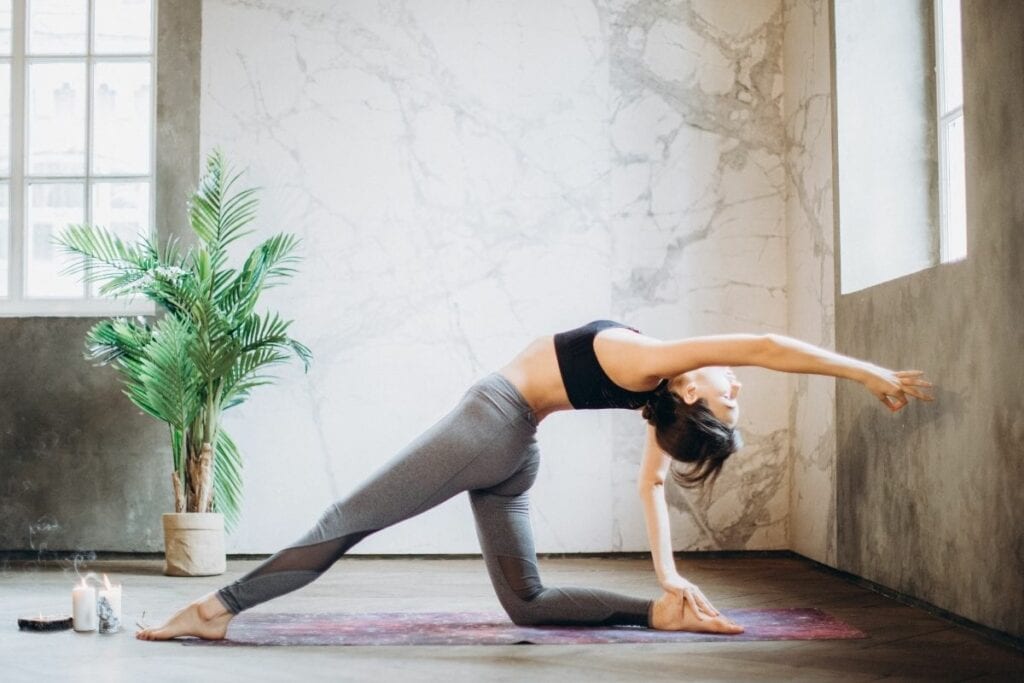 The effects of trauma on brain function and human physiology
During my time in rehab, I read The Body Keeps the Score, by Bessel Van Der Kolk, a psychiatrist and doctor. This incredible book really gave me more insight into the effects of trauma on brain function and human physiology. Dr. Bessel Van Der Kolk writes, "Neuroscience research shows that the only way we can change the way we feel is by becoming aware of our inner experience and learning to befriend what is going inside ourselves." Yoga accomplishes just that by bridging the mind-body connection.
The lives of many trauma survivors revolve around coping with the constant sense of danger they feel in their bodies. It is typically difficult for survivors to feel completely relaxed and physically safe in their bodies. I've had chronic pain from panic attacks and just stress overall for the last decade. Last year, I was diagnosed with Complex PTSD with dissociation and depersonalization. Complex PTSD is chronic traumatization over the course of months or, more often, years. 
How yoga fosters a mind-body connection
I've tried meditating, but my ADHD and PTSD make it hard to clear my mind of upsetting thoughts and emotions. However, when practicing yoga, I'm able to clear my mind and just focus on being in the present moment—because that's the only way that you are going to be able to do the pose, since you must be focused and be in touch with your mind-body connection to hold that much balance.
Trauma affects individuals physiologically, cognitively, and emotionally, with the ramifications felt both in the mind and body. As a mind-body practice, yoga reaches across all these domains and can be an instrumental tool in the recovery journey.
The inability to regulate their physiological trauma responses is a key challenge for many trauma survivors. The Mind Institute states that "As an instinctive and unconscious reaction, a person can rationally know they aren't in danger while still experiencing hypervigilance and even panic. Achieving stabilization of the autonomic nervous system (ANS) through yoga can help people engage with counseling and psychotherapy, allowing them to begin to process their trauma."
How yoga can work as part of a therapeutic practice
After I left rehab, I realized how instrumental practicing yoga has been in my healing journey. I wanted to challenge myself to learn more — so I became a certified yoga instructor. I continue to teach free yoga for my community in the Inner Cycle. Of course, treating trauma requires an individualized and multifaceted response. No two people's experience of trauma will be the same. But yoga therapy remains an effective tool that addresses trauma on a variety of levels, allowing people to reclaim ownership of their bodies and their lives.