Benefits of Online Therapy vs. Traditional Talk Therapy
Therapy is amazing whether you're currently struggling or just want to work on living your best life. Over the past few years therapy has become more widely accepted from organizations working to fight the stigma surrounding therapy and celebrities coming out and sharing the benefits therapy has brought into their lives. This is great news because not only does it mean that there's less shame about going to therapy, but also that new ways to access therapy are starting to pop up all over the place.
You've probably seen ads for online therapy services all over your Instagram feed and may be wondering what it's all about and if it's for you. Online therapy can take the form of a phone call, video chat, or even written messages. There are a lot of benefits to online therapy but also some drawbacks and there's no hard and fast rule for which is the right choice. Here are some things to consider about online therapy if you're considering trying it out.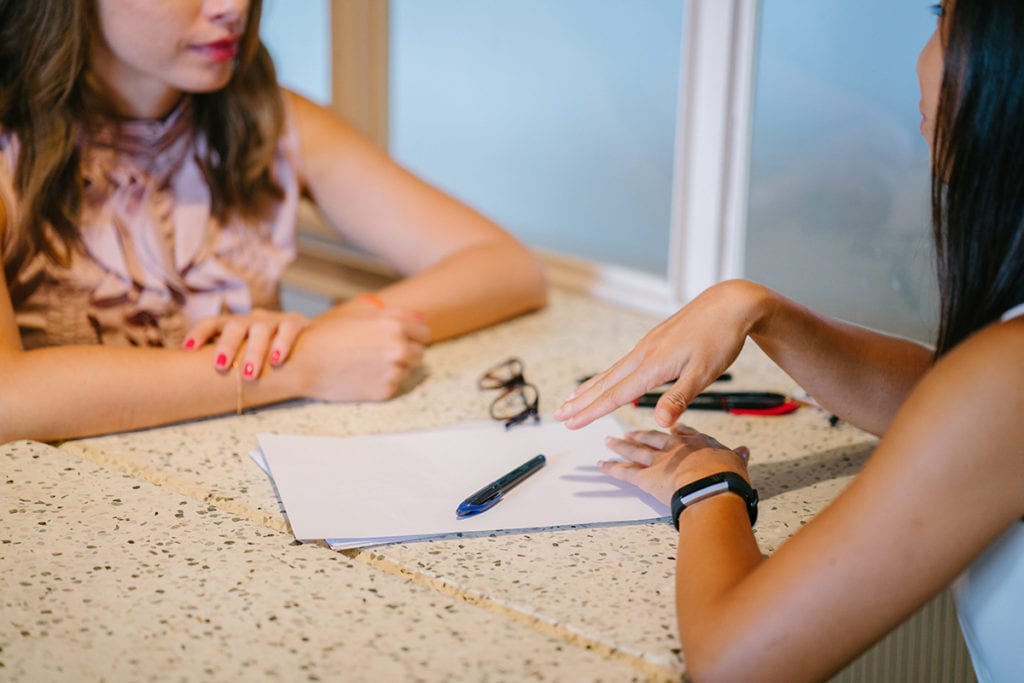 Benefits of online therapy
Cost
One of the biggest roadblocks people encounter to accessing therapy is the cost. Traditional in-office therapy can be pricey and not all insurance plans have great coverage for mental health care. Online therapy often costs a fraction of face to face therapy making it more accessible for people on a tight budget.
Convenience
Gwendolyn Nelson-Terry, a Licensed Marriage and Family Therapist who works exclusively with online clients states that "for many the idea of fitting in a therapy session into an already packed schedule feels impossible." Online therapy cuts down the total time by omitting any commute to sessions and makes it something you can squeeze in between other activities.
Emotional comfort
For some, traditional therapy can be overwhelming and even scary. Those who aren't used to it may have a very difficult time opening up to a stranger. Lauren Consul, LMFT, argues that online therapy can help mitigate these concerns because "for some clients, the distance of having a screen in between can make them feel protected a little which allows them to feel braver in sharing more difficult things."
Drawbacks of online therapy
Insurance
Even though the sticker price on online therapy sessions can be substantially more affordable, it may be more challenging to obtain insurance coverage for sessions. Larger platforms like BetterHelp and Talkspace generally don't take insurance to cover their services. However, if you're interested in online therapy and want to use insurance, some individual therapists like Nelson-Terry may take insurance for their online services so check with your insurance provider to determine whether you have coverage.
Not appropriate in every circumstance
While online therapy can be a great tool for managing general stressors and talking through struggles, it may not be right if you're suffering from more severe mental health symptoms.
Nelson-Terry states that "online therapy is not appropriate for people who struggle with thoughts of self harm or suicide as these concerns require a therapist to be able to step in and provide crisis services which may be difficult if your therapist is not in the same location as you." Be sure that if you're in need of more intensive treatment you seek out a level of service that can safely provide the support you need.
Additional considerations for online therapy
As online therapy grows as a market, multiple platforms are showing up on the scene—and they're not all created equal. Be a smart consumer and watch out for unqualified individuals trying to sell "online therapy." When initiating online therapy services you should be sure that you are working with a licensed mental health professional or a trainee being supervised by a licensed individual. Additionally, make sure that the platform you are using is HIPAA compliant, which will ensure that your confidentiality is maintained throughout treatment.