The 6 Workouts That Come With Your #Sweatworking Summit Ticket
We've been hard at work, finalizing the details of all of the ways you'll sweat during the #Sweatworking Summit. We're passionate about creating a schedule that brings you a variety of humans coming from a variety of business sizes from a variety of locations.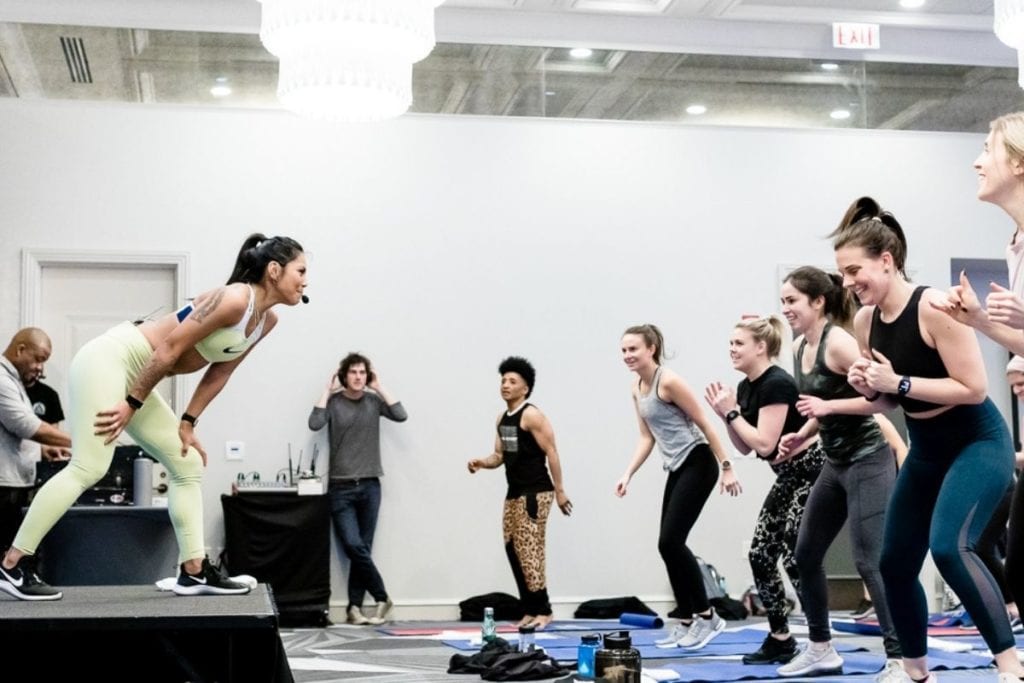 You'll see that we put those classes (which will take place on Zoom) at the beginning of the day – if it doesn't work for your time zone, fear not. Everything will be shared after as an OnDemand workout on our YouTube channel.
Here are all of the workouts that your #Sweatworking Summit ticket gets you (along with the Summit Box AND nightly panels and workshops).
Monday, February 15, 7 am CST
A talk by Rachel Krakauer and Gideon Akande followed by a Get Fit With Giddy workout that shows how fitness impacts your entire life.
At aSweatLife, we love to step onto our soapbox to talk about how we look at your workout: as an opportunity to kickstart everything else in your life. We think that the work you put into breaking a sweat, pushing your muscles to failure, mastering that new yoga post – WHATEVER – allows you to show yourself that you can get through something challenging and come out on the other side.
We created this hybrid experience with two experts to showcase that belief.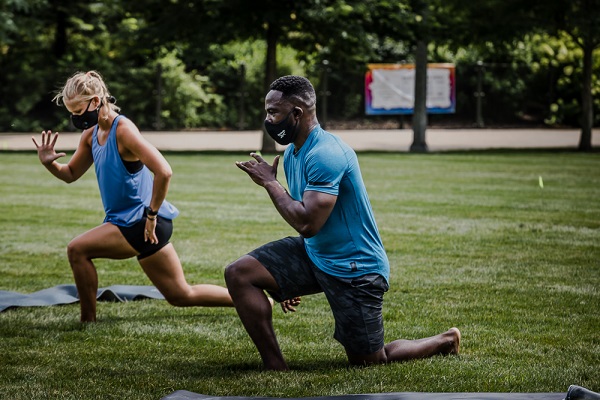 First, you'll hear a talk by Rachel Krakauer, a clinical Psychology Doctoral student whose research covers the impacts of exercise on your mental health. She'll share her research and how it's shown her that moving your body can change your mind.
Then, global fitness leader Gideon Akande (who you've seen on screens of all sizes with brands like iFit and NordicTrack) will share a BIG idea – that all of the tenants of inclusion are right there in every single workout.
To close out the morning, Gideon will bring it all to life with a workout.
Tuesday, February 16, 8:15 am CST
45 minutes of Tone House with founder Alonzo Wilson
Join Alonzo Wilson of Tone House, NYC's signature strength and conditioning training facility, for a 45 minute athletic conditioning workout. You'll complete speed and agility drills designed to build endurance, strength, and athletic performance while discovering what it feels like to Unleash Your Inner Athlete. Equipment needed: floor markers to use as cones, something that will slide on the floor (towels or socks) and an optional pair of dumbbells if you have them.
Wednesday, February 17, 7 am CST
Nichola Smiles from Les Mills presents 45 minutes of BODYCOMBAT
BODYCOMBAT is a high-energy martial arts-inspired workout that is totally non-contact. Punch and kick your way to fitness, no experience needed. Learn moves from Karate, Taekwondo, Boxing, Muay Thai, Capoeira and Kung Fu. Release stress, have a blast and feel like a champ. Bring your best fighter attitude and leave inhibitions at the door.
Nichola Smiles is an engineer by day and a Les Mills Trainer by night. She is passionate about representation in wellness and if you want to know why, just take a look at this post. She also has been on her own journey with wellness and understands the ebbs and flows of life – especially regarding life during a pandemic.
Thursday, February 18, 7 am CST
Free Mvmt Shop presents Speed Mvmt
Ashley Rockwood, founder of Free Mvmt Shop and its OnDemand counterpart, Virtual Mvmt, will lead us in a 45-minute class to start our days with the Joy of Movement. You'll dance – even if you feel like you're not "a good dancer" — and we can assure you that all of your cheeks will be smiling after this. Expect to shake, dance, plank, and tone.
After you try and love this workout, you'll find a special offer to get more Virtual Mvmt (and Ashley) in your life after the Summit.
Friday, February 19, 7 am CST
A recovery yoga flow with Candis Oakley and self massage with Linda Jaros, brought to you by OOFOS
After a week of workouts, your body will need some down time. That's why we're pairing up Candis Oakley and the in-house myofascial release expert from OOFOS, Linda Jaros. You'll start with a yoga flow that's meant to take care of your feet and give you a sense of grounding led by Candis, founder of Very Human Social. After, Linda will lead you through a self-massage practice that will leave you feeling refreshed and revitalized.
And this session will be brought to you by OOFOS. In case you missed it, the first 500 people who sign up for the Summit will receive a pair of OOFOS to wear on your hard floors while enjoying the multi-day virtual event from your own home. OOFOS' revolutionary OOfoam® technology absorbs 37% more impact than traditional footwear foam materials to reduce the stress on your feet and joints. It's perfect for endurance athletes, everyday athletes, and those of us who are on our feet a lot of the day (healthcare workers and teachers, we're looking at you).
Saturday, February 20, 10 am CST
Kickboxing / HIIT workout with Tonal Coach Gabby Sansosti
Our final workout of the week will feature trainers from one of our favorite FitTech innovations (and a feature from the 2020 Gift Guide) Tonal.
Tonal is the world's smartest home gym and the first truly personalized approach to strength training. By using a proprietary digital weight system instead of metal weights, Tonal can generate 200 pounds of resistance and replicate every machine in the weight room with a fraction of the equipment. Smarter than dumbbells and better than bodyweight, Tonal leverages A.I. to dynamically adjust the weights for each exercise in real-time for your most effective workout.
And Coach Gabby – who is based in L.A. – will make this fast-paced class fly. She transitioned to fitness after a successful career as a professional dancer and is certified in everything from barre to boxing. She says that Tonal High Intensity is "an upbeat, high energy class that is over before you know it!"
Ready to sign up like, immediately? Reserve your pay-what-you-can ticket here!