Announcing the #Sweatworking Summit's Keynote Speaker, Nicole Cardoza, founder of Anti-Racism Daily
To close out the week of activities built to make a more equitable and inclusive wellness future, we're proud to announce the keynote speaker: Nicole Cardoza. Nicole is an award-winning serial social entrepreneur, investor, author, and public speaker making wellness accessible for everyone.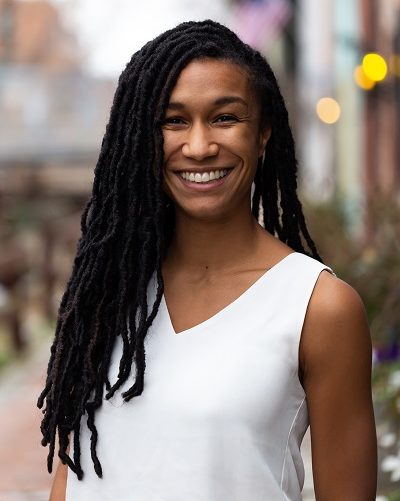 You'll hear her speak to that during the #SweatworkingSummit's keynote talk February 20, 2021. Your ticket to the summit is pay-what-you can and gains you access to all sessions across the entire week – including Nicole's Keynote.
We're excited to have Nicole as the keynote for the week for a lot of reasons. But the biggest reason of all is that she's the perfect person to send us out with fire in our bellies to build a better world where wellness truly is for all.
Nicole has too many accomplishments and accolades to list, but we'll try our best. She founded Anti-Racism Daily June 3, 2020, which started as a casual project to send one email a day that paired current events with historical context and personal reflections on how racism persists in the U.S. Since launch, it has amassed more than 150,000 subscribers.
She also founded Yoga Foster, a non-profit providing yoga resources, training, and mats to over 100,000 students in 8,000 elementary school classrooms each year, in partnership with Lululemon and CorePower Yoga.
She is an investor through her fund Reclamation Ventures, "a family of brands reclaiming our right to be well, and a fund that invests in our collective well-being." Through it, she's closing the racial and socio-economic divides in the wellness industry by investing hundreds of thousands into "underestimated entrepreneurs" (the most apt description).
Want to know more about Nicole and prepare questions for the Q&A portion of her talk? Follow her on Instagram and subscribe to Anti-Racism Daily.