#TrainersConnect 9/10: How to Go From Surviving to Thriving as a Fit-Pro in 2020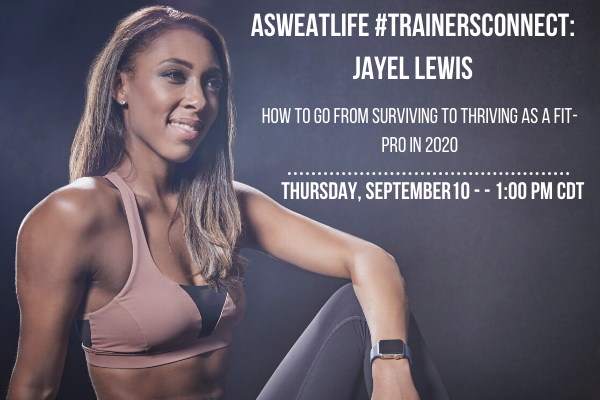 Get your ticket to #TrainersConnect on 9/10 right here.
How to Go From Surviving to Thriving as a Fit-Pro in with Jayel Lewis.
Training looks A LOT different these days. Change can be difficult but when there is a massive upheaval to an entire industry, we must find solutions quickly. If you are navigating digital training, working on scaling your business, or could use some business advice – this workshop is for you!
Coaches need coaches too! Here is what we will talk about:
-How to go from reactive to proactive within the digital space
-How to make your pivot most profitable
-How to create additional revenue streams and make your business recession-proof
Tell me more about Jayel! Jayel Lewis is a fitness & business coach that has been in the industry for well over a decade. She is an international personal trainer having worked with the United States Air Force in Germany, has trained celebrity clients, and has built multi-million dollar health & wellness departments. She has combined her knowledge and expertise to create The Fitness Curriculum, a 12-week group coaching program for fitness professionals looking to monetize their brand and build a profitable online business while creating more impact and generating more income.
Listen to Jayel's story on the #WeGotGoals podcast
#TrainersConnect Workshops are free for all attendees. We'll host the event in a private Zoom room. If you don't have Zoom, you can download it here!
Details for #TrainersConnect
What: A virtual (free!) #TrainersConnect with Jayel Lewis
When: Thursday, September 10, 1 pm Central
Where: Zoom link is provided in the confirmation email and you'll get a reminder email send out on Wednesday, September 9th.
What you need: A notebook and questions.
Where do I snag a ticket? Right here!