The #SweatworkingWeek Schedule is LIVE!
View the schedule and reserve your tickets right here!
It's that time of year again—we're so excited to announce that we're hosting our EIGHTH #SweatworkingWeek this summer. Save the date for July 20-24—we'll be hosting IRL workouts at Maggie Daley Park in downtown Chicago all week. Yes, that means we'll get to see your faces in person and work out together from a safe, social distance!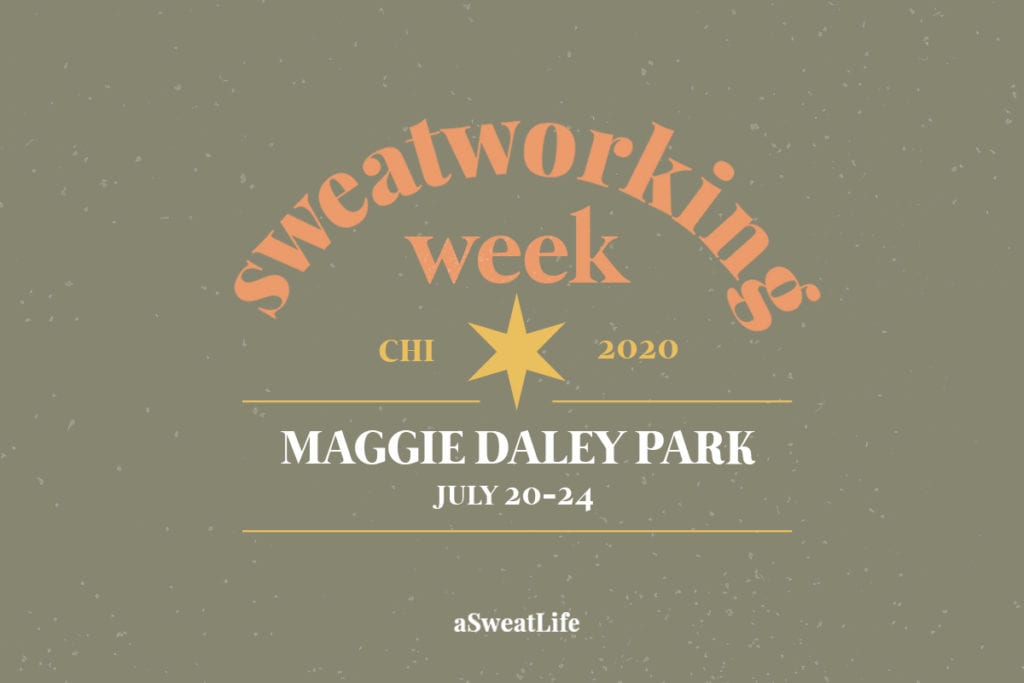 The theme of #SweatworkingWeek this summer is…
Grab your knapsack, your bandana, and your bug spray—we're taking on this week summer camp style.
What does that mean, exactly? Well, to best comply with social distancing best practices, we'll be taking all of our workouts outdoors during the week. Maggie Daley Park is an oasis of green in the heart of Grant Park in downtown Chicago, and their facilities feature some of our favorite summer camp activities as a kid (rock climbing, anyone?).
And not going to lie—it's been a tough summer so far. But we're feeling inspired and excited by the thought of being outdoors, with our best friends (that's you guys), and embracing the childhood joy of simpler times.
As for workouts, we know you've been missing your favorite studios like whoa. In an effort to get AS MANY studios as possible on our schedule, we're going to pair studios up in workout combinations you've never even dreamed of before. You might even get to experience what it would be like to take an indoor cycling class… outside. Just saying.
To further the summer camp vibes, we're also planning recreational sports that have built-in social distancing. Think tennis, Spike Ball, and more—activities you can enjoy with your friends all summer long at a safe, social distance.
Finally, we're excited to partner with a few gyms that have headquarters you might not have had a chance to visit yet. You'll get workouts from Hyde Park gym The Space, Through the Body Dance and Fitness from West Town, and Mayweather, a boxing workout just launched in River North—to name just a few.
Big news: We're moving to a pay-what-you-can model.
As a result of the raw conversations we've been hosting in our Race in Wellness series, we've realized that we can make a major difference in the fitness community by making our events financially accessible to anyone who wants to attend.
That's why we're using #SweatworkingWeek to launch a new pay-what-you-can model.
In the past, tickets to #SweatworkingWeek events have been priced at $20. If you can afford to pay that and you're willing to, man, we really appreciate it. If $20 isn't in your budget right now and you can only afford to pay $5, $10, $15, even $0—we get it, and we're even MORE excited for you to show up, especially if this is your first event with us.
(And of course, if you want to pay more than $20 to help offset the cost of another attendee, that's an option as well.)
Our safety and sanitation protocols for #SweatworkingWeek
Chicago enters Phase 4 on Friday, June 26th, and we're preparing our protocols under the assumption that we'll remain in Phase 4 during #SweatworkingWeek. However, we know things are changing quickly these days, so we'll be prepared to be flexible with the city's guidelines. No matter what, we'll always have your safety and your best interests at heart.
We're currently designing our protocol using this guide from the city as a road map.
Here's what you can expect for safety and sanitation protocols during #SweatworkingWeek:
In accordance with the city's guidelines, outdoor workouts will be capped at 100 people.
We will ensure at least six feet of separation between workout attendees and staff using clear, easy-to-see markings on the grass.
If equipment is used, we'll provide at least six feet of distance between pieces of equipment.
We will ask that all attendees bring their own mats and sweat towels for each workout.
In partnership with Maggie Daley Park, we will provide adequate space outdoors for cardio and class exercises to ensure proper 6 ft social distancing.
We will only feature non-contact sports (e.g., tennis, SpikeBall) and limit to a maximum of 6 participants per court.
All staff will be wearing face masks at all times. Attendees will wear face masks while entering the park and registering for the workout.
We will ensure all staff for the day are healthy via self-reporting on the day of the event. If an attendee is feeling unwell on the day of the event, their registration fee will be refunded, no questions asked.
We will provide ample sanitation products to be used before, during, and after the workout. We will ask that attendees sanitize any equipment after the workout.
We will provide access to a clean indoor bathroom that's undergoing frequent sanitation.
When we bring in food and beverage partners, we will limit options to pre-packaged individual meals and drinks, as well as packaged swag from our partners. There won't be any family-style catering options this time around.
We know this is just scratching the surface, and you probably have more questions about our policies! Feel free to reach out to any member of Team aSweatLife directly; our email addresses are all [firstname]@asweatlife.com.
Stay tuned for the exact schedule!
Follow us on Instagram @asweatlife to be the first to know when the exact schedule drops and tickets are opened up. We can't wait to see you outside of your computer screen!