Our digital workout and workshop schedule for the week of June 15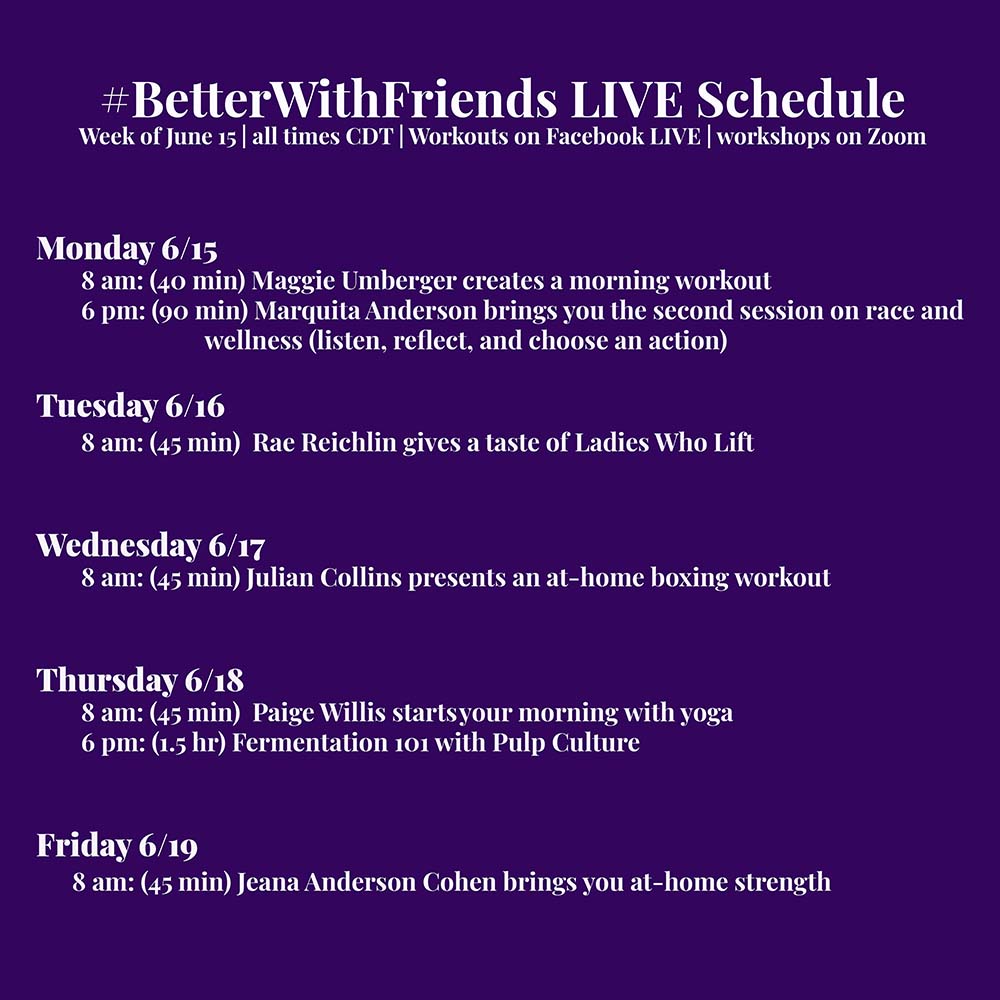 I'm about to type a sentence that might blow your mind: this is our 14th week of all-digital content. We're continuing to listen to what you want and need in this evolving world.
This week, you'll find workouts that are transitioning to our summer hours (mornings only and late enough so you can get a good night's sleep) and workshops to keep you feeling productive, entertained and help you make a difference.
Workshops to give you a little purpose and a little summer
June 15 at 6 pm: Race and Wellness Part 2 of four
We're committed to doing something about the systemic racism and oppression that exists in America today – and we have our community to thank for that. Marquita Anderson will moderate an evening to discuss power, influence, and the wellness industry with Ashley Weaver, founder of BundleandFit.com and Ashley Mitchell, Barry's Bootcamp Senior Instructor in Boston. This is the second in a 4-part series. You can jump into this series at any time.
June 18 at 6 pm: Fermentation 101 with Pulp Culture
Fermentation is so hot right now. From kombucha to kefir, miso, pickles, sourdough and of course booze, the process has been applied to tons of different foods and beverages. So what is all the fuss (or fizz) all about? Bacteria! Fermented products contain probiotics which have a ton of health benefits, especially for your gut. But the often sour smell, strange bubbles and idea of consuming something that is…old can be intimidating.
Workouts to keep you moving between zoom calls
Monday 6/15
8 am: (40 min) Maggie Umberger creates a morning HIIT workout
Tuesday 6/16
8 am: (45 min) Rae Reichlin gives a taste of Ladies Who Lift
Wednesday 6/17
8 am: (45 min) Julian Collins presents an at-home boxing workout
Thursday 6/18
8 am: (45 min) Paige Willis starts your morning with yoga
Friday 6/19
8 am: (45 min) Karen Prorok brings you at-home strength