Everything You Need to Know About THC-Infused Beverages
For many people — especially those in states where recreational cannabis is legal — edibles are not a new idea, but one trend that has gained traction in the past couple years is the interest is specifically THC- and CBD-infused beverages. Whether individuals prefer not to smoke or are looking for an alternative to alcoholic beverages, CBD- and THC-infused beverages can be a refreshing choice instead of a typical edible, such as a chocolate bar or gummy candy.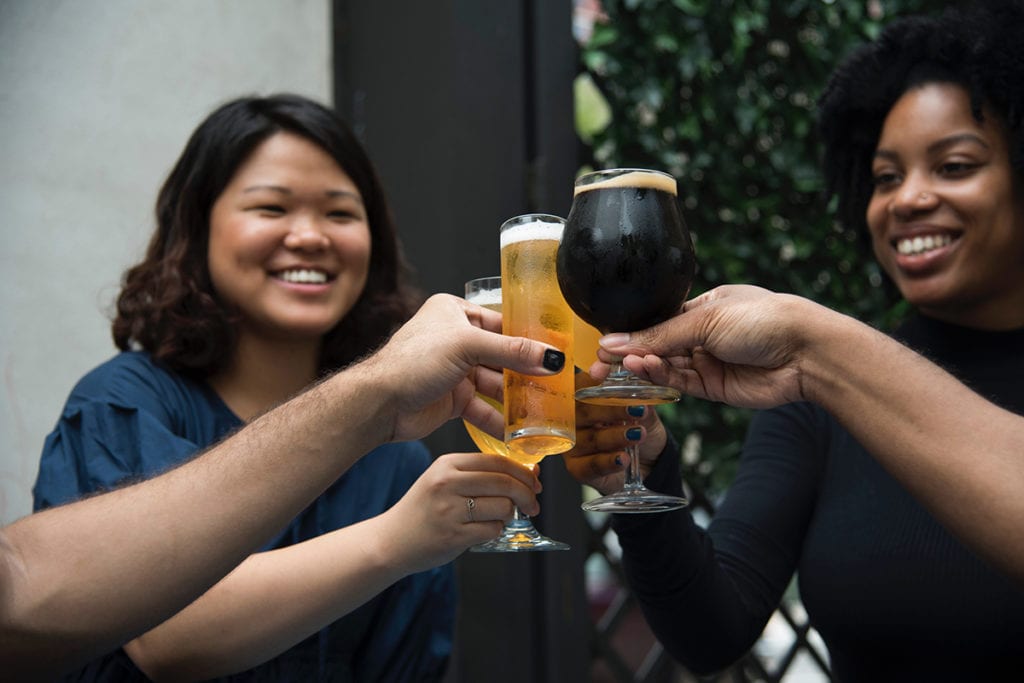 One company that is making waves in this area is Lagunitas, who partnered with California-based CannaCraft in 2018 to create Hi-Fi Hops, an IPA-inspired sparkling beverage without alcohol, calories or carbs. Hi-Fi Hops is available in three levels: one with less than 2 milligrams of THC and 18 milligrams of CBD, one with 5 milligrams of THC and 5 milligrams CBD, and one with 10MG of THC and no CBD.
Kial Long, VP of Corporate Communications at CannCraft explains that though cannabis beverages have been around for years, the category evolved rapidly over the last few years to appeal to larger audiences. Sweet syrupy drinks with 100 milligrams of THC are making room for healthier, low-dose THC and CBD beverages.
Another reason many adults — even long-time cannabis enthusiasts — may be looking for alternatives is due to health concerns and lifestyle changes.
"It's often the older customers that have been 'smoking since the 70s' that now enjoy THC-infused beverages," Carson Shipley of Lux Pot Shop in Washington says. "Usually, it's people who have health concerns about smoking or vaping or prefer the effect of an edible high."
The rise of sober curiosity is also boosting the THC-infused beverages industry. "A lot of people don't drink for various reasons, so we wanted to provide a beverage option that worked just as well at home or in social settings," Long adds.
Hi-Fi Hops specifically has a fast-acting emulsion that mimics the fast-onset and offset of an alcoholic beverage, which can be a game changer for many folks, Long explains. Unlike most edibles, which can take several hours to feel the effects, Hi-Fi Hops is felt in 15-20 minutes and the relaxed feeling lasts around 1-2 hours. Even better, if you skip the booze at a party and stick to CBD or THC, you can rest assured you won't be dealing with a grueling hangover the next day.
The logistics of THC-infused beverages
As with everything in the cannabis sphere, there are legal implications when it comes to THC-infused drinks. Generally speaking, though they mirror the state cannabis and edible laws, it definitely takes some careful attention to detail to stay in compliance with those.
"This is especially prevalent in how we market the drinks. Hi-Fi Hops is made in collaboration with Lagunitas, which is of course an alcohol manufacturer, and so sometimes we have to try and play by both sets of rules," says Long. "The most important thing is ensuring that our customers know and understand what the product is — it has hops, it is refreshing and delicious, it is made in collaboration with a beer company — but it is not beer, nor is it meant to be. Hi-Fi Hops is its own thing, but thoroughly a cannabis-infused beverage."
Another thing to keep in mind when purchasing your THC-infused beverages is the vessel they are in. It was recently reported that the potency of cannabis beverages could be reduced when stored in aluminum cans. Luckily, many companies – including Hi-Fi Hops – have switched to glass bottles to avoid the risk. Shipley adds that he isn't aware of any THC beverage company in Washington state that is using aluminum cans.
What the future holds for THC beverages
All in all, there's no doubt that the cannabis-infused drink market will continue to grow.
"All of the research and trends show that cannabis beverages are on the rise," Long says. "I suspect as drink options increase and improve and as cannabis legalization continues to spread globally, that we will see the market for beverages grow."
Shipley adds that he predicts more alcohol companies are going to recreate their flavors but switch out the booze for bud. He suggests even using THC-infused drinks with non-infused drinks to make them a bit fancier.
"We sell an orange cream soda, which topped with a couple scoops of vanilla ice cream is pretty damn tasty," he adds.
Ice cream social anyone?