These Are the Food "Rules" I'm Throwing Out During COVID-19
As a freelance writer, I've been writing several articles about ways to stay healthy, to eat well, and to avoid overeating or weight gain during the COVID-19 social distancing period. And if I am being honest—it blows. Because for me, it's basically impossible to maintain the exact same fitness and nutritional routine right now, and the standard food rules add unnecessary pressure during a time of isolation, instability, and stress when people need to treat themselves with comfort, compassion, and acceptance.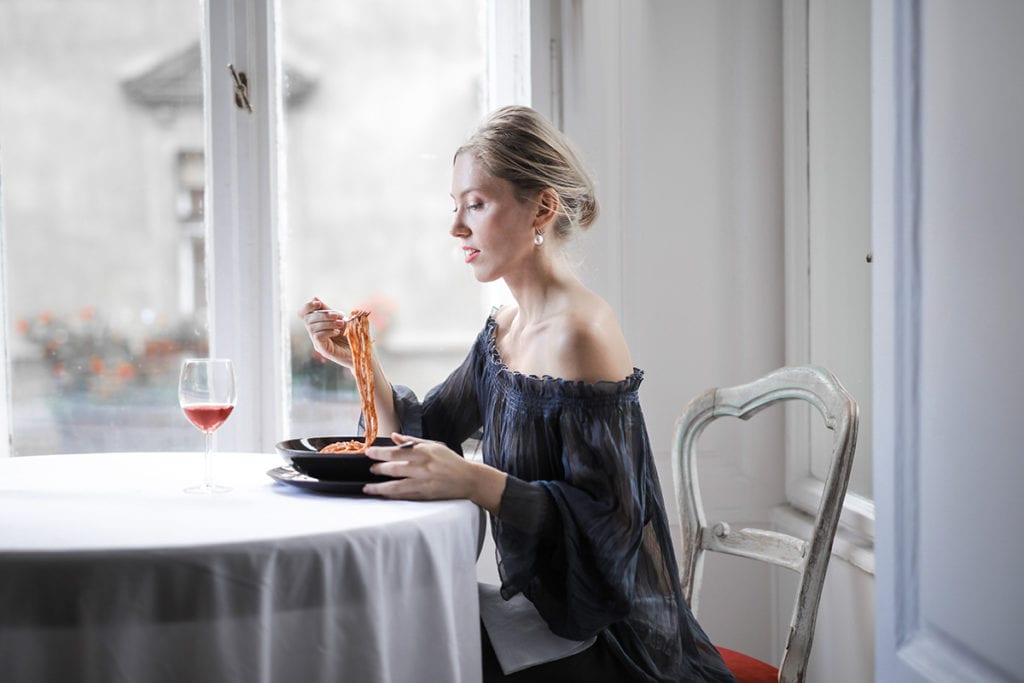 Should you overeat or choose to order in greasy takeout every day? No. Of course not. But, should you forgive yourself if you want to eat an extra scoop or two of ice cream or if you eat a few more snacks than usual? Yes! 
All in all, I think you should strive to be as healthy as you can to keep yourself sane and to nourish your body—but these are the food rules I am tossing in favor of more acceptance and honestly, RATIONAL thinking, about what is inevitable and most realistic during this time. 
Remember, everything is temporary—you can resume normal life once we are out of quarantine. Your fitness studios will open up again, you will feel less alone and more supported by friends and family, and you will have your routine back, where you can eat standard meals and snacks and have more distractions in the day. Until then, here's how I'm treating myself with compassion as it relates to food:
It is okay to snack more often
This is a time when you are sitting at home all day—there is food around you 24/7. It is hard to not feel hungry when you are in close proximity to your snacks, and you cannot go outside or find a way to distract yourself from heading to the fridge.
If you are grabbing an extra snack or two in the day, don't beat yourself up. You are a human. It is there. You have less on your plate for work and more hours in the day at home, around the food. You are likely more bored! It is okay to enjoy a few extra snacks right now. 
It is okay to snack on more comforting things
If you have a bag of chips at home and a broccoli cauliflower burger patty, which do you think you will want to eat more? Obviously the chips! It is comforting. It is okay if you choose to eat what provides some comfort your body over the "healthy" food choice. It is unrealistic to expect your body to crave the healthiest choice every single time! 
Sure, keep that chip serving size realistic, if you can. But once you've made the decision to enjoy the chips, why not try eating mindfully and really savoring each bite, each taste, and each crispy crunch?
It is okay to order takeout and not cook 
People are cooking up a storm at home, and that can help you make healthy meals. I think it is great to cook a bit more often now—you can save money, and it can be a therapeutic way to release anxiety or to enjoy a meal with loved ones over FaceTime dinner or with an S.O. or roommate you're also staying inside with. 
Yet, it is also okay to order in that pasta, pizza, and meatballs when you are craving something hearty and indulgent! Not only will that settle your craving and be a treat for you—with some vino of course—but also you are supporting restaurants and small businesses during this time (and industry that is surely taking a beating and could use your support now!). 
It is okay to not be super strict with your health right now
If you are drinking wine more for FaceTime happy hour dates right now, or if you need to just enjoy some sweets and comfort foods to settle stress, let yourself have it. Now is a time when life is hard—there is anxiety and sadness from work issues, from feelings of isolation and a whacky, irregular schedule that seems empty and unfulfilling. 
And perhaps you're not feeling great about your body or health right now. Maybe you're not working out as you usually do, maybe your hormones are causing water retention from feelings of isolation and sadness, and maybe you're snacking a bit more than usual. Realistically, your body will likely change right now as a result of the pandemic's effects on society—and that's okay.
My takeaway
Again, this situation is all temporary. It is okay to look different right now, to feel different, to eat differently, and to be more relaxed in your workouts. Instead, cut yourself slack and let yourself live to get through this rough time. You can be healthy once you feel more purposeful and in control of your regular schedule. Don't set yourself up to be "healthy" right now with eating, but rather let yourself be "happy" with eating and your lifestyle when at home.