Are People Ready to Go Back to Gyms? Here's What We Found Out.
Of the innumerable ways our lives have all changed this past year due to COVID, one thing that probably impacted most of us is our workouts.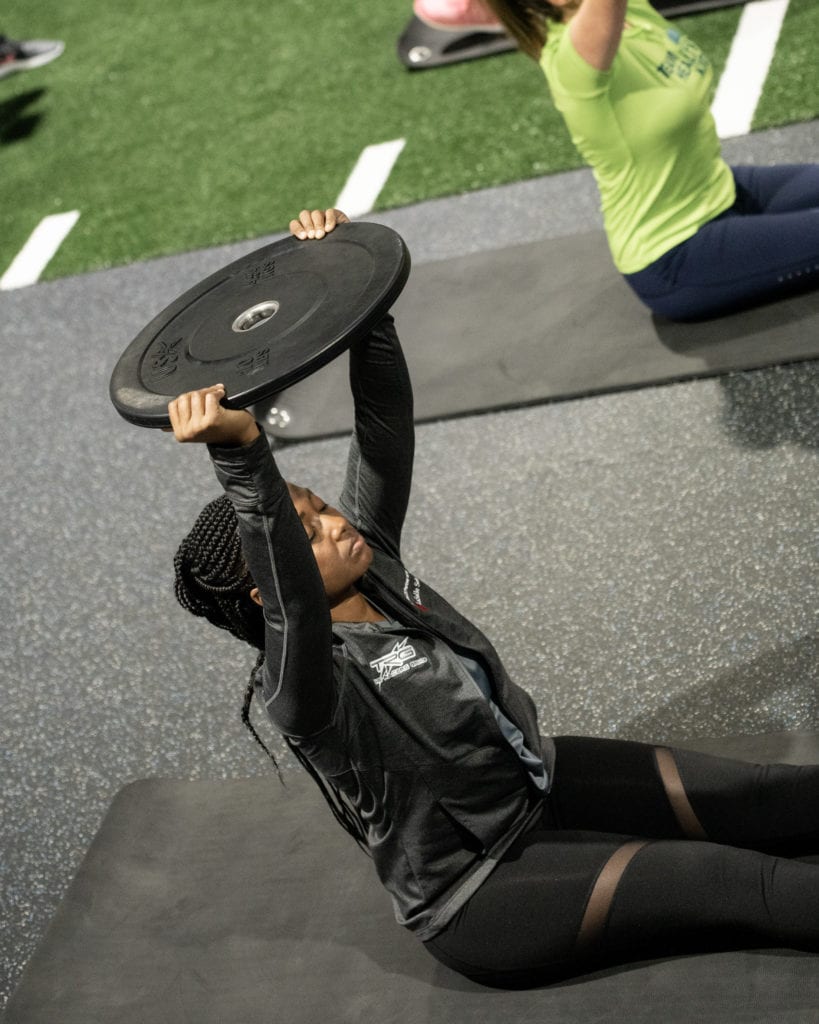 When the world shut down about 13 months ago, I think most of us felt that things would get back to normal by the summer. After we got over the shock of being locked down in our homes, we did some mindful walking outside, dusted off some old hand weights we had lying around, and maybe turned on YouTube to watch a workout video.
A few months later, some of the world, including gyms, opened back up again. Some of us slapped on masks and/or face shields and went right back to the gym, following the gym's new sanitizing protocols. Some people, like me, were reading that gyms were a top spot to catch COVID and stayed away from our beloved houses of workout. Around the country, gym goers cancelled their memberships.
In turn, we hit the online stores and bought workout equipment to use at home. We followed our favorite instructors online for their workouts. Some gyms and fitness studios offered online classes, because they realized that we would be in this pandemic for the long haul and needed to still get our workouts in.
Now, millions of people are getting vaccinated, and it finally looks like there is light at the end of the tunnel. We may be able to go back to our beloved gyms and work out safely without any fear of getting sick (more than the usual athlete's foot or not being able to unsee naked people in the locker room.)
But the question remains: is everyone planning to re-start their gym memberships? I was super curious, so I crowdsourced my Facebook friends via an informal poll, asking "Have you cancelled your gym membership due to COVID? If yes, will you go back?" The 58 respondents were generally in the 30-60 age range, and lived in urban and suburban areas. Then, I got the opinion of a research fitness director to add in his predictions about what the future of fitness looks like.
"Gyms have always been the pillar of health and fitness leading up to this pandemic. So for the past year members were forced to explore and depend on other solutions to achieve their fitness goals. This experience leads to several reasons as to why some members are returning and why some are not," said Nick Rizzo, Fitness Research Director at runrepeat.com.
40% of respondents are not going back to the gym
Fifty-eight people responded in the poll. Forty percent of those said they canceled their memberships and won't be going back because they are happy with their workouts at home or outside.
According to Rizzo, by removing the time wasted going to the gym, getting ready to work out, dealing with gym rushes, and coming home, people find they can get more exercise into their day.
Many former gym-goers say that it just doesn't make sense to spend so much money on a gym membership every year when you could invest in higher quality home workout equipment. Every year, instead of paying for the membership, you can look at what you have, look at your goals, and make a smart investment in the right equipment or solution for you.
A friend of mine, Ken, said, "I was a 5x a week 'gym rat' for years before COVID. For the last few years, I also worked as a personal trainer at my longtime gym. I am not currently planning to go back in either capacity. It isn't because of lingering health concerns but because I now know I can get (and give) great workouts at home!"
Even seasoned gym veterans aren't returning, Rizzo said. Instead, they have invested in the necessary equipment they need, combined with some online solutions, and have adapted it into their lifestyle. Many have stated that they are staying more consistent, are getting active more often, and seeing greater success.
35% have already gone back to the gym
Thirty-five percent of respondents said they did not cancel their memberships and went back to the gym when it opened up last summer.
Some gym members returned right away because working out from home just hasn't been a perfect solution for everyone, Rizzo said. Some struggle with consistency, motivation, or just enjoying the new workout style they have to do.
Some found it challenging to figure out what workouts to do, what equipment they need, and who to listen to. With an excess of options out there, choosing a workout can be a frustrating experience for many, so returning to the simplicity of "the gym" was an exciting prospect.
25% cancelled, but plan to go back
Twenty-five percent of respondents said they did cancel their gym membership, but they plan to go back because they miss group classes or the different gym equipment.
"A major aspect of wanting to get back to the gym is for the human connection," Rizzo said. "Whether that is just in the general social atmosphere of the gym, connections with other regulars, or the supportive environment that group exercise classes provide, they bring the tangible human aspect that home workouts and digital fitness haven't been able to deliver on. "
What other research says
According to Rizzo's research, of those that plan on returning when vaccinated, 48.24% said they would go back when they are vaccinated. In comparison, another 24.24% want to wait until their family, friends, and loved ones also receive the vaccine. This pushes back the goalpost for how long gyms must endure, making the return of members depend upon each country's ability to expedite the distribution and vaccination process.
In summary
As vaccines are becoming more widely distributed, we will surely see a significant return to gyms.
"Unfortunately," Rizzo predicted, "I don't believe this return will be the 'tidal wave' that the gym industry is hoping for, considering a third of gym members don't intend on returning, even when vaccinated."