How to Maintain Your Connections During "Social Distancing"
If your group text messages are anything like mine, coronavirus is all anyone can talk about—what grocery stores were out of what pantry staple, what major event got cancelled, who's working from home, and more. Honestly, these conversations only serve to ramp up my own personal anxiety, especially when we're being encouraged to practice "social distancing" at the same time. It's easy to slip into feelings of isolation, anxiety, and even panic right now.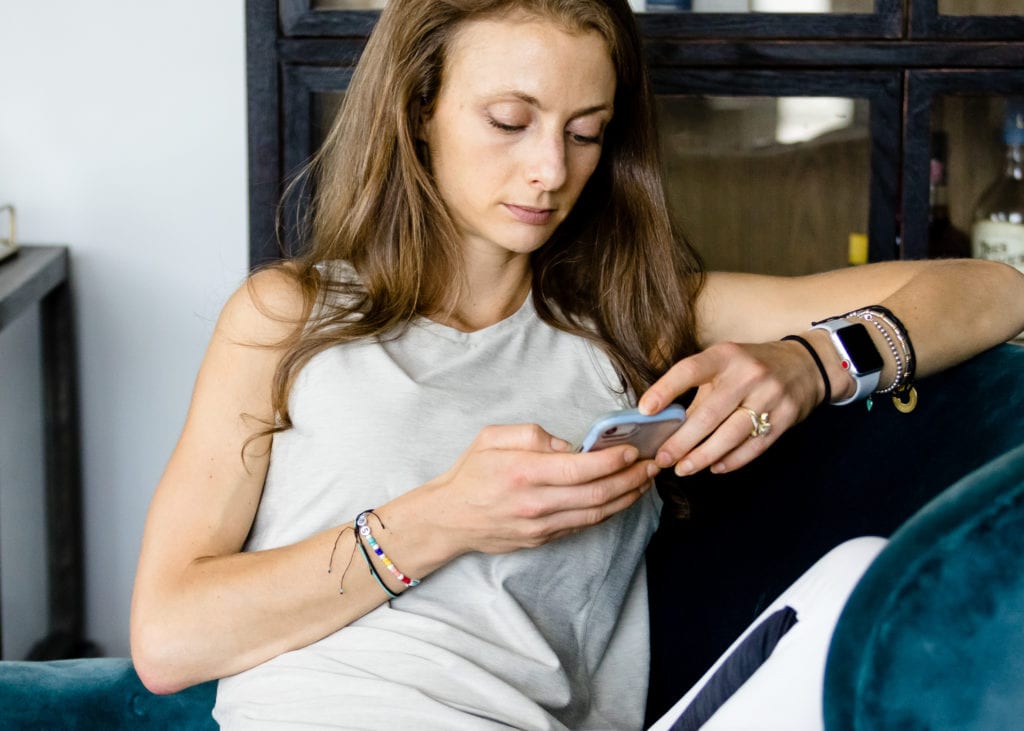 But social distancing doesn't mean dealing with these difficult emotional times by yourself. In fact, it's probably more important than ever to lean on your family, friends, and community to help you cope—just maybe not physically lean on them, right?
As the leaders of the #everythingisbetterwithfriends movement, we feel pretty confident in saying germs aren't better with friends. But, you can still find solace in your relationships and build a sense of community while maintaining the recommended six to ten feet of distance. Here are our best tips for mental health while social distancing.
Instead of texting, try FaceTime or a phone call
Since in-person human connection is going to be limited for a time, the next best thing is to see and hear your loved ones virtually—and luckily, we have all the technology to do that. When you pick up your phone next to text your best friend, ask if they're up for a phone call or quick FaceTime instead. You might be surprised at the amount of comfort it'll bring you to use your screens for a deeper connection.
This is also a great option if you have elderly or immunocompromised relatives that you have to pause visiting, or if you're family lives in another state. You'll also feel reassured that the person on the other line looks and sounds perfectly fine.
Set conversation boundaries with your friends
Protecting your mental health should be just as important as protecting your physical health, and it's totally okay to limit your engagement with coronavirus content when your brain needs a reset. I'm personally at the limit of how much coronavirus talk I can handle right now.
To that end, I'm asking friends and family to keep their conversations with me free of the subject, unless it functionally affects something we need to discuss (i.e., a lunch date needs to be rescheduled or a trip might need to be postponed). Instead, we're catching up on The Bachelor (and #notsurprised that Peter and Madison already broke up), our favorite podcast binges, and what e-books we're checking out from the library. Who knows? Maybe this will finally be the impetus for my friends and me to finally start that virtual book club we've been talking about for years.
Spend one-on-one time outdoors with nearby friends
We've known for awhile that being in nature has a ton of mental benefits, and since getting a puppy at the end of January, I've relied on our daily long walks for self-care and mental resets.
You can do the same, too—especially if you're avoiding the gym at the moment. Take yourself for a long walk (bundle up if necessary) as a way to get your steps in while working from home. Even better, invite a friend who lives nearby to join you so you can catch up without worrying about touching high-traffic surfaces. Whether it's a walk, a bike ride, or Rollerblading, you'll feel a weight lift off your shoulders after moving your body a little bit, and the added bonus of person-to-person connection can help you feel a little calmer, too.
Find group activities (or workouts) that can be done virtually
Like we mentioned above, now is the time to use technology to our full advantage. A virtual book club, FaceTiming a friend while you both watch the latest episode of Survivor, or doing a Google Hangout happy hour on a Friday night are all possible in today's connected world.
For those working from home, you've also got the opportunity to connect with co-workers via apps like Google Hangouts and Zoom. Ambassador Caity Bobber tells us, "My work friends and I have begun starting our days with a 10 minute Google Hangout to mimic when we come into the office and chat over coffee. The main purpose is social (like chatting Bachelor or Love is Blind), not work." Another Ambassador, Molly O'Sullivan, adds that her company has scheduled Zoom happy hours.
If you're missing the community of your local gym, get creative with ways to move your body and include your normal partners-in-sweat. Maybe you set up a step count content or commit to a 30-day push-up challenge that you find on Pinterest, or maybe you live-stream the same workouts to mimic the effect of being in class together (trust, burpees are just as hard at home as they are in a studio).
This too shall pass, and we know it's only going to be harder if we pack ourselves up into tiny boxes of isolation. Your community and connections are essential for your mental health (and friendships are even beneficial for your physical health), so find inventive ways to keep your relationships close until you can physically hug the people you love in person.