How to Manage Anxiety About Reopening
As the vaccine rollout ramps up and all adults in the US on track to become eligible to receive a dose in the coming weeks, we're beginning to see a light at the end of the tunnel. As restrictions loosen and more people reach fully vaccinated status, many of us are beginning to think about seeing friends indoors, eating at a restaurant, hitting up a spin class, and traveling possibly for the first time in over a year. The progress we've made against the virus is certainly cause for celebration.
However, case counts continue to climb despite the race to vaccinate as many people as possible. Mixed messages from public health officials provide conflicting advice on what is and isn't safe. Combined, the hope and excitement you might be feeling may be mixed with a significant amount of confusion and anxiety.
Additionally, after a year in isolation, some people may experience anxiety about returning to a world that more closely resembles what we knew pre-COVID. Whether you're experiencing social anxiety about returning to larger group settings, financial anxiety about budgeting for things like travel and entertainment for the first time in months, or aren't quite sure how to navigate safely through a post-COVID world, you likely have questions about how to manage reopening anxiety. I turned to Morgan Goulet, Licensed Marriage and Family Therapist (LMFT), for guidance. Here's what she had to say.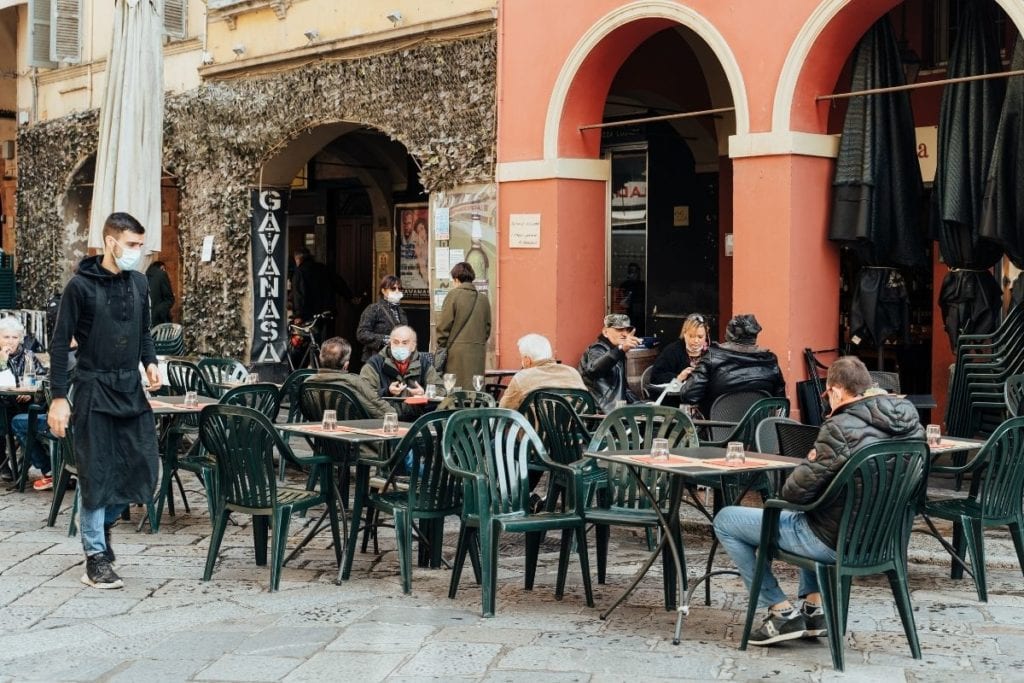 What to expect
While it may feel counterintuitive to experience anxiety around such a seemingly positive situation, Goulet provides encouragement that it's more than okay to feel anxious right now. "Although re-opening is what we have been hoping for and looking forward to for over a year, it is completely normal to experience anxiety around this," she says. "Many people are still unvaccinated which may bring up concerns around socializing or having to return to work. As difficult as it was when there were restrictions in place and vaccination had not begun, we adapted and guidelines were clearer," she reminds us.
"Now we have to navigate new situations and adapt again," she says. "As a society we have been experiencing a collective trauma around our health and the impact of that trauma doesn't just disappear once the covid decreases," she explains.
While the threat of the virus will hopefully continue to diminish in the coming months, there are other reasons we might feel anxious about the prospect of a post-COVID world. "Many individuals with social anxiety have experienced a decrease in symptoms over the past year. However, with social interactions starting to resume, they may not only experience symptoms again but those symptoms may be worse. There also may be people who did not experience social anxiety pre-pandemic but now feel anxious about being around large crowds or in certain settings," Goulet cautions.
Goulet normalizes this experience explaining that "as much as we may have disliked it, we adapted to the way of life during quarantine and resuming activities on the weekend, returning to the office, and social gatherings can feel overwhelming."
How to manage anxiety about reopening
"Allow yourself time to adapt when you can and do what works best for you," Goulet advises. You don't have to jump on a plane or run to an indoor restaurant immediately after reaching full protection from the vaccine if you're not comfortable doing so. Instead, start with smaller, lower risk activities like meeting up with a friend or two for an outdoor picnic or having a small indoor gathering with one other fully vaccinated household.
Additionally, she advises the following coping skills to manage any anxiety you're experiencing surrounding reopening.
Consume media mindfully
If you're finding yourself constantly Googling case counts and vaccination statistics, take a break. "Limit your intake of social media and news related to COVID!" Goulet encourages.
This doesn't mean you need to tune out completely, but rather stay informed in a way that isn't detrimental to your mental health. "Find a balance between staying informed and giving yourself space to process and think about other things. Fixating on COVID-related news will only exacerbate any fears or anxieties you may have," she cautions.
While you unplug from social media and news, she suggests trying exercises that will further reduce your anxiety. "engage in mindfulness practices or meditation," she says. "Especially if you are experiencing feelings of anxiety or panic calming our breath calms the nervous system, which decreases these feelings," she explains. "Mindfulness and meditation also provide the space to experience our thoughts without judgment which is extremely beneficial during times of transition."
Practice self-care
Goulet urges us to "incorporate small things into your day that make you feel good. Whether that's going on a walk, talking to a friend, or reading, if you start your day with one of these activities it can help shape your outlook for the day. Or, doing them later in the day gives you something positive to look forward to.
Finally, don't bury your anxiety and hope that it will dissipate. Instead, talk to someone, "whether it's a therapist, a friend, or a family member, it's important to share how you're feeling," she reminds us. "When we keep our thoughts and feelings inside they can continue to grow until they feel unbearable. Sharing what you're experiencing can help decrease the anxiety."