aSweatLife's Digital Home Workout and Workshop Schedule – Week of April 27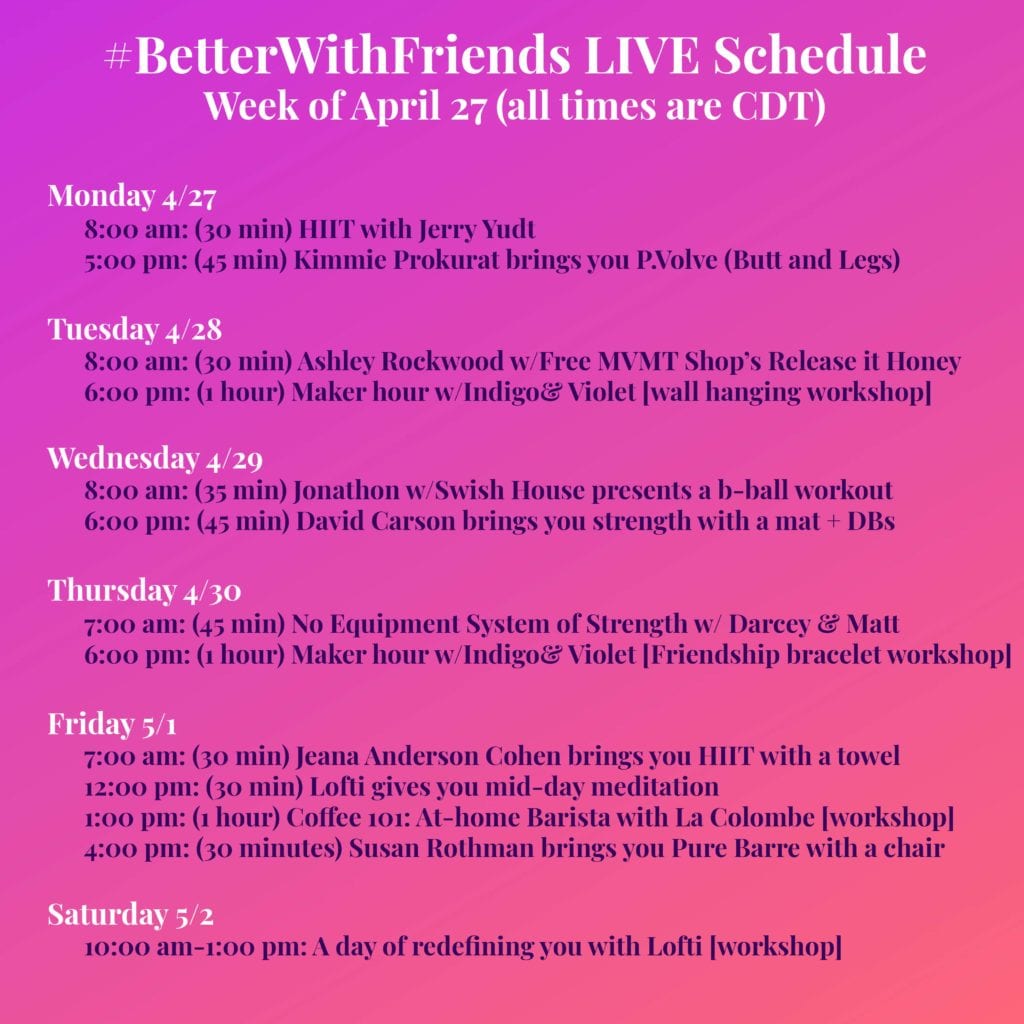 We've been overwhelmed with your support, aSweatLife nation! Thank you for sweating with us, for sharing your suggestions on the times and formats you want to see on the digital schedule and for raising your hands to lead virtual classes. You'll see in this week we've incorporated feedback into our home workout schedule like including different formats and time slots.
We're also creating workshops to shift your daily norm helping you to keep the days, meals and activities from running together. So, this week, we'll make some things, we learn some things, and we'll do a little self-work.
We're immensely excited to partner with Jerry Yudt, P.Volve, Free MVMT Shop, Indigo & Violet, Swish House, David Carson, System of Strength, La Colombe, Susan Rothman from Pure Barre West Loop/Pure Barre Fulton Market and Lofti.
Four workshops to bring something different to your days
Tuesday 4/28: Maker Workshop with Indigo and Violet – Wall Hanging
We've been in our apartments, homes, condos, etc a LOT recently and so we got to thinking, it is a great time to change up some decor. One great way to do this without breaking the bank? DIY decor!
On Tuesday, April 28, 6:00 pm, we've invited our good friend and interior designer, Leigh Hardy from Indigo & Violet to help us create a one-of-a-kind yarn wall hanging. These stunners can be found at Anthropologie, West Elm and more but are an easy DIY craft for all levels. And since #everythingisbetterwithfriends we want you to join! Leigh will walk us through how to create the beautiful wall hangings step-by-step so you'll have your very own to hang by the end!
Thursday 4/30: Maker Workshop with Indigo and Violet – Friendship Bracelets (donation-based: Pay what you can)
On Thursday, April 30, 6:00 pm, we've invited our good friend and interior designer, Leigh Hardy from Indigo & Violet to help us recreate the joy that is making friendship bracelets! Yes, the kind you made tons of at camp or at slumber parties. Just like scrunchies, we think they deserve a comeback. And since #everythingisbetterwithfriends we want you to join! Speaking of friends, you can make bracelets to give to your friends when you are able to see them again 🙂 Leigh will take us step-by-step through making bracelets with embroidery floss.
Friday 5/1 at 1 pm: Coffee 101 – At-home Barista with La Colombe (complimentary)
What do different roasts mean? Does single origin taste different? How do I know what grind size I need? What the heck is Coffee Custard?! There is a LOT to know about coffee and we've been doing too much self-experimenting at home, time to bring in some experts.
On Friday, 5/1, aSweatLife is hosting an afternoon coffee break with Cam Mascia from La Colombe. Cam is a coffee connoisseur extraordinaire and has worked for La Colombe for 5 years, currently as Senior Account Manager of Sales in New York City. Not only will Cam be able to answer all of your coffee questions in this virtual event, you will also learn how to make his signature Coffee Custard (ingredients below)! We love La Colombe because the coffee is amazing AND they're focused on supporting coffee farmers, sustainability, and empowering communities. For example, the coffee Cam will be using is part of an initiative to help support the ACLU Women's Rights Project, $2 from every box is donated to the cause!
Saturday 5/2: Redefining YOU! A Reflective Morning to Build a More Mindful Personal Brand ($30)
Discover the one thing that will take you to the next level and deep dive into the brand of you. Whether you are looking to make a career shift, uncover what qualities contribute to achieving a personal goal, or to explore your life purpose, we'll help you build the foundation for strategic and memorable personal branding.
Our partners at Lofti will guide you with a step-by-step process to reflect, find perspective, and help you craft a clear, consistent story and action plan to bring it to life. Your empowering morning will include:
A short sound bath while you explore your personal "why" as we pair guided meditation with mindful journaling prompts.
A fun twist on personal branding through a creative yoga flow designed to help you get clear on your brand.
Help unlocking answers to the hard questions around what makes you unique and how to best tell that story to the world.
Collaboration with like-minded attendees affirming your story and empowering your new friends with theirs.
This holistic workshop will empower your mind, body and spirit. In addition to expert guidance, we'll include giveaways, mindful snack breaks, interactive group discussions with fellow go-getters, new inspiration for your brand, and a digital goody bag that includes a mindful action plan to keep you going post session.
We'll be using the Zoom platform as our cozy work space. If you don't have Zoom, you can download it on your phone or computer for free here!
The schedule of Events is located here!
So many ways to get a home workout in!
Monday, April 27
8:00 am: (30 min) HIIT with Jerry Yudt. Instructor at Spynergy Wicker Park and creator of his own program Y3 Lifestyle Coaching, expect lots of fun from this workout.
5:00 pm: (45 min) Kimmie Prokurat brings you P.Volve (Butt and Legs). P.volve is a functional movement fitness program that helps you find the best body for living your best life. It's different and it's tough.
Tuesday, April 28
8:00 am: (30 min) Ashley Rockwood w/Free MVMT Shop's Release Hunny. We need to release. Follow along dance class combines contemporary and modern elements for a full body expression. No experience needed to live in some feel good vibes.
Wednesday, April 29
8:00 am: (35 min) Jonathon w/Swish House presents a b-ball workout. Swish House is a basketball fitness class designed for anyone who loves the game! Whether you're an ex pro player or a casual hoops fan, you can do this! Founder and CEO Jonathon Dues @ceoswishhouse will run this 30 min class that shows you how fun, simple at-home basketball drills will produce eye-popping fitness results"
6:00 pm: (45 min) David Carson brings you strength with a mat + DBs. As a former professional basketball player turned NIKE Master Trainer, David Carson is about to light up your night with an athletic focused strength workout.
Thursday, April 30
7:00 am: (45 min) No Equipment cardio + core with System of Strength's Darcey & Matt. System of Strength was developed to give your body, all of the physical elements that it needs to ensure that it's working in the most efficient manner possible. The System builds upon elements of strength, cardio, stretch and recovery. The system works.
Friday, May 1
7:00 am: (30 min) Jeana Anderson Cohen brings you HIIT with a towel. Towels: not just for dabbing the sweat off of your face. We'll amplify your HIIT and strength workout with a towel.
12:00 pm: (30 min) Lofti gives you mid-day meditation. Going LIVE from both Instagram and Facebook, Lofti will give you a preview of the weekend's workshop
4:00 pm: (30 minutes) Susan Rothman brings you Pure Barre with a chair. Don't underestimate how powerful this Pure Barre workout can be with just a chair in your house. Couple that with Susan's perfectly delightful personality, and you have yourself a great way to end your Friday.