Meet us for a Full-Day Takeover of Urban Athlete, March 24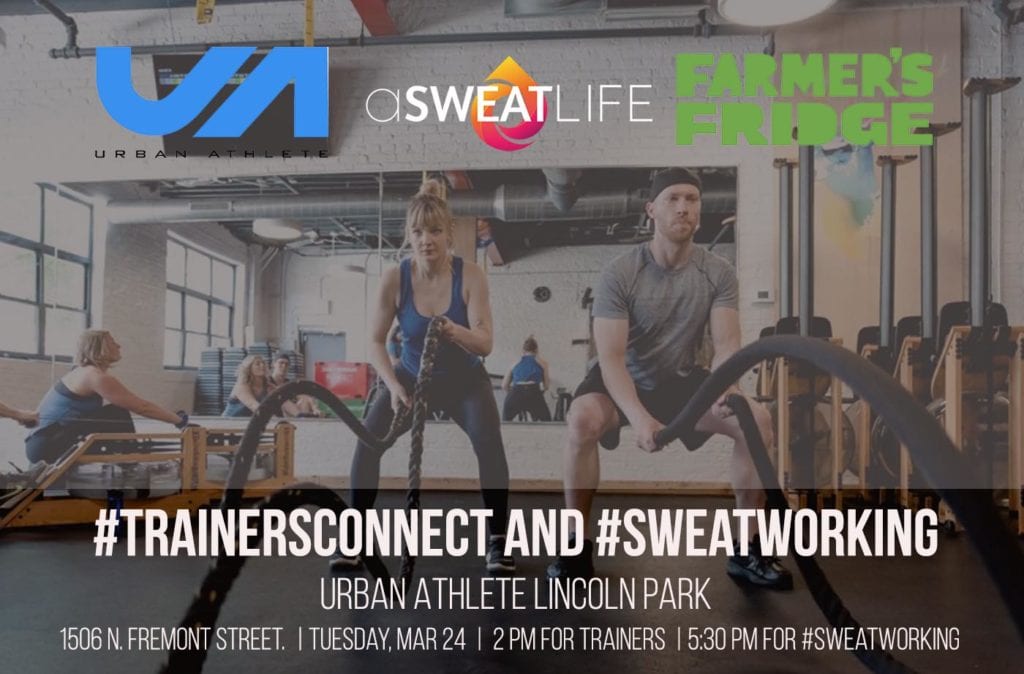 [Get tickets to #TrainersConnect right here.]
[Get tickets to #Sweatworking at 5:30 pm right here.]
On Tuesday, March 24 we're spending the afternoon and evening at Urban Athlete, a hybrid studio in the heart of Lincoln Park that offers circuit training, indoor cycling, and group stretch. With over 90 classes a week that include a wide variety of workout choices, Urban Athlete classes are designed to enhance the functionality of everyday life. Utilizing heart rate monitoring during class, members maximize their workout in the target zone. We can't wait to spend the day welcoming this unique studio to the Lincoln Park scene with you, Chicago!
First, we'll gather for #TrainersConnect – our monthly event for fitness professionals in Chicago where all fitness professionals are welcome – from 2-4 pm. In the evening, we'll take on #Sweatworking together from 5:30-6:30 pm with snacks and refreshments post-workout.
On top of the studio itself offering lots of modalities of fitness, for both #Sweatworking and #TrainersConnect we'll experience a mash-up concept that pulls from some of the best Urban Athlete offers.
And after each workout, Delos Therapy will be on site to help restore your aching muscles!
More about the workout:
The team will put us through a circuit mashup combining cardio and strength in this unique crossover. Ripped Ride combines indoor cycling with a full-body HIIT circuit including strength and core. We'll experience a portion of their signature RIDE and a portion of all-out HIIT and core work. The skill level for this workout will be for all levels.
Details about #TrainersConnect
What: #TrainersConnect, our monthly event for fitness professionals in Chicago – all fitness professionals are welcome! First we'll work out, then we'll have a workshop
What are the details about the workshop? It's no secret that authenticity is key when it comes to developing long-lasting community and loyalty from your clientele. Urban Athlete's community is a case study in this type of pure community from the heart. In a two-part workshop after our workout together, we'll hear from the President of Urban Athlete, Nelle Lawrence, and from Jeana Anderson Cohen, founder of aSweatLife, about what it takes to build a business from the heart with real people, a true community, at the center. Nelle will share more about the approach to building a gym with people at the center. Jeana will share the science behind friend-making, and why it's a good move for your business.
Where: 1506 N. Fremont St
When: 2-4 pm on Tuesday, March 24
Will we be fed? You bet!
Where to buy tickets: Right here!
Details about #Sweatworking
What: #Sweatworking, our monthly event for anyone who likes to try new things and meet new people!
Where: 1506 N. Fremont St
When: 5:30-7 pm on Tuesday, March 24
Will we have snacks? Absolutely – we'll have snacks for you to enjoy after we take on Ripped Ride
Where to buy tickets: Right here!
Let us know!
Did this post help you get closer to achieving one of your goals?