The Road to WellStreet, Volume 3: Crush Your Fitness Goals without Crushing your Financial Dreams
Close your eyes (well, maybe read the next sentence first). Now imagine yourself in your ideal fitness situation. Where do you see yourself? What are you wearing?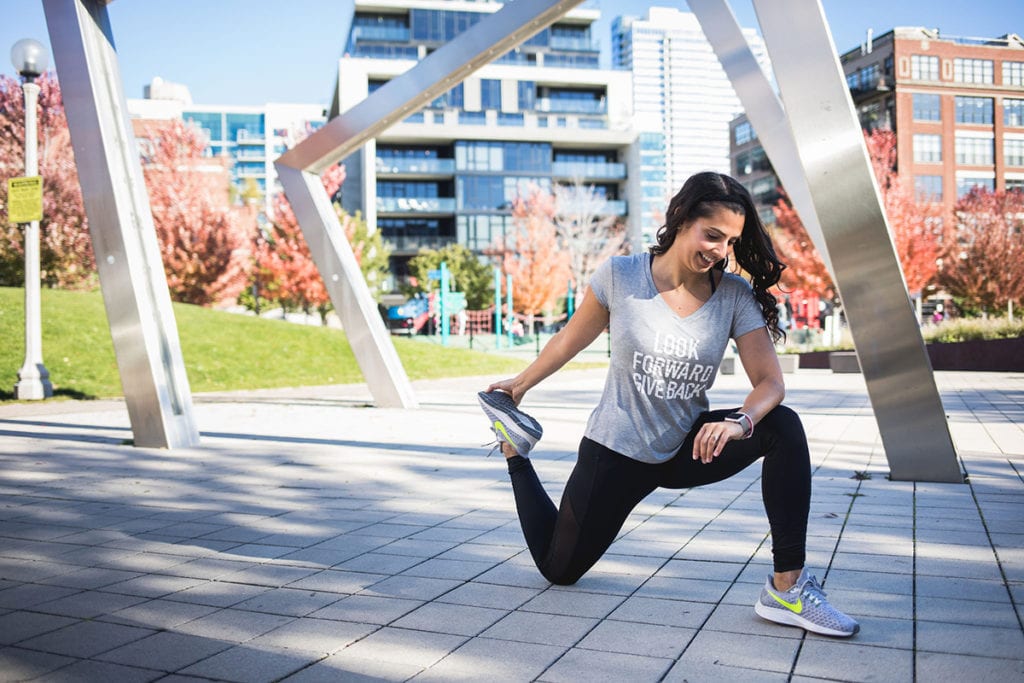 Maybe you're taking a cycling class while surrounded by 300 Jonathan Adler candles (who cares about fire hazards? #worthit) in a matching baby-blue set from Carbon38 while sipping on some Fiji water. Or maybe you're at a high-intensity interval class wearing all black while some model-like "entertrainer" is yelling at you to unleash your inner panther on the treadmill.
Before you swipe your credit card, let's do a little mental math:
Matching athleisure set – $150 (but you look damn good!)
Fiji Water – $3 (but hydration)
Fitness Class – $30 (but #innerpanther)
The experience – priceless… right?
Not so fast! While we are huge believers of "treating yo-self" and savoring the moment, we also understand that saving and investing are key to financial freedom.
In our last article, we highlighted that saving is the first stop on your journey to financial freedom – and compounding interest is a powerful tool. Starting early and saving often is a critical part of the personal financial puzzle.
It's incredibly easy to believe that taking $30 cult cycling classes every day and wearing $300 leggings made of sustainable baby alpaca hair (okay, maybe not that part) are the "norm" based on what we see on social media. But it's ABSOLUTELY OKAY to not be able to afford pricey boutique classes all the time. "That's not in my budget" can be a part of your vocabulary.
And hey, if rocking that matching crop top set IS in your budget, you go girl!
We're passionate about both finance AND fitness, and we're excited to show you there are great options that get you your endorphin high without emptying out your wallet.
After spending six years in Chicago, we put together a list of fitness options for any budget! This certainly isn't an exhaustive list, but hopefully it gives you a place to start – whatever your budget level is.
Less than $100 Per Month
At-home workout gear. Get a set of resistance bands, a glider, and a kettlebell or two from Amazon and the at-home workout options are endless! Pro tip – Facebook Marketplace can be a great option to buy fitness equipment locally at a discount
Big box gym memberships. Places like X-Sport, Planet Fitness, or LA Fitness are often a more affordable option
Office gyms. Check your workplace; many buildings offer gym access for a small fee
Free/low cost apps. Some of our faves include:
Influencer pages. Make sure they're accredited! Here are some of our personal favorites:
Free workout events. You can find some really cool ones if you know where to look!
$100 – $150 Per Month
To supplement the above, throw in a boutique fitness class or two. Here are some studios that let you try a class for a discount (or for free!) before buying class packs. Prices below are for the Chicago market, as of December 5th 2019, and may vary by studio location:

Boxing
Yoga
HIIT
Pilates/Barre
Cycle/Row
$150+ Per Month
Upscale gym. You know, your gyms with the eucalyptus towels and what not. It doesn't hurt to ask your company if they have a corporate program (read: discount!) with the gym. Some gyms also offer a discounted rate to peeps who work in the non-profit space
ClassPass/FitReserve. Perfect if you want to add on some class packages to your gym

ClassPass – You can get 85 credits for $139 and in our experience in the Chicago market, this translates to roughly 7-12 classes. If someone refers you, there's usually a discounted month!
FitReserve. This is a newer platform with fewer studios on it, but the highest tier on their current plan is 10 classes for $135

Throw in a few charity classes!

Follow Wellness4Everyone, a non-profit doing great things for Chicago's students. They host classes with incentives and awesome swag!
Check Eventbrite for charity classes around your city
Check the aSweatLife Calendar to see what's happening each month
Our personal philosophy around fitness spend is having an attitude of gratitude. We know we are fortunate to live in an amazing city with a great fitness scene, and we definitely don't take for granted that we have access to so many amazing instructors and class formats. But we find what works within our own budgets – and when we DO work in the occasional splurge, we end up savoring it even more.
See! You CAN crush your fitness goals without crushing your financial dreams. Next time, we will share our thoughts on food and fun – including tried and true tips on savoring the occasional fancy do(ugh)nut without spending all your dough.
And don't forget to follow us @thewellstreet, because we're on our third article and it's time we made it official.
Disclaimer: Anna and SJ of WellStreet are inactive CPAs, not professional financial advisors. This advice is a guideline based on their own experience, research, and advice from others. At the end of the day, you know your financial situation better than anyone.