How to Transform Greek Yogurt into the Dip of Your Dreams
Greek yogurt is awesome. From a nutritional standpoint, it's high in protein, full of probiotics, and a serving also boasts quite a bit of calcium, potassium, and vitamin B-12. This makes it perfect for a post workout snack, healthy breakfast to keep you full through the morning, or as an addition to smoothies to make them more substantial.
Greek yogurt isn't just a nutritional powerhouse – it's a really great kitchen staple that can take on all kinds of roles in dishes to add that nutritional punch and lend great flavor and texture.
The reason Greek yogurt is such an amazing ingredient from a culinary standpoint is that it's kind of a chameleon. It shares a lot of flavor properties with mayo, cream cheese, and sour cream, and can easily go savory or sweet with a few simple mix ins. It's a pretty perfect substitution for any of those ingredients, but my favorite place to sub it in is as the base for dip!
I love dip. With chips, veggies, a spoon? Cool creamy texture on something fun and crunchy? Sign me up. If I could eat chips and dip for every meal I would. And with Greek yogurt as the base I'm a lot closer to that being a realistic possibility. Here's how you can make Greek yogurt into a perfect dip with a few simple mix ins.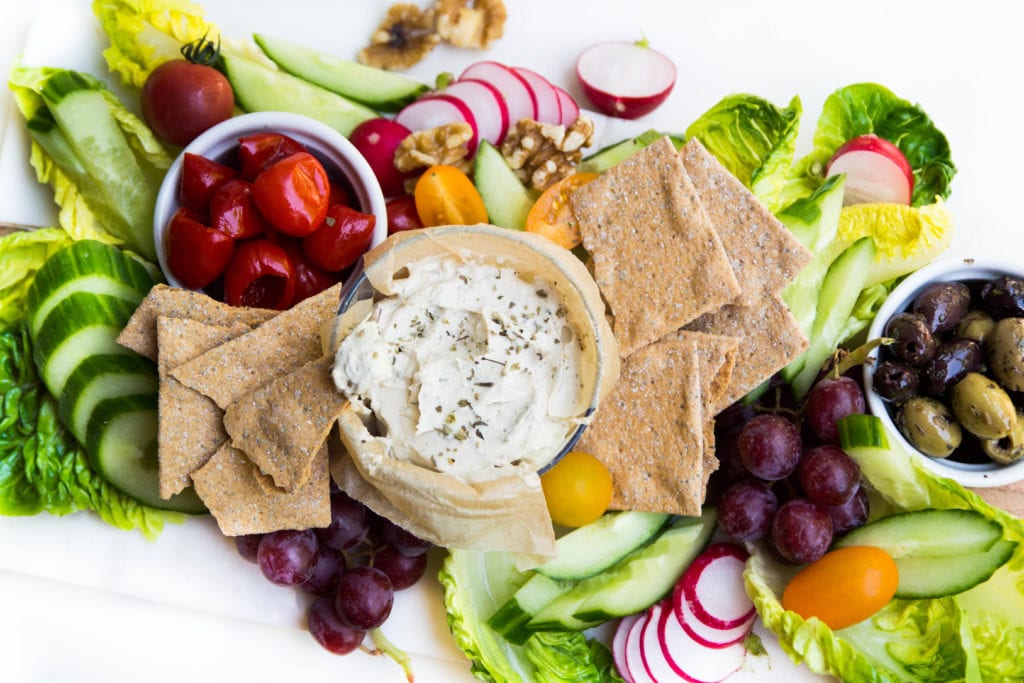 Fresh and tangy
Possibly my favorite use of Greek yogurt as a dip. Choose something acidic like lemon or lime juice (and throw in the zest too if you're feeling fancy), your favorite herb, salt pepper, and some other spices if you're inclined. Mix those in a little at a time, this is your dip so you can totally do this to taste. Try some of these combinations that are especially tasty in my opinion.
Lemon juice, lemon zest, fresh dill, salt, and pepper

Lemon juice, fresh chives, fresh parsley, fresh dill, garlic powder, salt, and pepper (faux ranch)

Lime juice, fresh cilantro, dried cumin, salt, and pepper
Dip veggies in these for a protein packed snack or put it out at your next party or tailgate and your guests won't even know it's healthy.
Rich and creamy
My favorite dip of all time is French onion dip. Traditionally made with sour cream and instant onion soup mix, this dip is so tasty but definitely not the best for you. So imagine how excited I was when I realized I could make caramelized onion dip with Greek yogurt. Here are some other mix ins for Greek yogurt that will make it taste as rich and indulgent as the French onion dip from your childhood.
Caramelized onions, smoked paprika, salt, and pepper

Smoked paprika, cayenne, garlic powder, onion powder, salt, and pepper

Pureed avocado, chopped kale, lime juice, diced jalapeño, and diced red onion (faux

guacamole

)

Nutritional yeast, diced tomatoes, diced red onion, and diced jalapeño (faux queso)

Frank's red hot, shredded chicken, and chopped scallions (faux buffalo chicken dip)
Sweet
Dessert dip should be a more common thing than it is. Use some of these mix ins to get the ball rolling on that, and to avoid baking if you're like me and love to cook but avoid baking like the plague.
Honey and orange zest

Cinnamon and coconut sugar

Cocoa powder, honey, and peanut butter

Cocoa powder, honey, and fresh mint

Maple syrup and diced apples
Serve these with fruit, graham crackers, or pretzels if you're into the sweet and savory combination.