Gift Guide #3: For the Foodie Home Chef
This post contains affiliate links. As always, we only recommend products, brands, and experiences we truly love ourselves!
Whether your best friend is known for her creative takes on pancakes or, like Kristen, tends to eat only things that come in bowls, this gift guide for foodies and home chefs has something for all cooking skill levels. Basically, if the person you're shopping for enjoys eating, you'll find something for them on this foodie home chef list.
And scroll all the way down to the bottom to enter today's giveaway—a gift basket valued at $100 from EarthHero, the leaders in eco-giving made simple!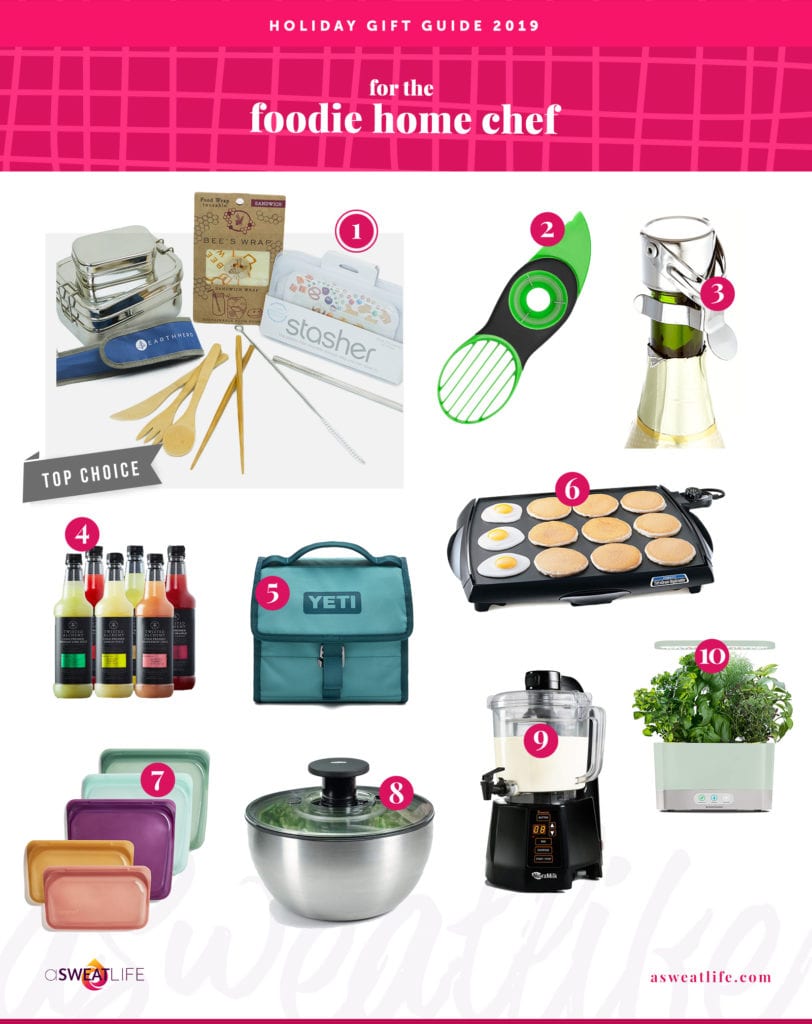 1. Zero Waste Lunch Kit, EarthHero 2. Avocado slicer, OXO 3. Champagne stopper, Crate and Barrel 4. Cold-pressed juices, Twisted Alchemy 5. Daytrip Lunch Bag, YETI 6. Electric griddle, Presto 7. Reusable bags, Stasher 8. Salad spinner, OXO 9. Nut milk and nut butter processor, NutraMilk 10. Indoor herb garden, AeroGarden
One of the major gifting trends we're seeing this season is gifting sustainably—both in terms of the materials your gifts are made of (including wrapping!), and gifting your loved ones things they'll be able to use over and over again. We're loving EarthHero's Zero Waste Lunch Kit for both of these purposes. It's got the best-in-class sustainable lunch products that will make your favorite co-worker *actually* look forward to packing lunch; plus, all of the products included are meant to be reused over and over again. EarthHero goes the extra mile on their website to be totally transparent about the materials involved, how you recycle them, and what sustainability features each product has, and all of their packaging is recyclable. Going green never tasted so good.
Speaking of lunch, we're convinced YETI can do no wrong in their hot-for-hours, cold-for-days products—so we're pumped to give someone the Daytrip Lunch Bag. Or, for something more cost-effective, gift a multi-pack of Stasher Bags (you can give the entire set to someone, or split them up and hand them out individually as stocking stuffers!).
Kristen's never felt more seen than when she saw someone tweet out "sleeping is like taking a time machine to breakfast"—so she's adding this electric griddle for pancakes to the top of ALL of her wish lists. Got a friend who's always hosting brunch or celebratory happy hours? A champagne stopper (paired with a bottle of bubbly, of course) is the perfect way to extend any champagne campaign. (Also, isn't it magical that we live in a world where champagne stoppers exist?)
For the pizza aficionado, an indoor herb garden is both adorable and a very Ina Garten-approved way to add flavor to your pizza toppings. Know someone who's trying to eat more veggies over the holiday season? (Ugh, aren't we all.) A salad spinner quickly dries those freshly washed greens (and apparently, new moms can use them to clean breast pumps too?! Consider us amazed).
Fun fact: Kristen worked in a restaurant in college, and that's where she learned to slice avocados like a GD pro. However, whenever she uses this tried-and-true method of slicing in front of Jeana, she immediately pleads Kristen to buy this avocado slicer instead of living on the (knife's) edge. Gift this to the person who always orders extra guac.
Fancy juice is one of those spontaneous little things we like to treat ourselves to every now and then—which obviously makes it the perfect gifts for others. It's up to your recipient if they want to use these cold-pressed Twisted Alchemy juices for detoxing after a holiday party… or mixing with vodka for a pre-party cocktail.
Finally, we threw in one big ticket foodie home chef item for fun—this amazing NutraMilk Nut Processor. I've personally made my own nut butters in a regular food processor and basic blender, and honestly, the nut butter is rarely worth the metaphorical squeeze. This bad boy looks perfect for anyone who drinks a ton of nut milk or uses nut butter spread in every meal and wants to experiment with making her own flavors at home.
Today's foodie home chef giveaway: $100 Gift Basket from EarthHero
Today's giveaway prize includes:
From EarthHero: One gift basket filled with $100 worth of all the products you need to eat, drink, and live sustainably.
This giveaway is now closed. Congrats to Latanya T!