Gift Guide #1: Working On My Fitness
This post contains affiliate links. As always, we only recommend products, brands, and experience we truly love ourselves!
Welcome to the first day of 10 Days of Gift Guides, reader! Last year, we loved bringing you ten days of gift guides and giveaways, so we knew we wanted to run it back for the 2019 holiday season. We listened to your suggestions and kept a few of our favorite gift guides (like this one, for the general fitness enthusiast!), and we added a few that we're *really* excited about (attention, horoscope devotees… you're probably going to want to check this site again in a few days. Just saying…).
Of course, the number one way to make sure you're getting notified when our daily gift guide drops is to subscribe to our email list right here. That way, you'll be the first to know what the daily giveaway is and get a jump on entering before you start bookmarking all the gifts we're laying out for your best bud, your ride or die "ugh, fine, I'll sign up for 6 am with you," your go-to "let's try this restaurant tonight!" date, and your favorite "what if we just stayed in tonight?" couch potato. There's really something for everyone in these guides (and, if we're being honest, there's a lot for YOU to love, too).
And just like last year, we're bringing the best of our gift guide to real life at our Second Annual aSweatLife Holiday Pop-Up. We'll be at Exchange312 on Saturday, November 23, from 11am-3pm. Tickets are free (just let us know you're showing up here!), but we're offering a few holiday workshops to enjoy too. Whether you're interested in DIYing your own custom perfume, taking a sound bath, or bringing a little plant baby home, you'll leave the holiday pop-up feeling just a little more joyful.
On to the first gift guide of the 2019 holiday season—our annual "Working On Our Fitness" guide, filled with gifts for the general fitness enthusiast, your personal trainer, your favorite gym buddy, and anyone else who enjoys a daily sweat.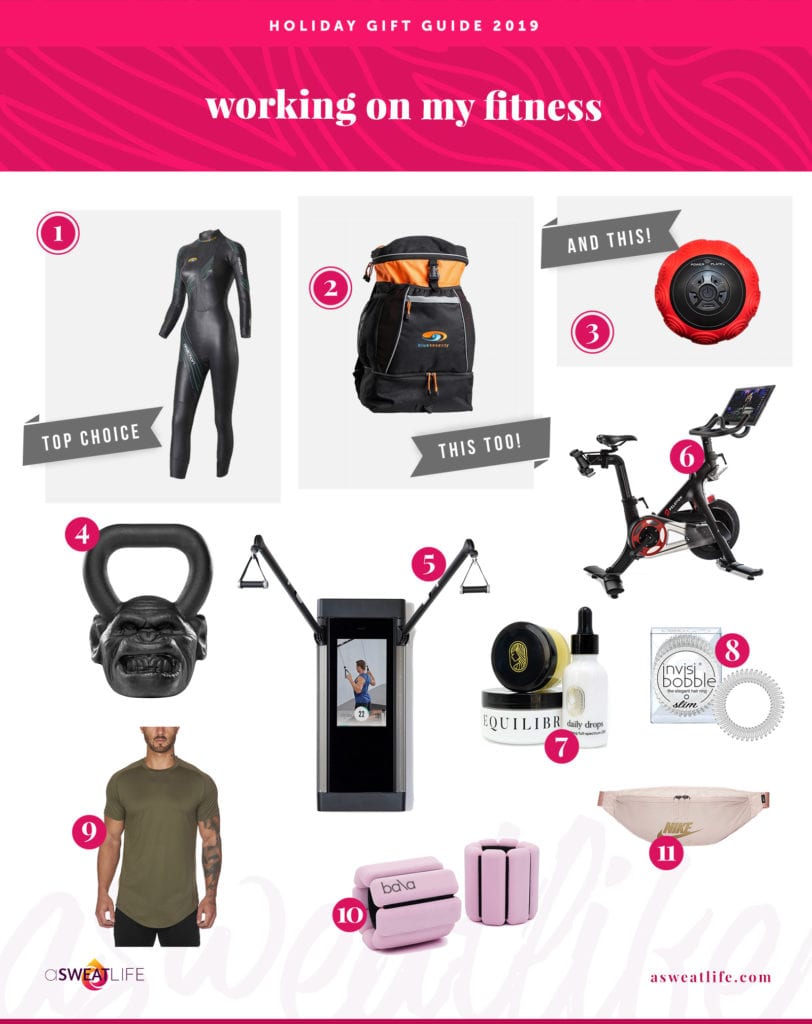 1. Reaction Wetsuit, blueseventy 2. Transition Bag, blueseventy 3. DualSphere, Power Plate 4. Primal Kettlebell, Onnit 5. Full-Body Strength System, Tonal 6. At-home spin bike and subscription, Peloton 7. CBD relief cream, soft gels, and oil, Equilibria 8. Slim hair ties, Invisibobble 9. Short sleeve shirt, ASRV 10. Weighted bangles, BALA 11. Heritage Hip Pack, Nike
We've GOT to start by talking about the kickass giveaway we have planned for this first day of gift guides—we had to go big to celebrate. To that end, one lucky winner is going to receive everything you need to crush your next triathlon from blueseventy, including:
Plus, since recovery is a major part of triathlon training, we're also adding in the Power Plate DualSphere, a peanut-shaped vibrating recovery tool that hurts oh-so-good. Yeah—you could say we're pretty serious about gifting.
We love the Reaction Wetsuit for a big-ticket item that's sure to encourage the serious (or just for fun) triathlete in your life. No room in your budget for a full wetsuit? A sturdy transition bag is something your triathlete will use a ton throughout training and on race day—that separate insulated compartment for wet (or sweaty) gear is clutch.
We love a good tech gift, especially if you and your siblings are chipping in to get something standout for your parents. The Peloton bike is considered the gold standard in the at-home workout industry for a reason: the bike is gorgeous, the instructors are inspiring even through a screen, and the digital community is #goals. This gift is equal parts for your parents and for you when you need a break from being home for the holidays.
Other at-home workout hacks we're loving: this LOL-worthy kettlebell for someone who likes to have fun while they sweat; the Tonal system to replace that dusty old Bowflex you've had in your basement forever; and technical workout gear from ASRV to help guys look good on the street and in the studio.
Of course, the harder you go in class, the more you need to focus on recovery. For the CBD-curious, anything from Equilibria is pure gold, but we'd especially recommend the CBD Relief Cream to soothe those sore muscles (and bonus—use code "ASWEATLIFE" to get 20% off your first order from Equilibria!).
Finally, for the person who never stops moving and needs her hands free, we're kind of obsessed with this Nike Heritage Hip Pack (aka, a sporty fanny pack). No time in their schedule for an hour-long workout class? These BALA weighted bangles are cute AND functional—and don't let the one-pound each weight full you. You KNOW barre classes are damn near impossible with the lightest weights imaginable, so just imagine how pleasantly sore you'll be after a day with these bad boys on your wrists.
You know the saying that goes, "I don't know where all my hair ties go, but wherever they are, I hope they're happy"? Well, it's a LOT harder to lose a hair tie when they're as cute and scrunchy as these InvisiBobble slim hair ties.
And when all else fans, we love gifting workout experiences, like a pack to your pal's favorite studio (especially if they're the "treat yourself" workout kind, like Barry's or Rumble).
That's it for this year's Working On My Fitness gift guide—what are you already planning to gift to others, or what are you adding to your OWN holiday wish list? Let us know in the comments, and don't forget to enter today's giveaway featuring triathlon gear from blueseventy and a vibrating recovery tool from Power Plate!
Today's giveaway: $650 worth of triathlon gear from blueseventy + $100 Power Plate DualSphere!
The prizes for today's giveaway include:
From blueseventy:
From Power Plate:
This giveaway is now closed. Congrats to Christina P!