Gift Guide #2: For the Ultimate Fit-cation
This post contains affiliate links. As always, we only recommend products, brands, and experiences we truly love ourselves!
This time of year, we can't stop day-dreaming about the future vacations we have planned (even if they're only planned in our heads so far). And because we think wellness is a lifestyle, not a task, we're always making sure we incorporate a little movement, a little self-care, and a little adventure into every trip we take. Hence, today's gift guide: gifts for the ultimate fit-cation (don't forget, sign up for our emails here to make sure you're getting the latest gifts and giveaways right to your inbox!).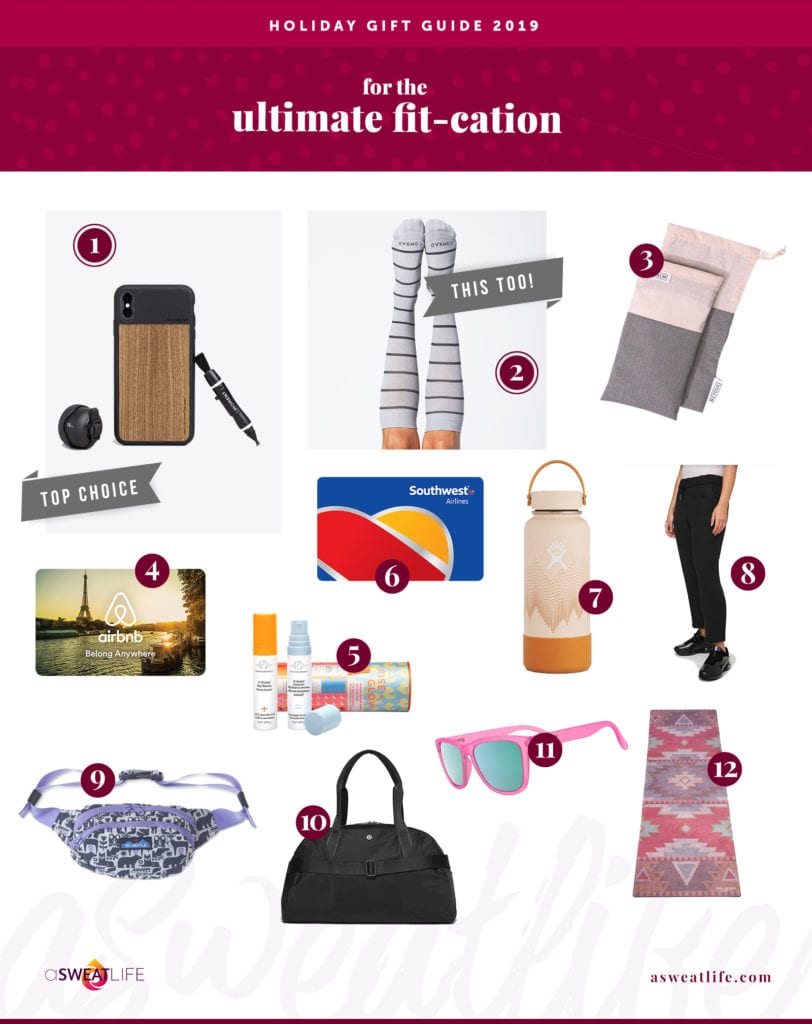 1. Starter Set, Moment 2. Compression Socks, Comrad 3. Eye pillow with storage bag, B YOGA 4. AirBNB gift card 5. Rise and Glow travel-size duo, Drunk Elephant 6. Southwest gift card 7. 32 oz stainless steel water bottle, Hydro Flask 8. On the Fly Pant, lululemon 9. Canvas fanny pack, KAVU 10. Out of Range Duffel, lululemon 11. Running sunglasses, GOODR 12. Travel yoga mat, Yoga Design Lab
When we're on vacation, we want to strike the right balance between capturing the moment and living in the moment—so yes, we want that gorgeous photo on the beach, but we only want to take that photo once so we can get on with the rest of our lives.
That's where Moment comes in—they've got all the gear you need to transform your iPhone into a state-of-the-art camera (so you don't have to lug a DSLR around) to perfectly capture those memorable moments. Specifically, we love the Starter Set to gift to someone about to hit the beaches of Thailand or the moors of Scotland. It includes a wide lens that attaches to your iPhone camera, a sturdy case for your phone, a rear lens cap to save your lens from smudges, and a lens pen that keeps your glass clean.
Your travel partner will want to hit the ground running (especially if a long flight is on the itinerary), and there's no better way to guarantee fresh legs than packing some cozy compression socks for the plane. Comrad has compression socks that are *actually* cute, not the geriatric-looking styles that belong in a retirement home. We love these charcoal stripes for a neutral that still shows a little bit of personality.
Speaking of gear from the flight, we love the travel-size mini duos from Drunk Elephant; the Rise and Glow duo is perfect to hydrate and brighten dull skin post-flight. Put those minis in your carry-on bag (we love this Out of Range duffel for a carry-on or a weekender bag) next to a travel eye mask, and for ultimate in-flight coziness, we love these relaxed-fit pants from lululemon.
When hiking and the great outdoors are on the fit-cation agenda, staying hydrated is a priority, and this 32 oz. Hydro Flask delivers both on quantity and keeping water extra-cold. Leave your hands free to take pictures by stashing snacks and bright-ass sunglasses (I mean, how fun are these?) in this hippie-chic fanny pack.
Finally, for the yogi who likes to namaste in exotic locations around the world, this travel yoga mat looks gorgeous and eliminates your need for packing a yoga towel (it's super-sticky). And when all else fails, a Southwest gift card or AirBnb gift card will get your giftee even closer to their dream fit-cation destination.
Today's giveaway: $800 worth of product from Moment and Comrad
Today's fit-cation giveaway prize includes:
From Moment: 1 Wide 18mm Lens, 1 Tele 58mm Lens, 1 Anamorphic Lens, 1 Superfish Lens, 1 Fanny Sling Bag, 1 Photo Case, 1 Leather Neck Strap and 1 Osmo Mobile 3
From Comrad Socks: 1 pair of Companion Compression Socks
This giveaway is now closed. Congrats to Melissa L!