Join aSweatLife for Co-Working at Exchange312, Wednesday October 2!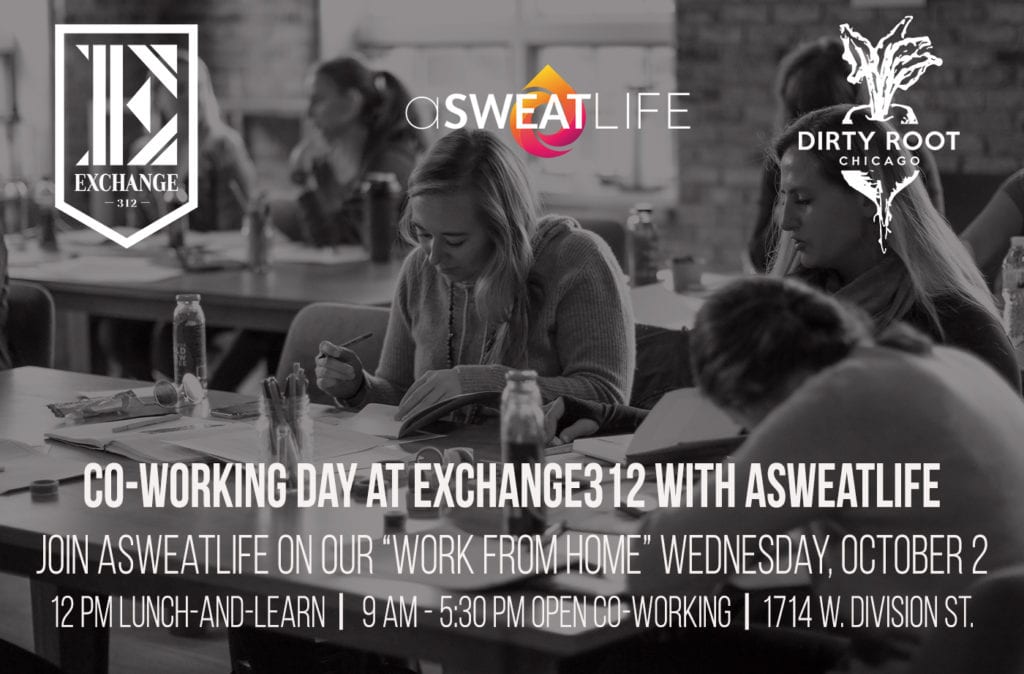 [Save your spot for co-working at Exchange312 any time during the day from 9-5:30 pm, Wednesday October 2 with a lunch-and-learn included!]
Every first Wednesday of the month, instead of working from home on our WFH Wednesday, you can find us setting up shop at one of our favorite zones of productivity in the city, Exchange312. On Wednesday, October 2 we'll be there all day working, and we'd love for you to join us. After all, as they say, #coworkingisbetterwithfriends.
We kicked off last month with a full day of co-working, and ended the night with a panel discussion. In October, we'll take our WFH day back to Exchange312, with open co-working beginning at 9 am.
At 12 pm, we're inviting our friends from Dirty Root in for a lunch-and-learn (lunch is included in your ticket). Dirty Root is a new, healthy, fast casual restaurant (recently opened in West Loop) dedicated to serving whole, nutrient-dense foods. In this nutritional workshop, we'll cover different types of dietary fats, their potential health impacts (beneficial and adverse) and why the Dirty Root team use the fats they do.
And because we are who we are – and we love to get a sweat in if we can – we're teaming up with Club Pilates, new to the Wicker Park fitness scene, to offer you one free Club Pilates class for attending this event! And the best news? You'll get your offer before the event so you can book your spot if you want to work out in the morning or after co-working on October 2!
(Get your ticket to the day of co-working here! It comes with lunch, a workshop, and lots of new friends.)
More about Exchange312
By day and by night, Exchange312 is a versatile event space and venue with an in-house production team that can put together an experience for whatever your needs may be, and can accommodate up to 150 people.
When the space isn't booked for a day-long event, it also provides the perfect backdrop to a productive morning or afternoon. Situated right by the Division and Ashland Blue Line stop, it's easy to get to. And once you're inside, you'll find a welcoming and calm atmosphere tucked away from the hustle and bustle of Division Street. We'll have snacks and beverages for you to enjoy throughout your day of co-working in this gorgeous space.
More about the lunch-and-learn from Dirty Root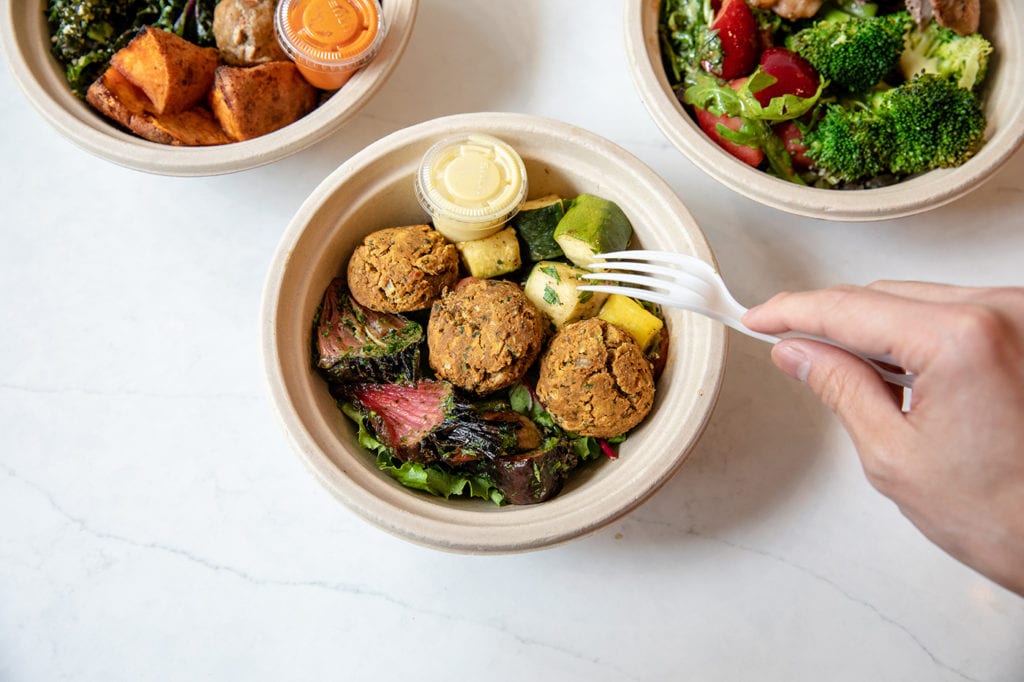 When Dirty Root opened its doors earlier this year, it did so with a mission to avoid refined sugar, GMOs, canola oil and other industrial vegetable and seed oils when cooking. Each bowl is made with nutrient-dense ingredients, local, seasonal produce and proteins mindfully sourced from reliable partners.
This lunch-and-learn will cover the world of dietary fats – something that the Dirty Root team has taken a lot of interest in. How can we begin to understand which ones we should be eating more of and which ones we should be avoiding? Not all fats are created equal but which ones are "good" fats and which ones are "bad" fats? In this workshop, we will walk through the various types of dietary fat and talk about what they do for us (or to us) once they enter the body. Get the skinny on fats over lunch with Matt Dobleman, Co-founder of Dirty Root.
Give me all the details about co-working on 10/2!
What? Co-working with aSweatLife as part of our Wellness Wednesday series, along with an opportunity to sweat at Club Pilates
When? Co-working from 9 am-5:30 pm, lunch from 12-1 pm
Where? Exchange312, 1714 W. Division St
What should I expect? A day to work from a new home-away-from-home, at Exchange312 alongside Team aSweatLife! There will be light snacks and beverages provided throughout day, and a lunch-and-learn about understanding and cooking with healthy fats.
Where do I grab my ticket? Right here!