Here's How to do Eco-Friendly Travel on a Budget
Sustainability isn't just a buzzword touted by bougie celebs with Teslas who go on eco-friendly safaris anymore — the green movement has gained traction worldwide, especially when it comes to travel. According to Booking.com, over half (55 percent) of global travelers report being more determined to make sustainable travel choices than they were a year ago, but lack of knowledge and available or appealing options when trying to put this into practice is standing in their way.
Not to get all daunting here, but let's just go over real quick why sustainability actually matters. Most of us know that things aren't looking great for the planet. Sea levels are rising, oceans are becoming warmer, there are longer more intense droughts that threaten crops, wildlife, and freshwater supplies. It's fucking terrifying. On the bright side, there are things we can do to slow the warming of our planet, and still enjoy its beauty without opening another credit card.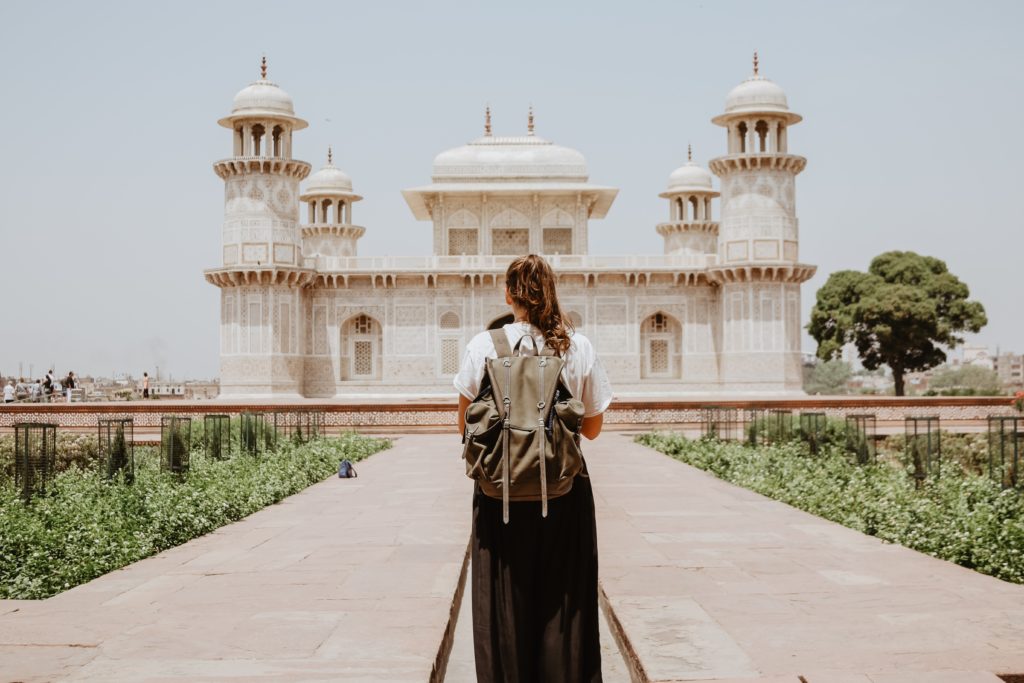 Eliminate plastics
Of the 2.5 million metric tons of solid waste produced around the world, 275 million metric tons of that is plastic waste. Yikes, I know.
"As we learn more about the prevalence and impacts of plastic pollution, it becomes urgent to cut plastic pollution at the source — by refusing single-use plastics whenever and however we can," Gabby Petrelli, coordinator of conservation action at the Shedd Aquarium, explains.
So, save the planet, and your bank account by avoiding the travel toiletry aisle at Target. Instead, purchase solid toiletries. Solid shampoo, conditioner, body wash, deodorant and even toothpaste are widely available. I recently tried this Lush shampoo bar for a two-week trip in Europe and absolutely loved it. Solid toiletries also last a heck of a lot longer than those little travel bottles. Lush says their concentrated pucks of shampoo can outlast two to three bottles of liquid shampoo.
Petrelli also recommends bringing reusable items like water bottles, bags for shopping, travel coffee mugs and utensils (like these) to help cut down on plastics you use while traveling.
"Additionally, one of my favorite tips is to pack a mason jar," she explains. "They're versatile: use one for water, coffee, leftovers or any other time you need an impromptu container. If you're traveling with friends or family, encourage them to pack their own zero-waste travel kits and keep each other accountable!"
Pack light
Cutting down on how much you're shoving into your suitcase is much easier said than done, for sure. But aside from not having to pay extra for an overweight bag or having to ask your friend to put your chunky heels in their bag, packing light can also help cut down on your carbon footprint. Cars and trucks account for nearly one-fifth of all U.S. emissions, emitting around 24 pounds of carbon dioxide and other global warming gases for every gallon of gas. So if you pack a suitcase you can easily maneuver, skip the taxi or Uber when you arrive at your destination in favor of walking or taking public transportation.
Bring your own meals
Anyone who has ever had a meal on an airplane knows that there is so much waste associated with them. From the plastic utensils and styrofoam coffee cups, to the half-eaten sandwiches and half-drank beers, waste in flight is a huge problem. According to the International Air Transport Association, airlines produced 5.2 million tons of waste in 2016, and will produce over 10 million tons annually by 2030. Save some cash and the planet (notice a theme here?) by bringing your own meals and snacks.
Pack chemical-free sunscreen
Sunscreen is a must regardless of your travel destination, but it's important to choose it wisely if you're going to be swimming in an ocean. Recently researchers have discovered possible downsides of chemical sunscreens surrounding two of the most popular ingredients: oxybenzone and octinoxate.
"Coral reefs are among the most threatened ecosystems on Earth, with half of the world's coral reefs lost in the last few decades," Dr. Kristen Brown, postdoctoral research fellow at the ARC Centre of Excellence for Coral Reef Studies at The University of Queensland, says.
According to the International Coral Reef Initiative, about 14,000 tons of sunscreen end up in coral reefs worldwide every year and can lead to bleaching, damaged DNA, and abnormal skeleton growth in coral. Scary stuff, right? However, the jury is still out on whether these detrimental effects will absolutely harm all of the coral reefs because the studies, conducted in 2018, were done in a controlled environment.
Brown goes on to explain that even though the largest threat to the coral reefs is climate change, it's still important to not add any other potential threats.
"I am in full agreement [with the study from the International Coral Reef Initiative] that coral reefs are facing enough threats," she says. "And even though we do not fully understand the effects of these chemicals on coral at realistic levels, where at all possible we should choose alternatives to sunscreens with harmful chemicals."
Even more, there is still a big question mark on how toxic these chemicals in some sunscreens are to humans. To be on the safe side, pick up some chemical-free sunscreen before your next trip.
So there you have it; you don't have to be rolling in the dough to lower your carbon footprint while traveling. Make a few small changes and you'll be on your way to becoming the next Al Gore.