How This CycleBar Owner Dealt With Unexpected Obstacles When Opening
The timeline was set, at least in Abby Gaulin's mind. After quitting her job in July of 2018 to focus full-time on opening a CycleBar in downtown Chicago, a space she found in August, she estimated they'd be open "by December, easily."
What's that saying? We plan, the gods laugh? Yeah, that would probably apply here, as Gaulin and I sat down to chat about her upcoming CycleBar River North studio opening nearly one year later (they're set to open their doors on June 27).
Gaulin, a former kinesiology major and spin instructor who's been active in Chicago's group fitness scene for years, was ready and excited to jump into studio ownership.
"I know the industry and what a great studio should be like," she says, "and I always wanted to open a spin studio."
After finding CycleBar and visiting their HQ, Gaulin was approved to purchase in May. But as any fitness studio owner knows, building out a new studio is never as straightforward as it seems.
Luckily, as a self-professed victim of "bad life luck," Gaulin's had plenty of experience building resilience.
"I think I've just developed a pretty strong resilience and know that at the end of the day, things will work out whether you get flustered or not," she shares.
In fact, future studio owners everywhere can learn from Gaulin's unexpected setbacks and practice building a little resilience themselves. Here's what Gaulin faced while she worked to open CycleBar River North—and what advice she has for others dreaming of opening their own studio someday.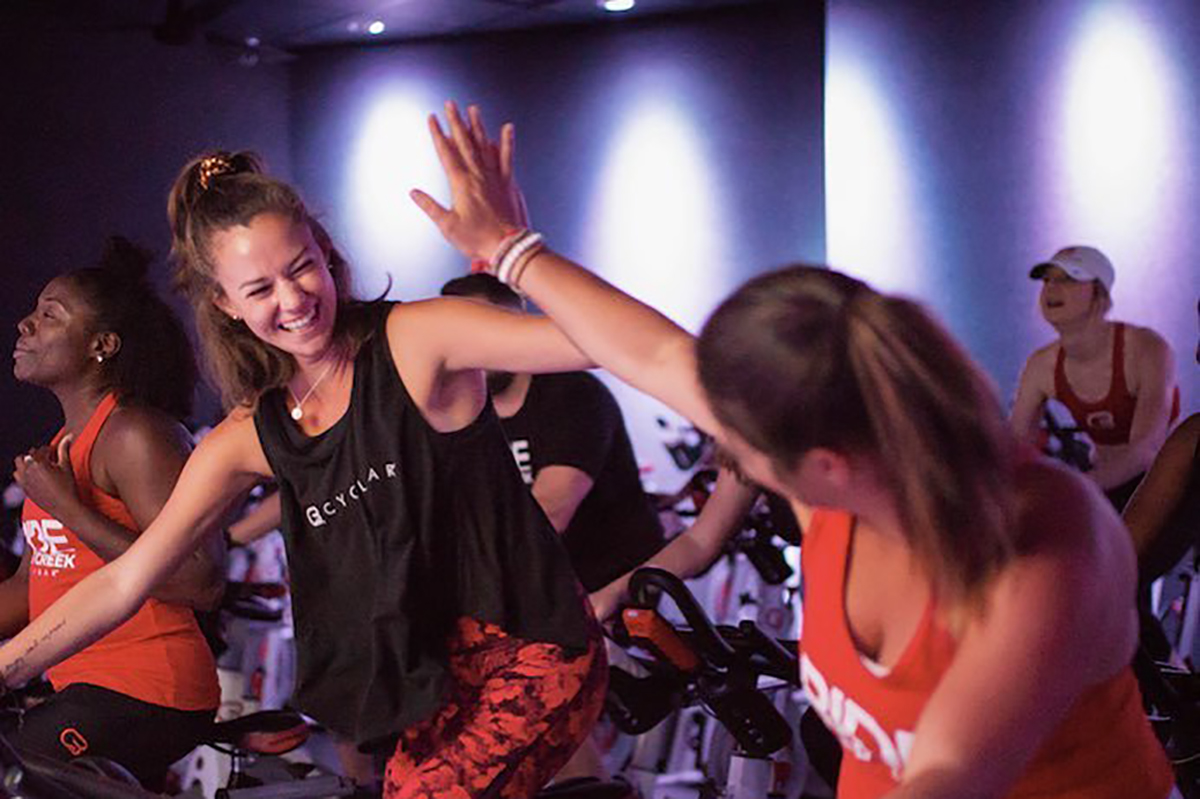 "Contract negotiations took four months."
After getting approved to purchase, Gaulin and her father (a co-owner of the studio) got on the phone with CycleBar to discuss details—and only then did they realize that CycleBar had approved them to purchase a territory, not just one location.
"We first wanted to start slow and do one in Lincoln Park, but they weren't able to sell us that premier spot if we were only going to open just one studio," Gaulin explains. The territory purchase was a larger investment, but Gaulin and her father decided that buying the Lincoln Park/River North territory was worth it in the long run.
With that squared away, Gaulin quit her job, thinking they'd be open by December. After finding the Exhibit space on LaSalle in August, Gaulin started contract negotiations—a process that ended up taking four months for a contract that was over a hundred pages (for comparison, she tells me, most CycleBar contracts are only three pages).
Finally, they signed their contract on December 24, 2018 and got in their space in February.
"And then, the strike happened," Gaulin says.
"I walked up to the building and there was an 18-foot inflatable rat outside."
Chicagoans have no doubt seen the giant, kind of terrifying inflatable "Scabby" rat signifying strikes in different areas around downtown Chicago. Gaulin thought that the protest item would stay in front of her CycleBar for a couple of days at most. (The protest was against her specific contractor.)
During that time, a plumbing inspector saw a non-union worker touch the plumbing, and put a stop work order on, forcing Gaulin's team to rip out the plumbing and put it all back in under the inspector's watchful eye.
After about three weeks of the protests, Gaulin and her contractor updated their construction plan so they were finally able to resume work in April.
"We got rocking and rolling after that," Gaulin says, noting that the standoff put them about a month behind.
Of course, that wasn't even the last of the obstacles faced. In April, Gaulin's laptop was stolen out of a friend's car, and with it, all the financial documents and spreadsheets she had regarding the opening and the new franchise.
"Luckily, it was all just material," she says, but replacing the documents took a ton of time and effort during an already-stressful period as they led up to opening.
How to stay cool when opening a studio doesn't go according to plan
Gaulin's biggest takeaway from the string of trials she faced in opening her CycleBar was that new studio owners should manage their expectations and take things day-by-day.
"I thought we were going to open in December, and now we're opening in June," Gaulin points out. Approaching all deadlines and metrics-based goals with a little flexibility and perspective will go a long way in helping owners stay patient with the process.
Gaulin also advises new studio owners to stay focused on their own businesses and fight the urge to compare their success to other gyms and studios in the area, especially in a space like Chicago that's crowded with fitness options.
"Keep your head down, and focus on what you're doing—don't worry about what everyone else is doing," she advises.
For example, Gaulin shared a little bit about what's going to set the new CycleBar River North apart from other spin studios in the area. In addition to music-based theme rides and community-building rides like "Wine Down Wednesday," Gaulin's making sure that her staff and instructors focus on building relationships with their members.
"I want to know your name, if you're engaged, if you just started a new job, whatever," she says, adding that the personal touch helps build that sense of community so many gym goers are looking for in their workout experience these days—especially in a downtown Chicago market where it's easy for anyone to slip into a class semi-anonymously.
In the end, Gaulin thinks working with her family and having the support of her fiancé helped her keep her perspective during potentially disastrous setbacks.
"My family has had experiences in setbacks like these, and having them give their perspective really helped" she explains. "My fiancé also kept me above water by just reminding me what the end goal is during each setback (while simultaneously ordering Jets and pouring wine to make it better) and to keep trucking towards that end goal."
Ready to check out CycleBar River North yourself? The studio officially opens June 27, but you can be one of the first to ride the new bikes with our takeover of the new studio on June 25. Learn more about this exclusive event and grab your bike here.