aSweatLife, Trunk Club and Bottlecode Present: Spring Fitness Photo Shoot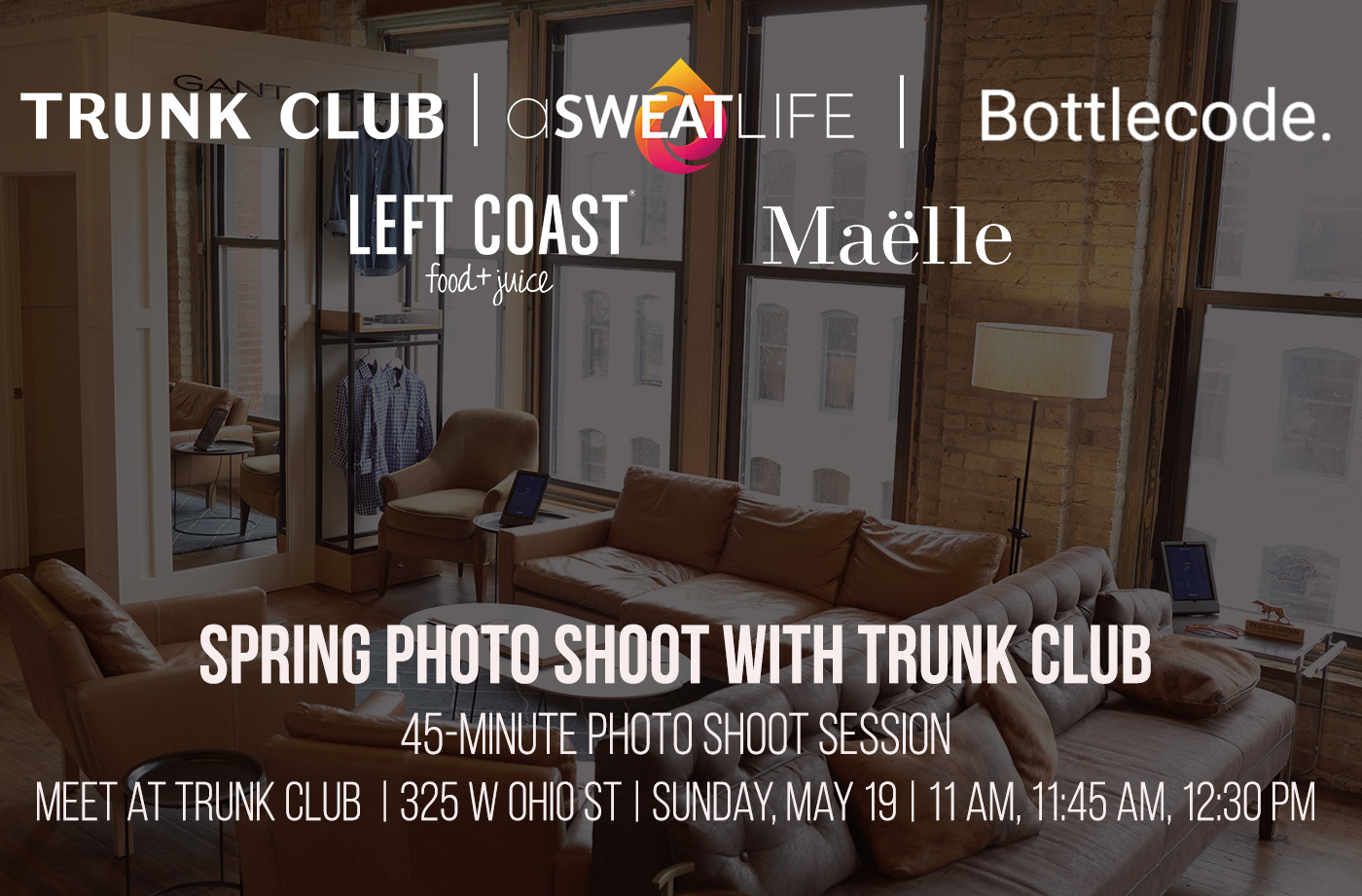 (Get your tickets to the 11 am, 11:45 am, or 12:30 pm fitness photo shoot here!)
In October, we hosted a fall photo shoot which turned out to be one of our favorite days of the year with you! The energy at Brooklyn Boulders and around the West Loop neighborhood of Chicago was so amazing, we couldn't wait to create another opportunity as soon as we could.
Now that we're (hopefully!) almost to spring, another photo shoot is coming your way! This time, we're partnering with Trunk Club to give you time with a stylist to discuss what looks make you feel your best and help you achieve your goals. Whether your style is all about fitness, business, or athleisure, Trunk Club is going to hook you up with know-how to rock your looks and make them work for you.
When it comes time for you to strut your stuff for a 45-minute photo session, not only will you have the backdrop to make this a spring fitness photo shoot, you'll have the use of Trunk Club's incredible decor to capture lifestyle imagery, too. Helloooo, content for all your social media needs! We'll see you May 19 for the spring fitness (and lifestyle!) photo shoot of your dreams!
Here's what to expect at the spring fitness photo shoot May 19: 
Once you sign up for your time slot to take photos (sign up here), the Trunk Club team will send you a survey with styling/sizing questions to help the stylist choose the perfect outfits for your photoshoot which will be ready for you to try on when you arrive at your call time on May 19. You'll have a stylist there to answer more questions as you try on the gear and get a feel for what the Trunk Club experience is like!
Gents, you'll also have the opportunity to sample skin care from Bottlecode and ladies, you'll have Maelle products on-site for finishing touches prior to your shoot.
Then, your photographer will meet you and two others for your 45-minute photo shoot. You'll head out to take photos inside Trunk Club, on the roof and in the neighborhood around the space in River North.
What else can you expect on the day of the photo shoot?
At Trunk Club, we'll have snacks from Left Coast and hydration for you, and you'll automatically be paired with a stylist for a 15-minute consultation!
More about our partners: 
Bottlecode is a personalized skincare curation brand for men. They'll be on site with special products for men to sample and experiment with. And when you're ready to build your own regimen, get started with Bottlecode to formulate the right set of products to match your needs. From there, they've got shipping, delivery, and restocking covered for you as part of the membership.
Maëlle Beauty  will also be on site with touch-up makeup products for you to try. You'll find a set of products that are all 100% cruelty-free, and created without parabens, phthalates, SLS, and more. Browse the Maëlle's collections now and get excited for May 19!
Here's what you need to know about the photo shoot: 
When is this thing? Sunday, May 19 from 11 am – 2 pm
What are the time slots to sign up to take photos?
11 am -12:15 pm
11:45 am – 1 pm
12:30 pm – 1:45 pm
What do the time slots mean? When you sign up for an hour and 15 minute time block, that will be 30 minutes of 'getting ready time' and a 45-minute photo shoot with a photographer and 2 other models.
Where will the "home base" be? Trunk Club, 325 W  Ohio St. (7th floor) 
What should I bring/wear? Trunk Club will be providing all of clothing for the shoot, but if there is anything specific you would like to be photographed in feel free to bring that with you! There will be make-up for you to do touch-ups with, but feel free to bring whatever else you'd like to finish getting ready at Trunk Club. Be sure to wear/bring some layers, an afternoon in May can either be warm or chilly!
What's going to happen in the styling session from Trunk Club? Once you fill out the survey (which you'll receive after registering), you'll work with a Trunk Club stylists to find the best outfits for your shoot. This gear won't be able to leave Trunk Club after your shoot, but it is available to purchase if you would like.
What if I have more questions? Send them our way at [email protected] We can't wait to see you there!
Where do I sign up? Right here, thanks for asking!