Meet Us For a Breakfast-and-Learn to Practice Gratitude and Reflection This Holiday Season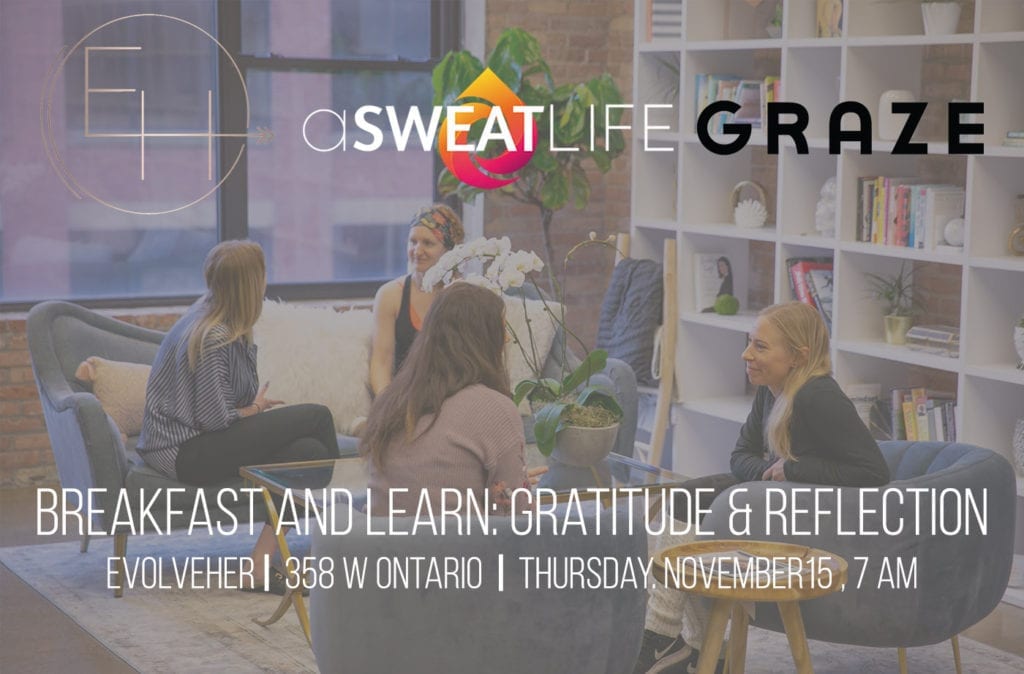 (Get your ticket to the Breakfast-and-Learn here)
Gratitude is one of those little mindful moments that has a huge impact on our day-to-day life — and we're not the only ones who think so. Science backs us up here; in fact, studies show that people who practice gratitude regularly are happier and less depressed than those who don't take a little time for thankfulness. Plus, acting grateful can make you feel more grateful (and we agreed, after taking on our own monthly gratitude challenge).
That's why in this breakfast-and-learn with evolveHer and aSweatLife, we're taking a deeper look at gratitude as a means to increase your overall happiness. Practicing gratitude, even with all of its benefits, is easier said than done, which is why habits like gratitude journaling can be immensely helpful in building up your gratitude "muscles." In this particular workshop focused on gratitude, we're taking the journaling exercise one step further by adding a visual component.
We'll ask you to take a look through your stored photos on your phone, select three images that bring you joy, and send them to us. We'll print them for the exercise we'll take on together as a group on Thursday, November 15.
What types of photos should you look for?
Look for the hidden gems. Look for the phones you took because you wanted to remember the moment, whether that moment ended up on Instagram or not. Hunt for the photo you forgot you took, but makes you laugh when you see it. Don't be afraid to scroll through old photos to get to the ones that bring you the most joy.
What will this exercise be?
We don't want to give too much away, but know that you'll be doing a three-part exercise that'll include visualization-based gratitude journaling, choosing a photo to share with the group (if you're comfortable, of course), and a new take on a gratitude challenge for once you leave evolveHer.
What else will be happening?
Come hungry, because you'll leave with a full belly of Graze. We'll also have Bulletproof coffee on hand to fuel your creativity.
Come with your three images in hand, and get ready to make new friends and find something different to appreciate about your everyday moments.
What are the details of this thing?
When: Thursday, November 15
What time: 7-8 am
Where: evolveHer, 358 W. Ontario St
What is this about photos again? We'll be doing a few photo-based gratitude exercises, and having hard copies of your photos will be the best way to participate. We'll even print them for you — just submit them here by Wednesday, November 12 at noon.
Where to grab tickets: Right here!