Where to for Lunch: The Explosion of Healthy, Fast, Casual
I wouldn't call myself a creature of habit, but when it comes to buying food out when I'm on-the-go, I've relegated myself to a few options. Near my office, there's a whopping two places where I feel good about spending my money for a healthy lunch.
"Healthy" often gets tossed around, and other labels like "organic" and "natural" don't necessarily mean the epitome of health, which usually leaves me skeptical and close-minded when it comes to where I'll eat out.
Yet the "fast casual" restaurant category is exploding – from local mom-and-pop shops, to national chains, to innovative start-ups looking to revamp the entire fast casual restaurant model.
Curious to know what sets the illusion of "healthy" apart from the real deal, I spent some time getting to know a couple companies in these categories to learn how they walk the walk from concept to what you enjoy every day.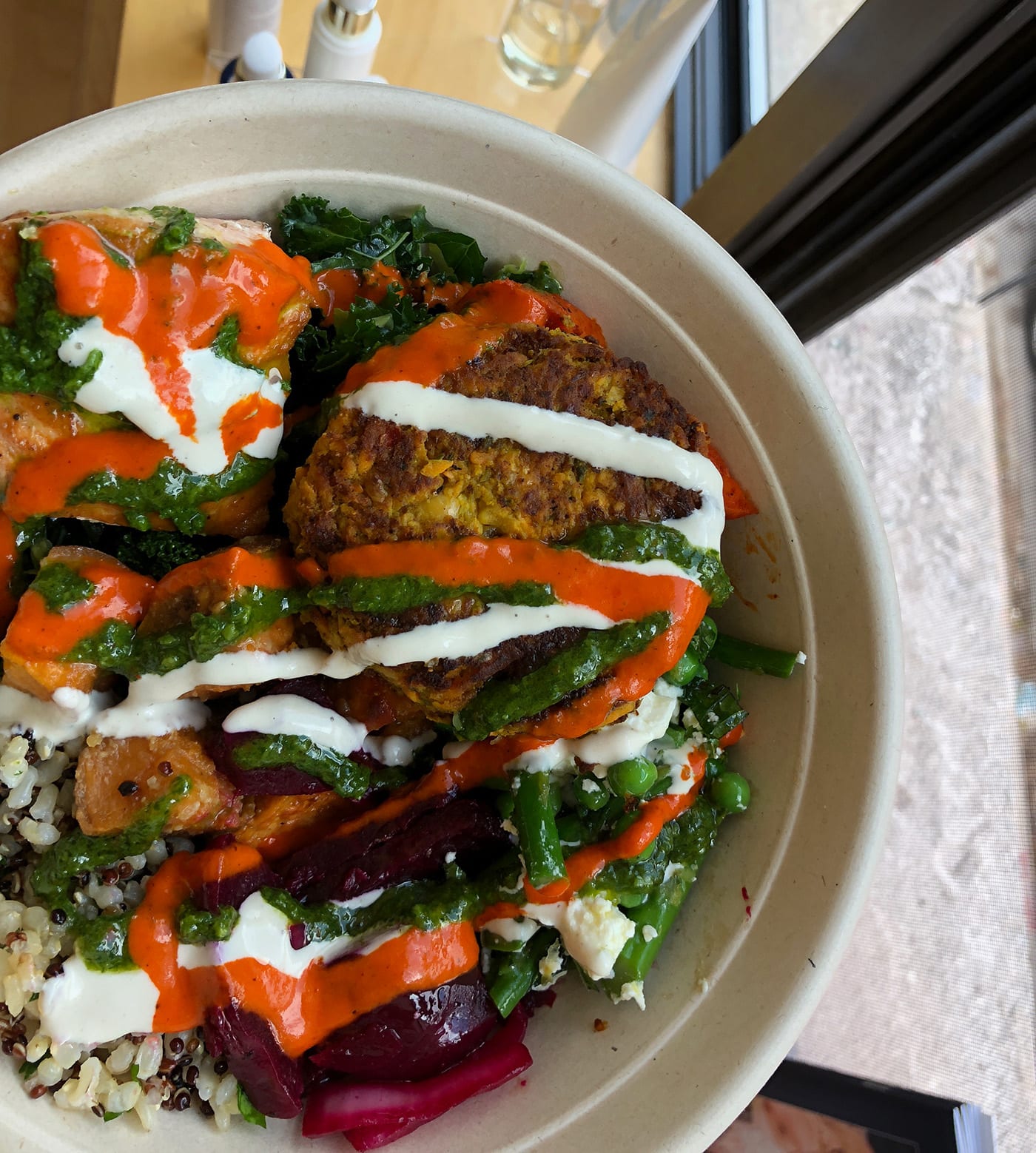 Hyper-local to Chicago, FARE is located in the Wells Street Market at Wacker and Wells. This fast casual, health-conscious dining kitchen was started by Kasia Bednarz and Britni DeLeon. The duo took their experience from years in Chicago's hospitality and restaurant industry and turned it into a passion to create a menu that they could feel proud to promote.
"We found ourselves needing to grab a quick lunch or a quick breakfast, and there really wasn't anything that tasted good, that wasn't necessarily bad for you – that had good ingredients with intention in it," Bednarz said.  We're hoping to start that trend and make it more available to everybody."
Bednarz and DeLeon took a look at long-time favorite menu items, what people enjoy eating, and crafted the healthiest version they could dream up with their own two hands – "no fillers, no sugars, no additives," Bednarz says.
"We want [our customers] to feel like we're eating in our home, like we're feeding friends and family."
At FARE you can have your pick among smoothies, grain bowls with eggs on them, and vegan raw coconut yogurt, to name a few menu options that are ready to eat. Or you can opt to purchase your favorites by the pound to take home. Oh, and they make their own almond milk in-house which, as Bednarz says, "it just makes such a big difference."
Square Roots Kitchen takes an emphasis on the "fast" of the fast casual business model without compromising quality. As a tech-forward business, you have easy access to eliminating any and all ingredients you don't want to be a part of your meal when you order. You can also filter the menu for specific diets and allergies.
And they're doing it "at the speed that customers demand these days," CEO Derin Alemli said.
"Our chefs are solely focused on making food, and not on taking orders. As soon as your order is placed it's going through our build line, and our target for entree creation is under 90 seconds for the first entree in queue."
On your big screen menu you can select among "low fat," "low sodium," "low carb," gluten-free," "high protein," "high fiber," "whole grain," "vegan," vegetarian," "paleo," and "diabetes" diets. In addition, you can filter out what you're allergic to: dairy, eggs, soy, gluten, fruits, nuts and spices.
With one brick and mortar store in Chicago's West Loop, the plan is to grow throughout Chicago first – at least four more stores downtown – before continuing into other cities.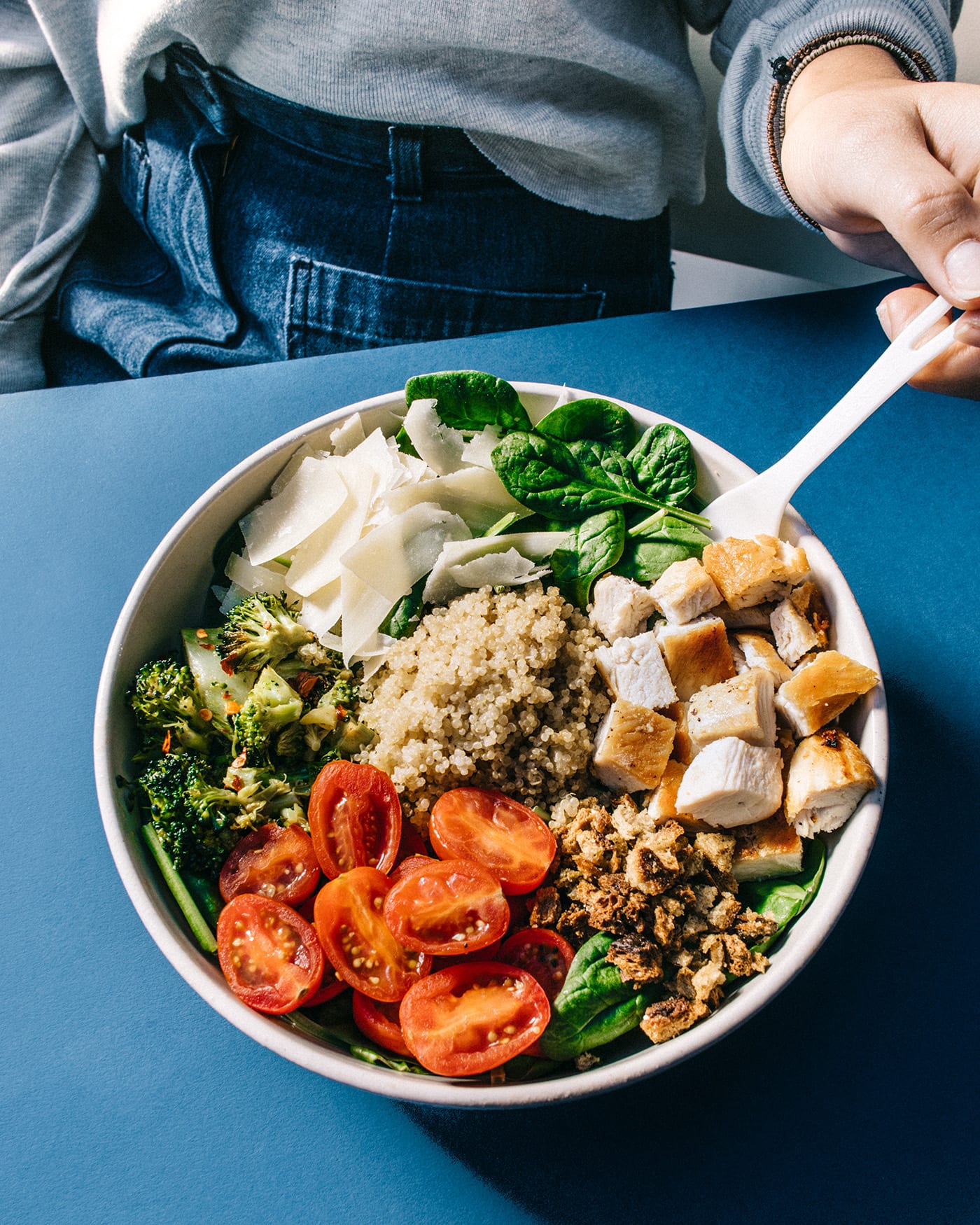 From a small shop in Washington, D.C. in 2007, sweetgreen has grown to more than 90 locations nationwide, although you wouldn't know it based on their practices.
Chicago marketing team member Steph Dietz explained that at every store, "our team is here super early every single day prepping everything from scratch, so we don't use any sort of commissary … everything is sent directly from our farmers to our stores."
Each store works with regional farms to build menu items that rotate seasonally. Although you'll find largely the same seasonal menu items across the country, you'll get regional adjustments based on the availability of the local farms in that area (for example, in the Harvest Bowl you'll likely find apples in the midwest but grapes on the West Coast.
"Everything is cut and prepped and washed and cooked in-house here, in all of our stores," Dietz continued. "That's something we pride ourselves in – a 100% scratch kitchen [and] if you ask where any of your ingredients come from we would be able to tell you exactly where. We also recently removed all sugar from our recipes. There's no added sugar in any of the recipes, dressings, bowls, nothing. And we make our drinks in house as well."
With education about where food comes from and what makes your delicious plate of greens in front of you equally packed with nutrients at the forefront of what sweetgreen does, it's no wonder you feel good about spending your hard-earned dollars there.
Where many "fast casual" restaurants play up the "organic" and "farm-to-table" aspect of the business, Everytable (currently with location in Los Angeles) aims to level the playing field for eating a healthy, fresh and delicious meal no matter your income bracket.
How do they do it?
"At Everytable, you'll find as fresh, local ingredients at any high quality, chef-inspired fast casual establishment, but the reason you'll find it for at least half the price of competing shops is because of the business model on the backend," said Sam Polk, co-founder and CEO.
By utilizing a single commissary kitchen, they can cut down on space and labor in order to get meals down to "a truly mind-boggling price," as Polk puts it.
And what's more, Everytable charges a nominally higher price for menu items in more affluent neighborhoods, making lunch or dinner on the go in less affluent neighborhoods as cheap as $5.50. When you see what you'll get for that price (or even the higher end price, around $7.50) you won't believe your eyes.
Whether the company is innovating the supply chain system on the backend like Everytable, focusing on prepping everything in-house to optimize freshness as sweetgreen does, applying technology to change how we view healthy fast casual like Square Roots Kitchen or starting from scratch with as simple a menu as can be created for a restaurant like FARE Chicago, these businesses and more take a stand for rebuilding customers' trust in the food industry. Perhaps one day we'll feel comfortable calling something "healthy" again.