Here's a Sneak Preview of ALL the Ways to Celebrate #SweatworkingWeek at the Michelob ULTRA Fitness Festival
We've been keeping all the surprises we have on deck for you at the Michelob ULTRA #SweatworkingWeek Fitness Festival a secret for too long now, and it's official — we're so excited we're ready to burst.
But spontaneous combustion wouldn't be great timing for us right now as we're running around getting ready for the last two night crawls of #SweatworkingWeek (Bucktown and Old Town, anyone?!). So, instead of risking that, here's a sneak preview of what you'll see at Morgan's on Fulton when you come to celebrate #SweatworkingWeek with us on Saturday, June 9.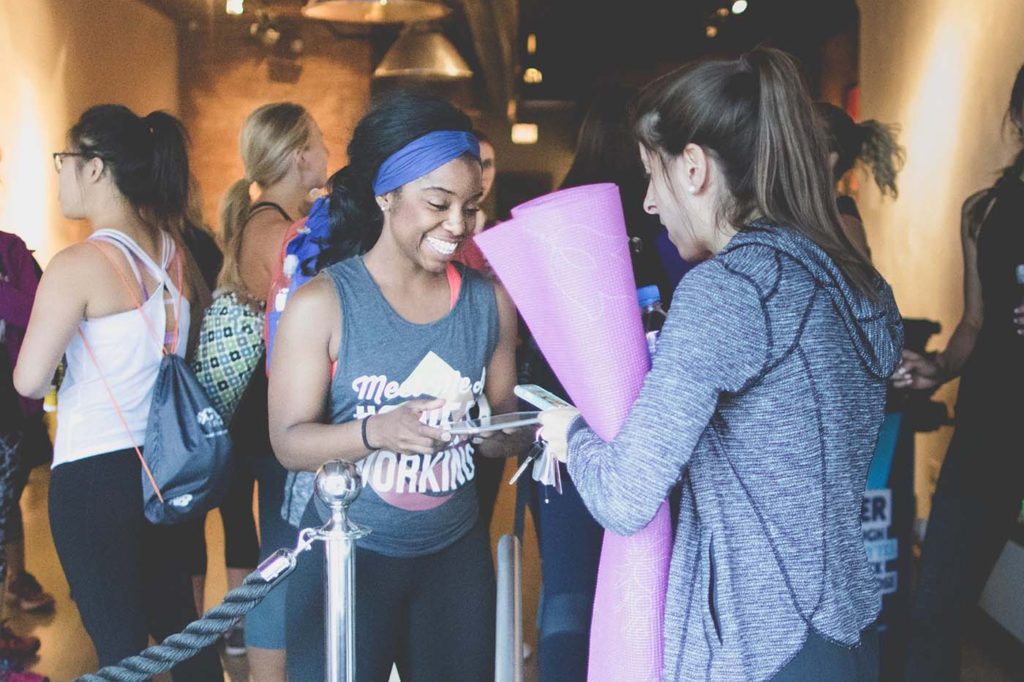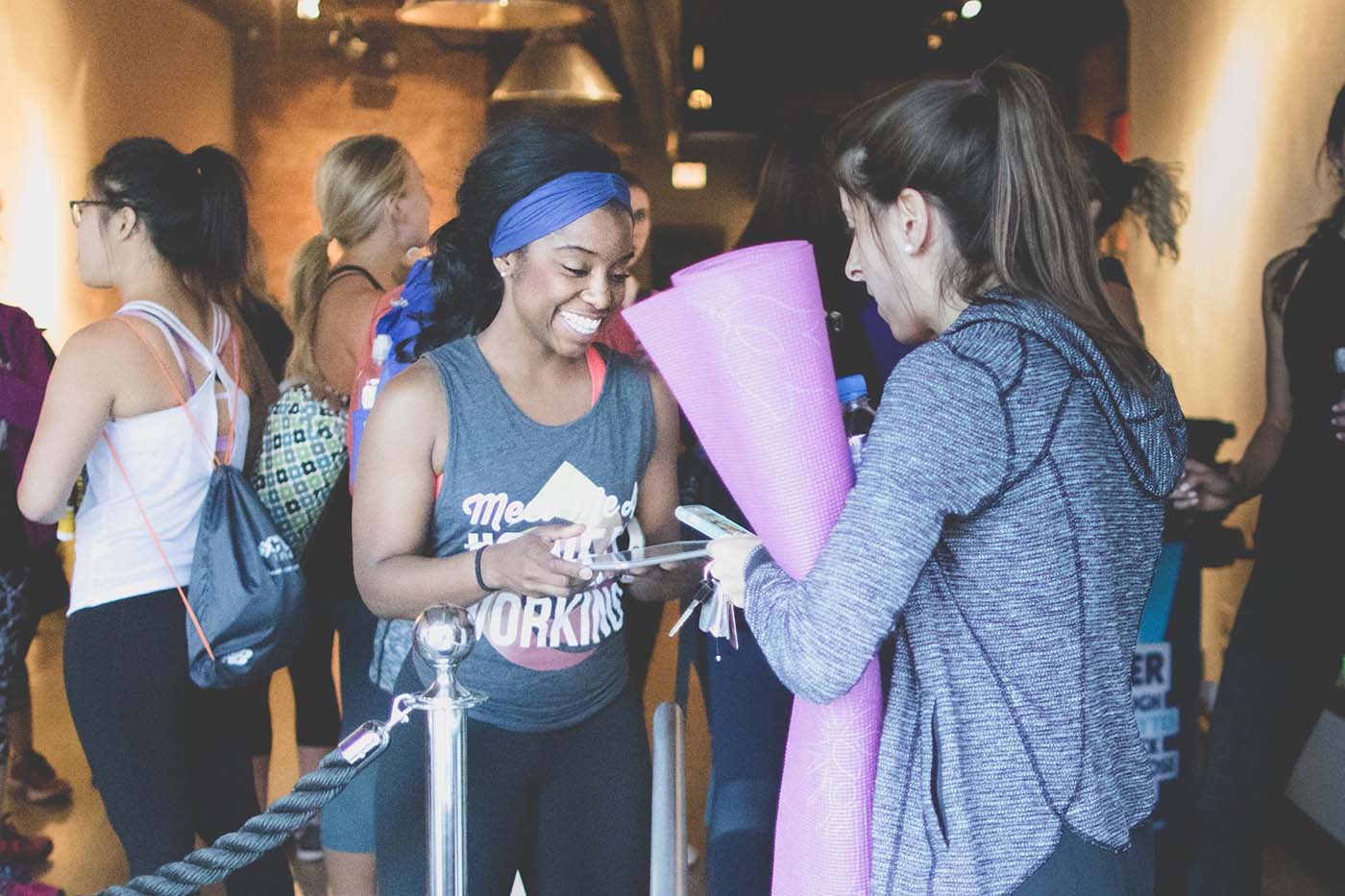 Street Level: All the snacks, drinks, and rehydration you can imagine.
The first floor at Morgan's on Fulton is dedicated to refueling you after a week of butt-busting workouts. Whatever you're craving, you're sure to find it on the street level floor.
With a name like Michelob ULTRA headlining the fitness festival, you know a good time is around the corner. Starting at 10:30 am, we'll have bartenders on hand mixing up Michelob ULTRA-based cocktails and serving all 21+ attendees the classic light beer. Bonus points if you come find Jeana for a cheers.
If you're not ready for happy hour but you're ready for other hydration options, we've got you covered. Limitless will be serving their classic (and strong) bottled cold brew, perfect if you're signed up for a morning workout. WTRMLN WTR will hand out samples of their deliciously refreshing cold-pressed watermelon juice (with enough electrolytes to replenish even the sweatiest workout). Finally, Lifeway Kefir will show your guts some love with their signature probiotics-rich beverage.
And when that stomach starts growling and the post-workout munchies hit hard, you've got no shortage of ways to curb that hunger. Our friends from LUNA Bar will be on site with samples of their gluten-free whole nutrition bars, plus a photo booth for sweaty selfies (#doitforthegram) AND extra fanny packs if you missed us throughout the week.
If you love waffles half as much as Leslie Knope, you'll fawn over Kitchfix's Paleo waffle bar, one of their signature treats. PRE Brands will be serving their grassfed beef all day long (because sometimes, you just need some straight up protein). For the vegetarians, you'll be thrilled to see Koia and their plant-based protein powder, perfect for recovering in between workouts.
And finally, don't miss ItsAPop before you go. These gourmet popsicles are the most refreshing way to celebrate summer and stay chill at the same time.
Level 2: A total treat-yourself experience from head to toe.
Nothing sounds better than letting someone else take care of you after a long, rewarding #SweatworkingWeek. Floor two of Morgan's is going to be dedicated to your ultimate recovery and relaxation experience — because you deserve it.
Starting from the top, we'll have two stylists from Stylisted on hand from 10:30 am to 2:15 pm to create the braids of your dreams. Stop by before a workout for the ultimate glam look (especially recommended before the Body Worship dance workout).
We know you've put your skin through the ringer with all the sweat you've experienced this week, so we're treating you to Beautycounter and Skin Laundry samples. Beautycounter will be bringing their toxin-free makeup and sunscreen (perfect for those rooftop workouts, right?), while Skin Laundry will hand out hydrating sheet masks that you can toss on as you explore the fitness festival. Trust us, it's only weird if you make it weird.
We're all a little stinky sometimes — luckily, gaan & co. will be on hand to pass out samples of their biodegradable, flushable individually-packaged deodorant towelettes (as well as mosquito repellant wipes — clutch for summer nights). Take one for now and one for later — especially if you're doubling up on workouts.
Feeling the aches and the pains of this week? Us too. That's why we have tons of muscle recovery options for you. Delos Therapy will be doling out their signature hurts-so-good treatment on your sorest muscles, and West Town Physical Therapy will be offering movement screenings to make sure you're a well-oiled machine for the rest of summer's activities. We'll also have a selfie stretch station where you can casually stretch before and after class, with fitness instructors on hand to answer any questions and demo any movements.
When you need recovery that's a little more intense, head for the Hyperice and NormaTec stations. We've literally got a suitcase full of Hyperice vibrating rollers just waiting to give you those good vibrations, and NormaTec is loaning us three sets of recovery boots to refresh your legs, fast.
If you're feeling really energized and amped up, we have two questions for you: 1) how?! and 2) want to try the FLY Anywhere bike? The FLY Anywhere bike will have a dedicated spot on the second floor, waiting for new riders to get in the saddle. Test your skills and compete with other attendees for the best Power score of the day!
And don't forget, if you competed in the #SweatworkingWeek challenge and completed three workouts, you're eligible to pick up a goody bag! The SweatWorking app will have those on the second floor for you — remember to show that you've downloaded the SweatWorking app in order to grab yours.
Let us know!
Did this post help you get closer to achieving one of your goals?