Taking Back the Rice Cake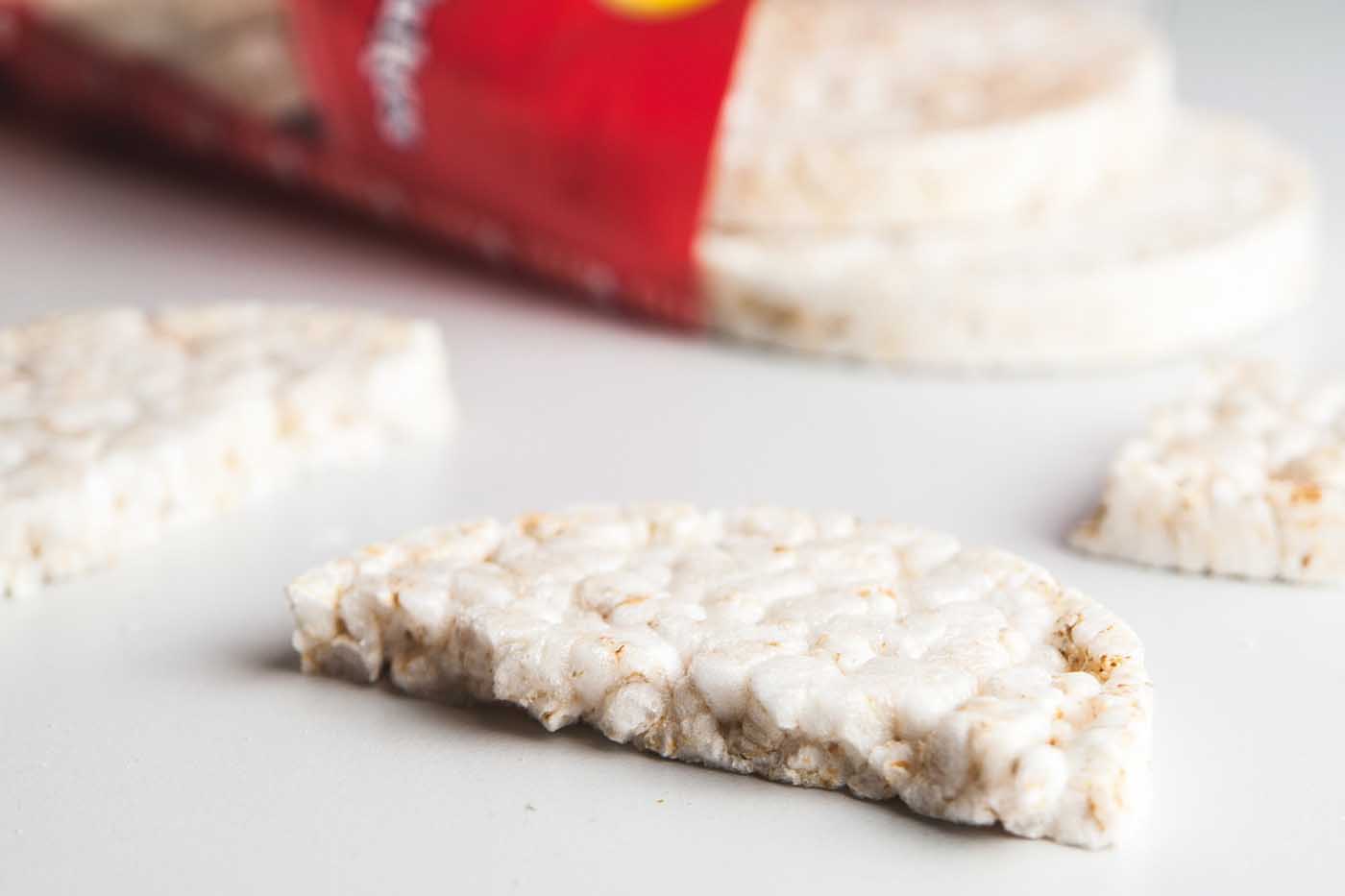 You probably know rice cakes as a kooky diet food of the 80s and 90s. "No, I'm not hungry," waifish women in high-cut exercise leotards demurred. "I have two rice cakes to keep me satisfied."
Excuse me if I call bullshit on this. Let's call a spade a spade: a rice cake, on its own, is not delicious. It's extremely crumbly (worse than Nature's Valley granola bars), dry, and completely tasteless. I'd imagine it's just a step above eating styrofoam packing material.
However, after running out of things to put peanut butter on, I stumbled upon rice cakes and peanut butter as my afternoon snack. Lo and behold … it didn't suck.
I'm not going to lie to you and say it was the best thing I've ever tasted. It's not. But it's a good snack, it kept me full, I got to enjoy peanut butter without feeling sick afterwards (read: spreading peanut butter on one rice cake is much more effective for portion control than dipping apple slices and then a spoon right into the peanut butter jar).
In the spirit of open-mindedness towards the ho-hum rice cake, I've now begun conducting an exploration into Other Foods and Spreads That Take the Mediocrity Out of Rice Cakes. My findings are as follows:
Peanut Butter + Banana + Honey
This will be my go-to for awhile. When I was in high school, I went through a phase of eating PBBH sandwiches every single day – sometimes two at one time. I just couldn't get enough. Now, one rice cake with my favorite sandwich toppings of yesteryear is the perfect snack to satisfy my appetite, my sweet tooth, and my nostalgia.
Hummus + Cheddar + Sprouts
For a sharp, savory snack. Say that five times fast. Hummus is high in the good kind of fat (unsaturated, that is), and when combined when cheddar cheese, you have enough protein to keep you full for a few hours.
Avocado + Siracha
Similar to hummus, avocado is high in the healthy monounsaturated fats, so you stay full for longer. Siracha is siracha: delicious. Feeling fancy? Add an egg on top.
Let's make avocado rice cakes the next avocado toast on Instagram. I can really see this catching on, you guys.
Smoked Salmon + Cream Cheese
Swap our your morning bagel and get your omega-3 fatty acids with this indulgent-feeling combination. Smoked salmon is also a good source of protein, B vitamins, and magnesium.
Guacamole + Corn + Black Beans + Salsa
Okay, this might be more of a meal than a snack, but when reading a list of ingredients makes me salivate, I'm morally obligated to include it in the roundup.
Melted Dark Chocolate + Sea Salt
The perfect combination of sweet and salty. I can totally see myself eating this for an evening snack when my sweet tooth just won't shut up.
A word of warning about rice cakes: read your nutrition labels. You're looking for a rice cake that's made from whole grains (aka it lists brown rice or whole grain brown rice as its first ingredient). That way, your snack stays high in fiber.
You also want a rice cake that's low in sodium and added sugar (which can be disguised as fructose, sucrose, or corn syrup on an ingredients list). Personally, I've been happy with Trader Joe's Rice Cakes, which have 35 calories per cake and list only whole grain brown rice and sea salt as their ingredients.
How are you going to take back the rice cake? Let us know your ideas for flavor combinations in the comments!