Discovering New Fitness Brands with SweatStyle
If you love something, set it free. If you really love something, find a subscription service that sends it to your doorstep on a regular basis. That's what various love affairs with Amazon Prime, Birchbox and Graze have taught me, anyway.
And now, I can add SweatStyle to the mix (perfect timing for winter months when shopping IRL is just too traumatizing, between winter paleness and fluorescent lighting). Similar to Trunk Club's fitness apparel trunks, SweatStyle is a personal styling company for upscale fitness apparel. After filling out a survey, the company sends you a mix of around five total tops, bottoms, sports bras, accessories, and more – all pieces that work just as well for brunch as they do for Peloton.
Curious? Luckily, I have named myself aSweatLife's resident Fitness Subscription Services Specialist (hope that's okay, Jeana). Here's what I loved about SweatStyle.
They Really Get to Know You
Before SweatStyle sent me my package, I filled out an extensive survey asking me about literally everything I could think of (and then some) regarding my fitness apparel preferences. In addition to the usual color, pattern, and fit preferences, I rated workouts based on whether I do them frequently, sometimes, or never, plus what activities OTHER than workouts I'd be using these clothes for (brunch and lounging, obviously).
They also asked me, wisely, which pieces I REALLY needed in my wardrobe at this moment – a sneaky safeguard against impulse purchasing yet another pair of funky patterned leggings just because "I don't have anything in neon kaleidoscope yet, and look! These are right here." So, when my box showed up, it didn't contain any outerwear or accessories, since I said I was good on those for the moment. It did, however, contain an amazing sports bra that my closet was lacking.
Introduction to New Brands
Whereas Trunk Club's fitness trunk was all Nike and Zella (brands I'm already familiar with and love), SweatStyle partners with brands that are less well-known, but just as high end.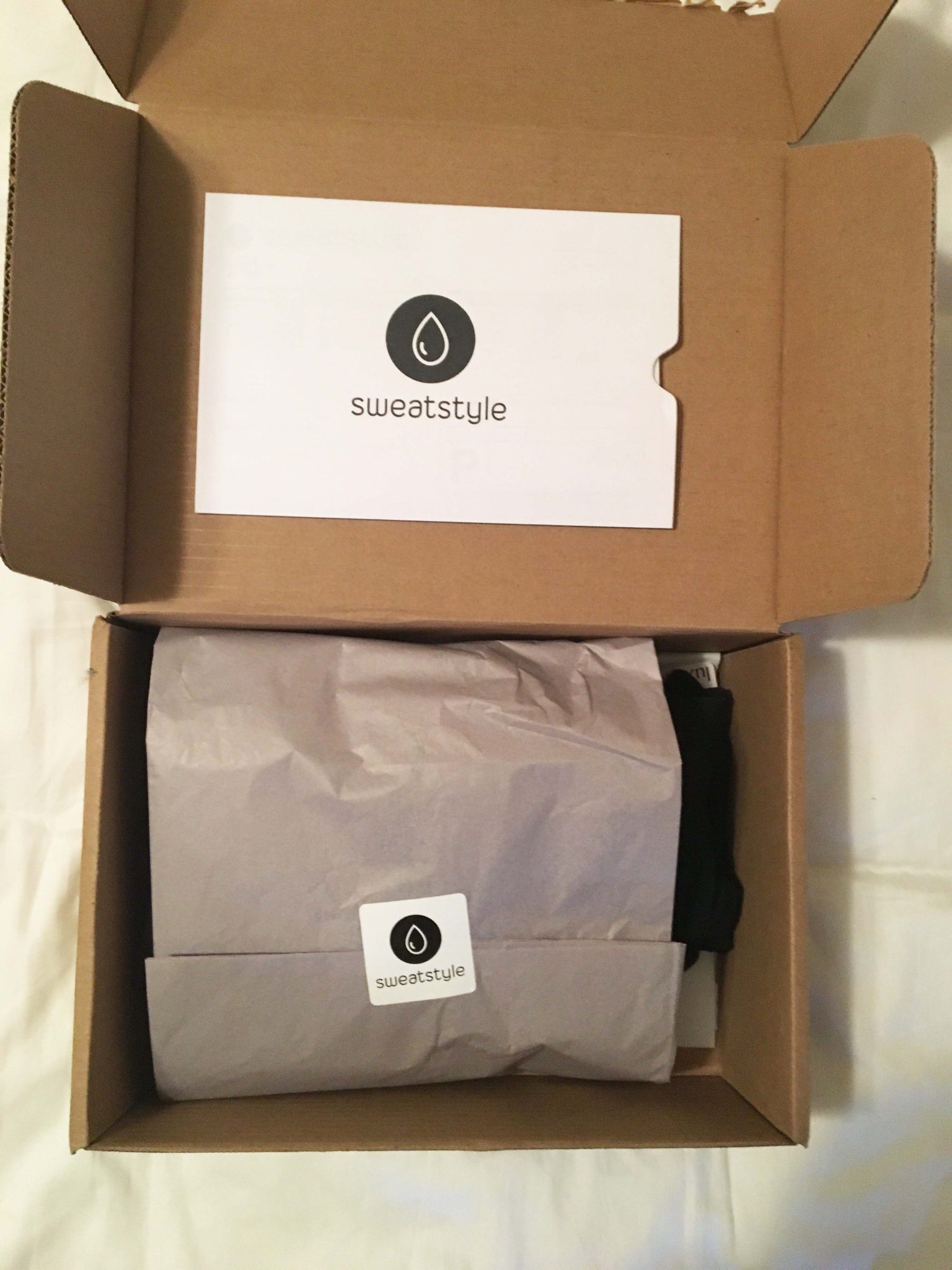 For example, my box contained the following:
A black muscle tank and blue python-patterned capris from Prismsport
Zeta leggings from Noli Yoga
7/8 tights in Black Cherry Painted from Vie Active
A scalloped sports bra with mesh accents from Lukka Lux
To be honest, I'd never heard of any one of these brands before, but a couple of the pieces were so beautiful that those companies are now definitely on my radar when I'm on the hunt for a specific piece. By looking for small, up-and-coming brands to partner with, SweatStyle is able to offer you really unique pieces that you won't see anyone else in your Vinyasa class wearing.
Absolutely Gorgeous Clothes
I actually gasped when I opened my box. Not only were the patterns visually striking, but just by touching them, I could tell the clothes were really high-quality materials.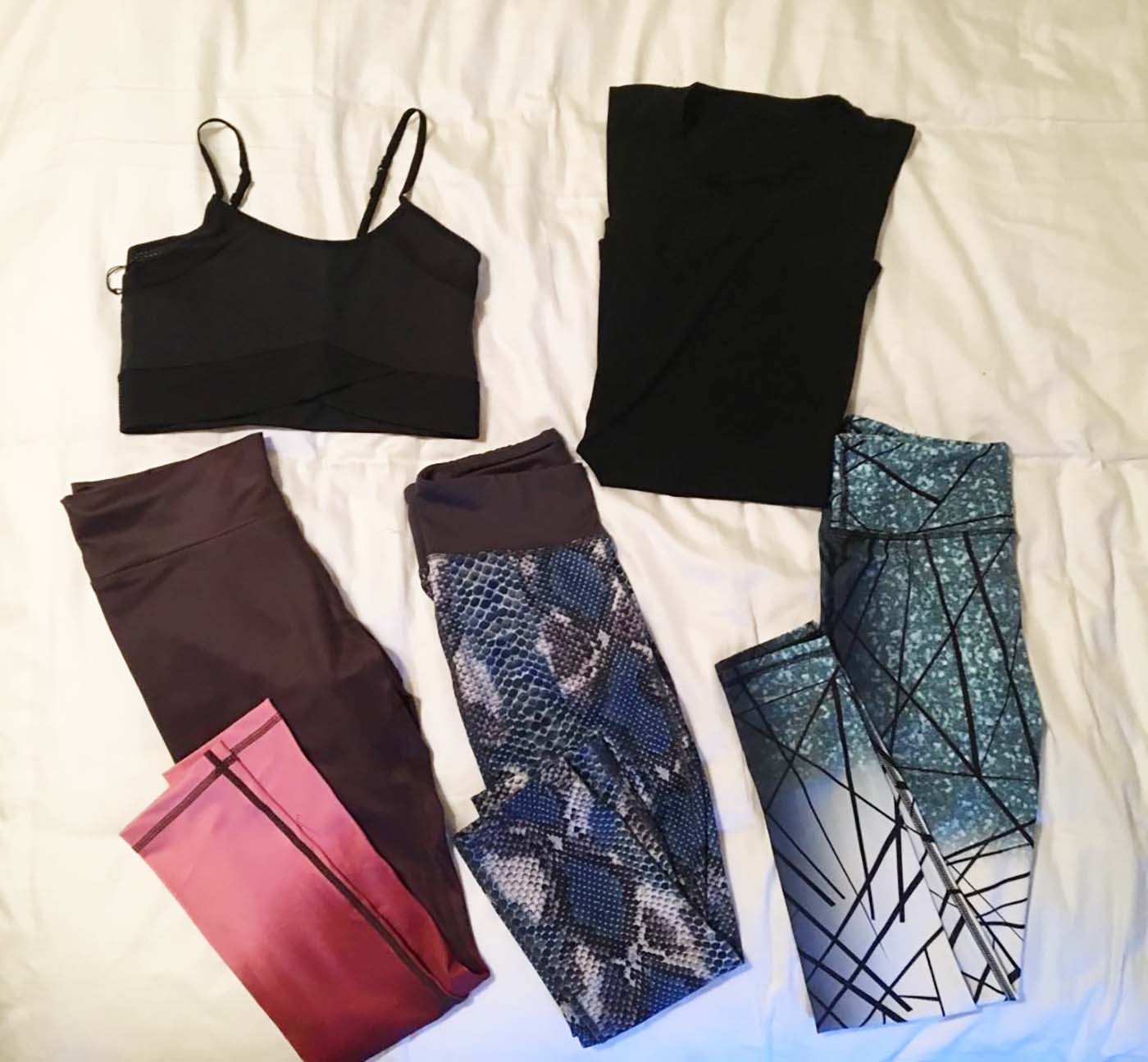 Specifically, I fell HARD for the Black Cherry Painted 7/8 leggings. The ombre finish is to die for, and when I pulled the leggings on, the stretched fabric somehow managed to look even more luminescent (and not see-through. Insert praise hands emoji).
The other stand-out piece to me was that seemingly basic black sports bra you see in the top left corner. When I tried it on, I discovered that the front panels that lay across my ribcage were actually scalloped in sort of a reverse-sweetheart cut, and the fabric in the back went down a little bit further. With the right high-waisted paints, you could easily get away with skipping the top – perfect for hot yoga classes. Plus, I loved the mesh accents for their unexpected details.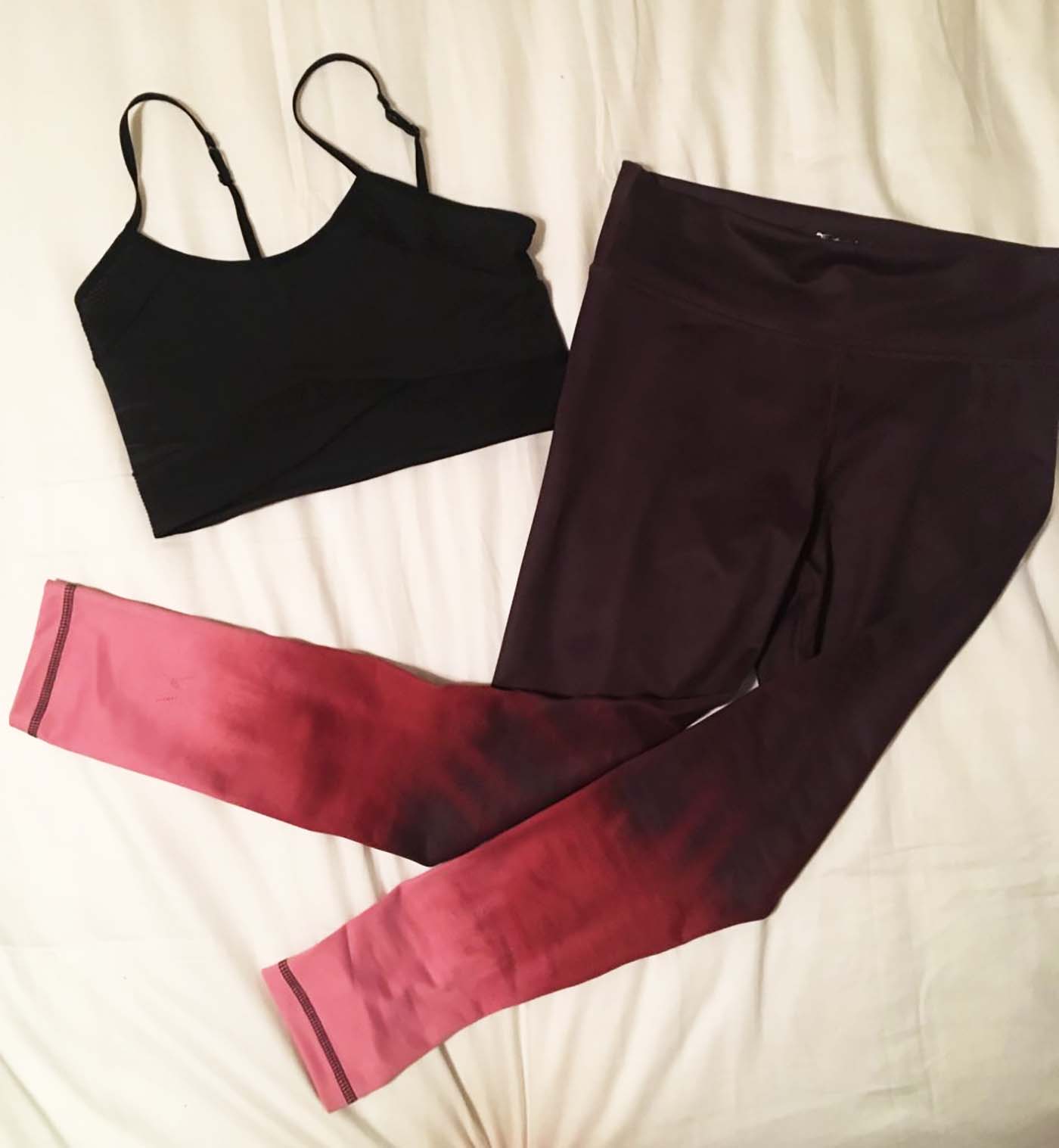 SweatStyle is, first and foremost, a high-fashion service, with a goal of giving you workout gear that's just as chic as it is sweat-proof. Everything in my box was obviously a superior product, and you wouldn't be out of place wearing any of it on the streets of Manhattan (where the company is headquartered).
Like other subscription styling services, SweatStyle charges a nonrefundable service fee with each box they send you. Luckily, this fee applies towards whatever you purchase; plus, as an added bonus, if you spend over $250, you automatically get 20% off your purchase. Curious? You can get $20 off your first box here (referral link).
And if you see me wearing the ombre leggings around town anytime soon, just know that I've probably worn them every single day since receiving them. No judgment, please.