Trunk Club Adds Fitness Trunks to Styling Services
Hi, my name is Kristen, and I'm a recovering workout-gear shopaholic.
I used to have a serious problem with impulse control when it came to buying workout gear. The way I reasoned it, I work out multiple times per week and in the Chicago elements, clothes get run down pretty quickly. Plus, my personal style is essentially athleisure, with as few real waistbands as possible. So really, shopping for workout gear was like shopping for real clothes at the same time, right?
(My Mint account says no.)
Eventually, I learned how to unsubscribe to promotional emails and keep my head down when walking past storefronts. But when I saw Trunk Club was adding fitness trunks to the personal styling service, I felt it was my right – nay, my American duty- to try it out and write about it.
(And shop a little in the meantime.)
At its core, Trunk Club is a personal styling service. They set you up with a stylist who gets to know your style and preferences by chatting with you. Then they either send you a trunk of clothes that they think you'd love or, if you're in one of their clubhouse cities, make a personal styling appointment for you to try clothes on with your stylist (and enjoy some complimentary wine and beer at the same time).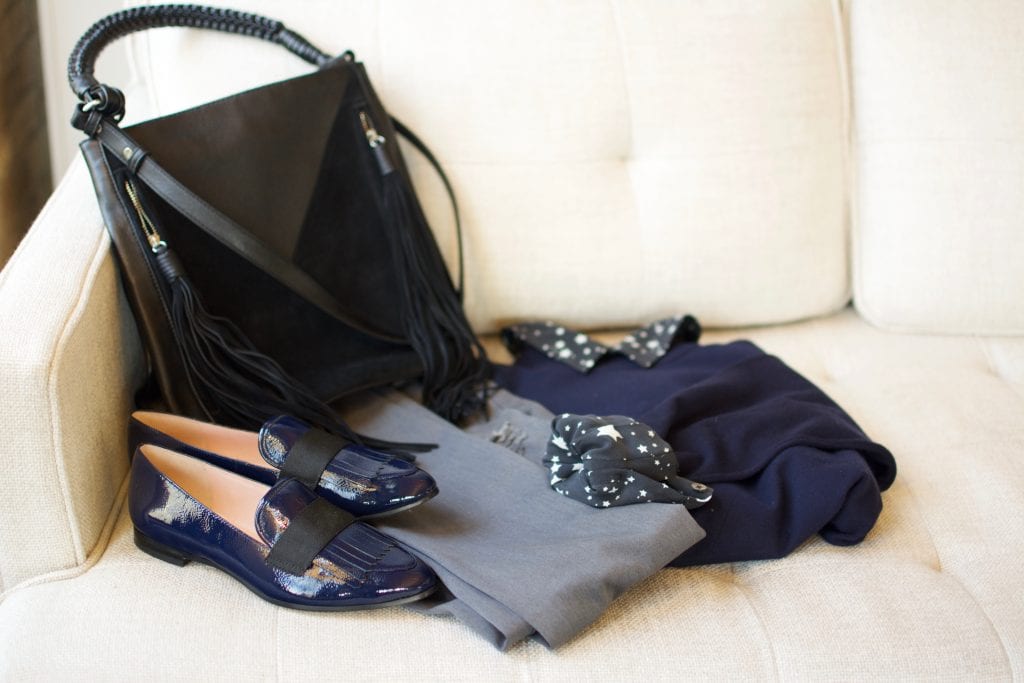 I know what you're thinking: I can't afford this. Trust me, I've thought that too. But the styling is free, and you only pay for what clothes you decide to keep. Plus, my stylist (referral link) was wonderful about working with the price point I was comfortable with.
The trick is to think of your wardrobe as a curated collection. Instead of haphazardly buying things that are on sale or trendy, Trunk Club helps you build a wardrobe that will last you for several seasons, and that you can easily mix and match with the rest of your wardrobe.
So, I took that same mentality to my Fitness Trunk. I knew what I needed (sports bras, open back tanks and any kind of black leggings) and what I already had in my wardrobe and/or didn't want (strappy tanks, really nice running gear and winter running essentials). I communicated that to my stylist, Caitlin, who took my feedback and built a trunk for me.
Enough talking. Let's get to the pictures.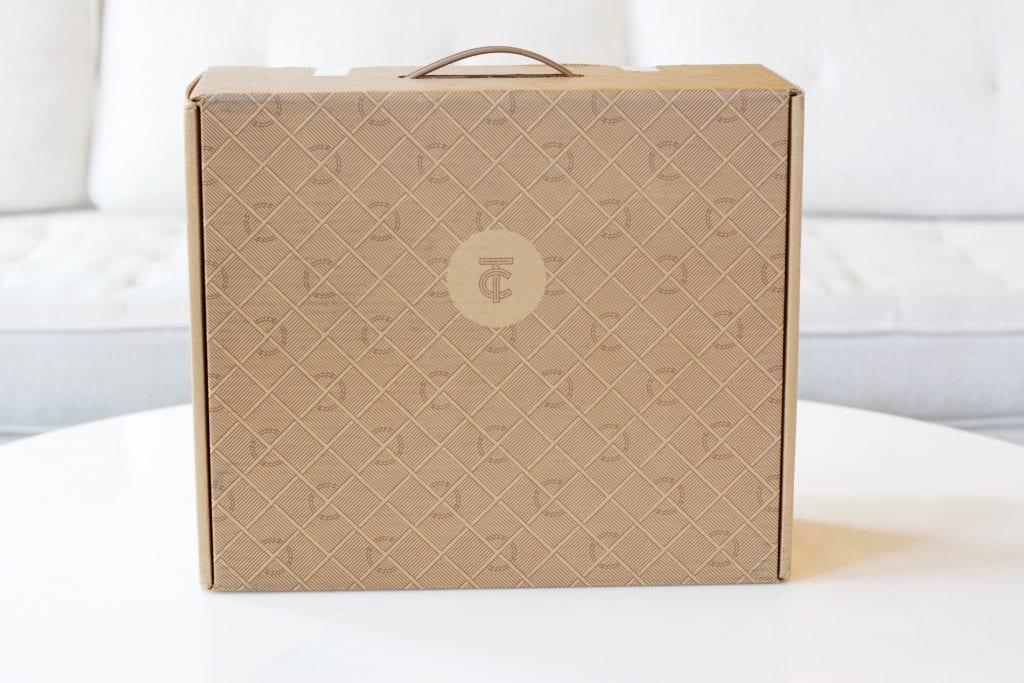 Trunk Club is owned by Nordstrom, and their fitness apparel is mostly Nike and Zella (a brand I hadn't tried yet). My trunk consisted of the following:
Yes, somehow that all fit in this small box.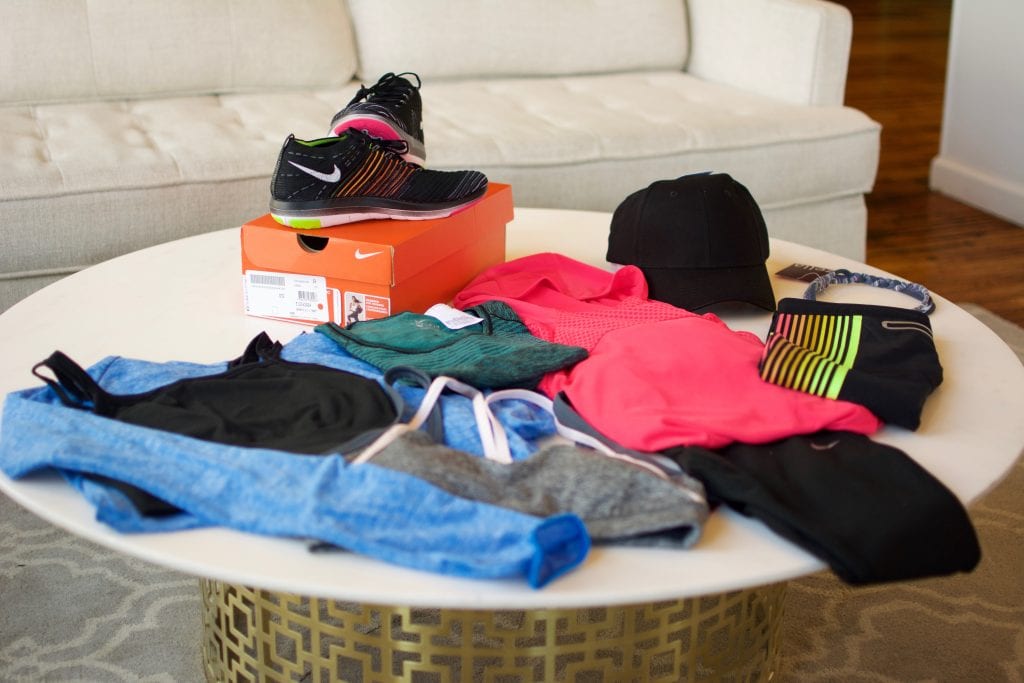 Unwrapping it felt like Christmas morning.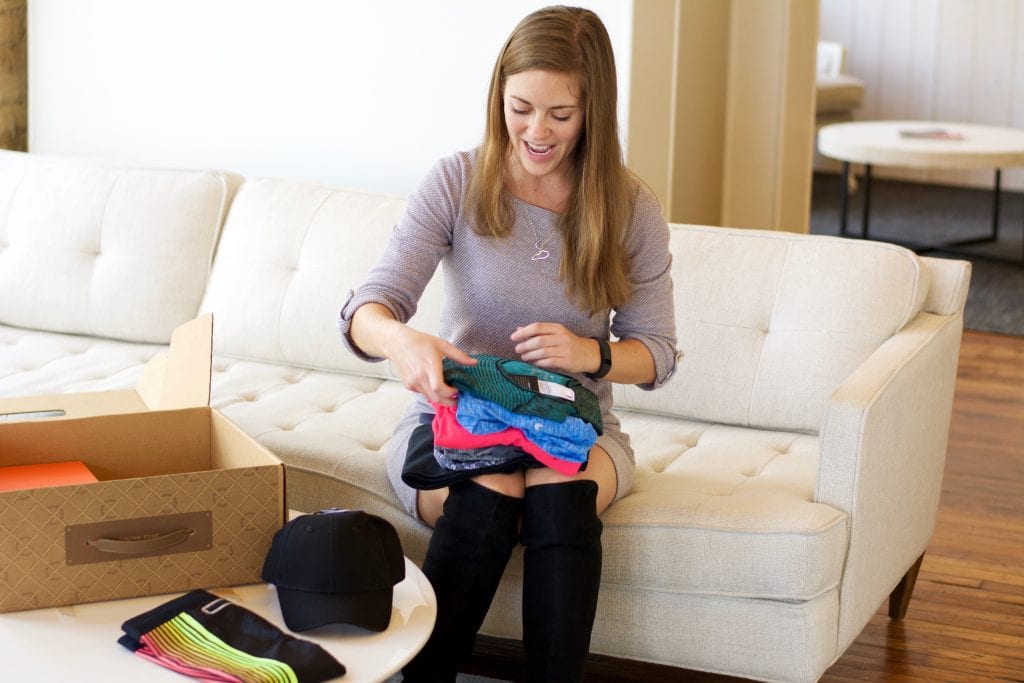 One of the best things about the fitness trunk was that before she put the trunk in the mail, my stylist sent me a link to preview the trunk online. I was able to give Caitlin some feedback and decline a few items that look like things I already had in my wardrobe or that weren't quite my style. That way, I was more likely to love everything that was packed in my trunk.
Caitlin recommended a few different outfit combinations for me to try on and off to the dressing room I went.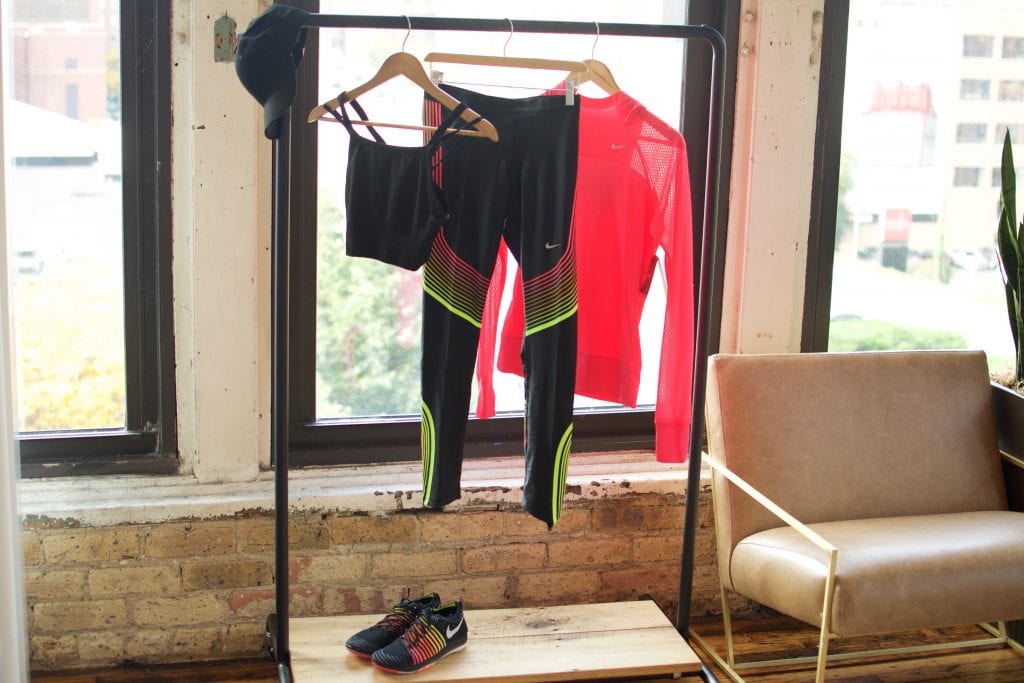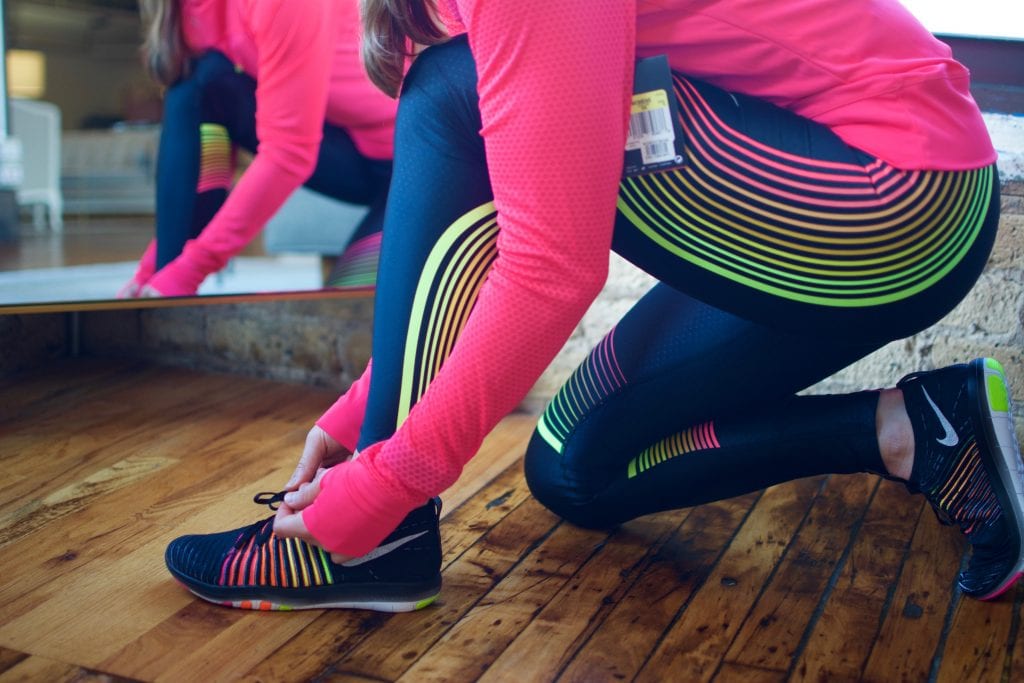 Somehow, Caitlin read my mind and knew that I had been lusting after the Power Speed running tights for the past year. Damn you, Caitlin. You're good. They looked insane paired with the Nike Free Transform Flyknit Training Shoe, which is perfect for HIIT workouts (and on sale!).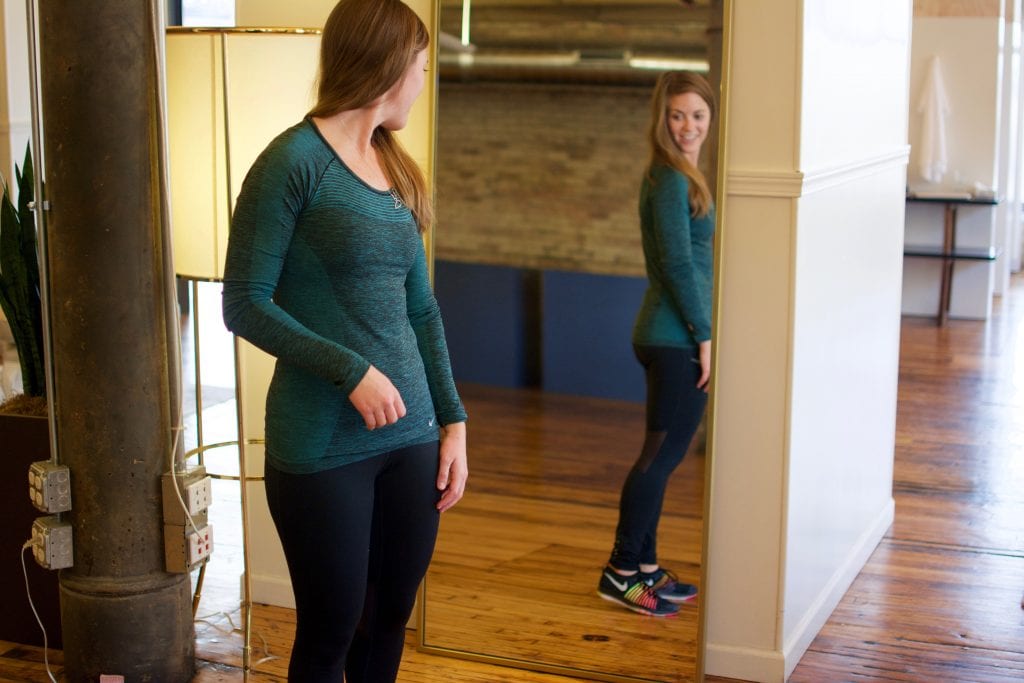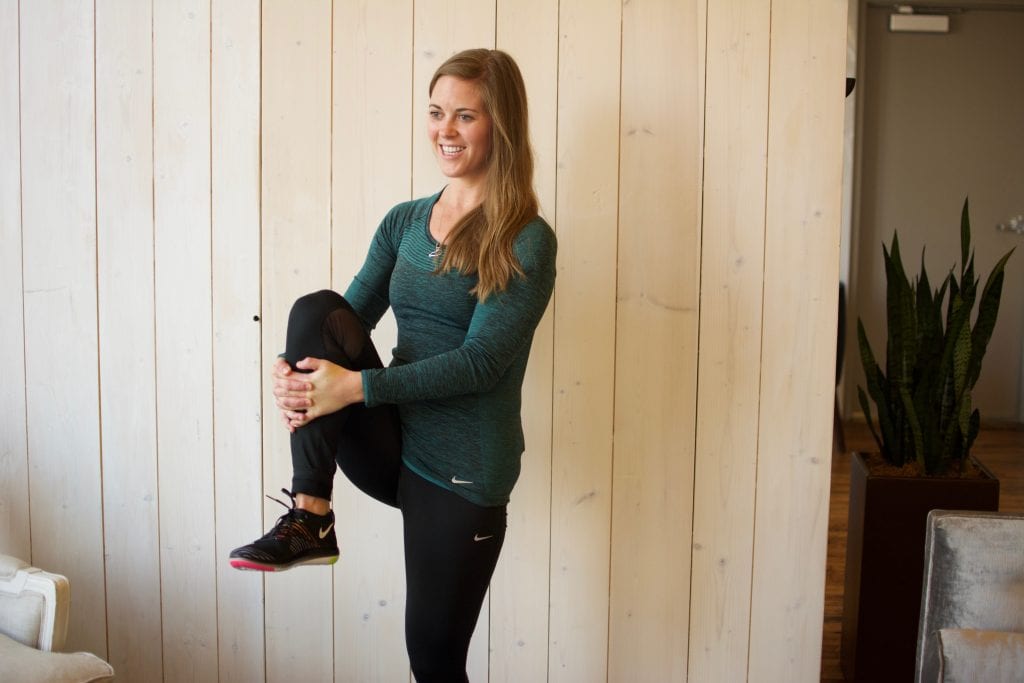 Next, we went a little less flashy with a gorgeous evergreen long-sleeved running top from Nike and black running tights with mesh cutouts along the back (also Nike), which elevated the look from basic to not-so-basic.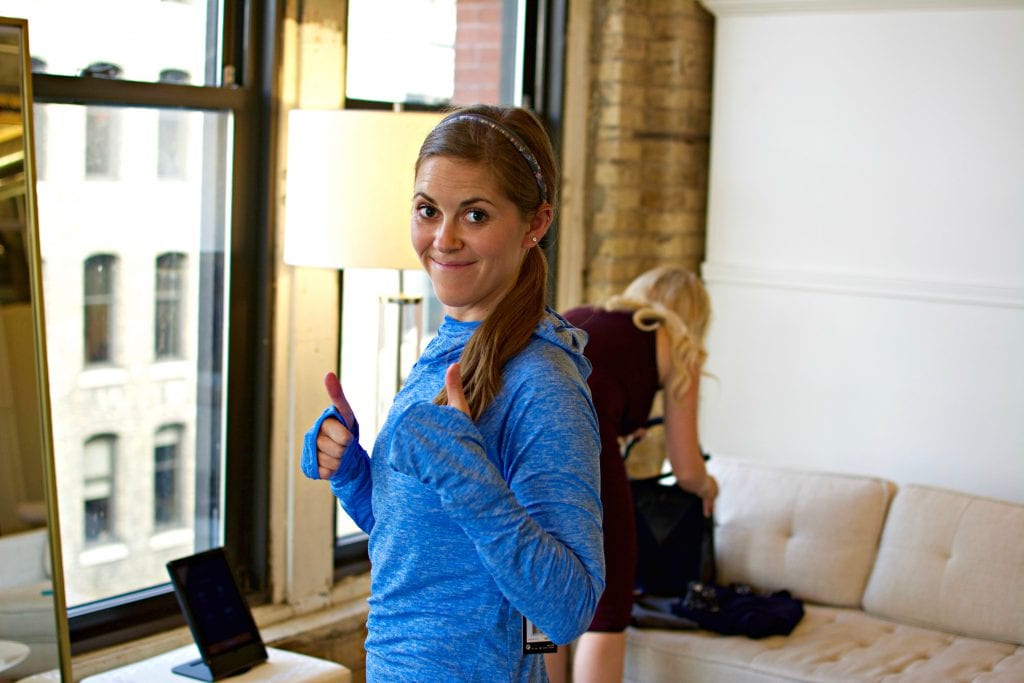 Finally, I swapped out tops for the sky blue Nike Element Dri-Fit running hoodie and the Zella braided headband. By this point, I was very overstimulated by all the shopping adrenaline, which Cass Gunderson Photography captured perfectly.
As tempting as it was to buy the whole trunk, I stuck to my original plan and left with the two sports bras and the plain black baseball cap (which my boyfriend now affectionately calls my "sniper" hat). The lesson here? Just like grocery shopping and going to Target, adding to your fitness wardrobe is best done when you have a strong strategy in place and you stick to it.
Curious to try it for yourself? By all means. Reach out to a stylist (both Cass Gunderson and I work with Caitlin Grabrowski and she's the bomb) to request a trunk. For fitness apparel (or any situation where you're ordering a trunk to be delivered to your home, rather than meeting with a stylist in store), you'll pay $25, which goes towards any purchase you make from the trunk.
Plus, they offer a great holiday gifting program for the fashionistas (fitness or otherwise) in your life. It's the convenience of a gift card, but way more personalized since the stylist picks out items especially for them.
Ready to get shopping? Head to Trunk Club's website today to request a consultation with a stylist and find an #OOTD that matches your #WOTD.
All photos in this post were taken by the lovely, talented, pizza-lovin' Cass Gunderson.