Locals call Aruba "one happy island" and they can say it lots of different ways. Officially part of the Kingdom of the Netherlands, Aruba lies just off the coast of Venezuela and also spent time under Spanish rule, so you'll hear people speak English, Spanish, Dutch, Portuguese and a blended language called Papiamento. And though it may be small — just 69 square miles, compared to Chicago's 230 — the island also offers a varied mix of fitness activities.
On a recent long weekend, I discovered that four days doesn't give you enough time to explore everything (or honestly, truly justify the six-plus hours of travel it takes to get there; next time, I'm booking a longer visit!) But here's a sampling of some of the things I tried and some on the list for my next island escape.
Sightsee on foot …
Since running is my sport of choice and my favorite way to explore, I scoped out a few different routes beforehand. If you're staying in the main strip of hotels near Palm Beach and Eagle Beach, you can head out either direction along the length of the island. Go north on the main road — the not-very-tropically named Lloyd G. Smith Blvd. — and you'll have plenty of sandy shoulder to stride on and awesome views of small beaches to your west. Make it all the way to the California Lighthouse and you'll be rewarded with views of the ocean on three sides. Head south and you'll eventually reach the capital city of Oranjestad, where cruise ships land. Or of course, you can always run on the beach. The soft, white sand feels nice and squishy if you're used to pavement or concrete. Just take it slow, since you're challenging a whole new group of muscles — and also to avoid stepping on a sharp chunk of coral.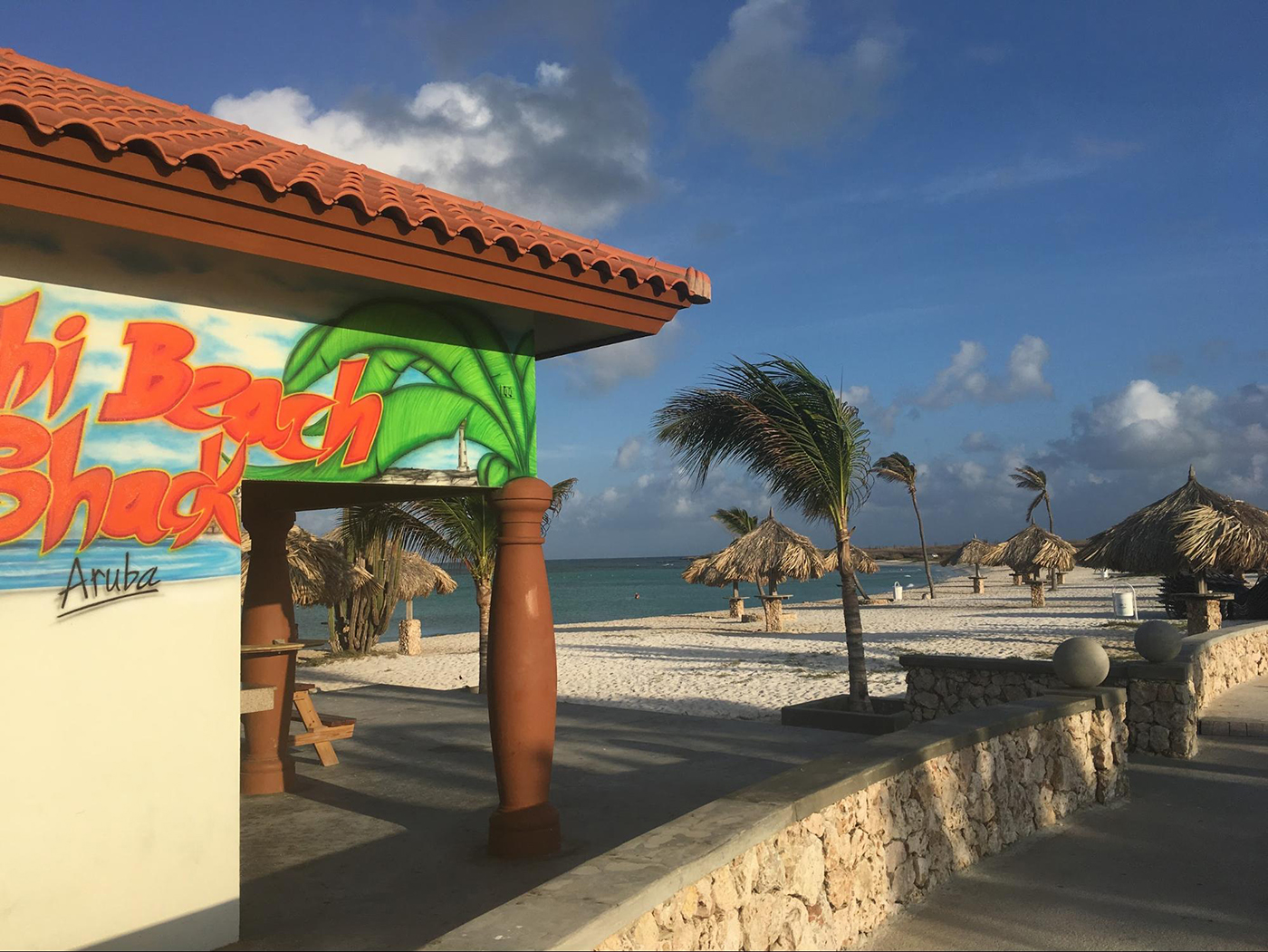 … or, under water.
Many of Aruba's best sights lie in the ocean — the ideal spot to head when the desert heat takes the RealFeel past 100 degrees. The rocks and reefs a few miles off shore are home to a dazzling array of colorful fish, making them ideal snorkeling sites. Sign up for an organized outing from a company like Red Sail Sports or De Palm Tours or just rent snorkeling gear and a kayak and paddle yourself to the best locations. Scuba certified? Dive deeper and explore the remains of the M.S. Antilla, a German cargo ship that sank in Malmok Bay in 1940.
Catch a wave.
Besides the heat, the other near-constant feature of Aruba's weather is the wind. You'll probably never have a good hair day here, but if you like water sports, you're in luck — those gusty gales produce swells perfect for windsurfing and kitesurfing. You can book lessons in advance or just wander up to the huts on Hadicurari Beach, a pebbly strip of shore just north of most hotels. If you prefer your aquatic adventures a bit more calming, try SUP yoga. I took a class through VELA Sports and only fell in the ocean once while attempting warrior 2 pose in the wake of a passing boat. Though it wasn't easy, I don't think I've ever felt more relaxed than lying in savasana afterward on a gently rocking, floating mat.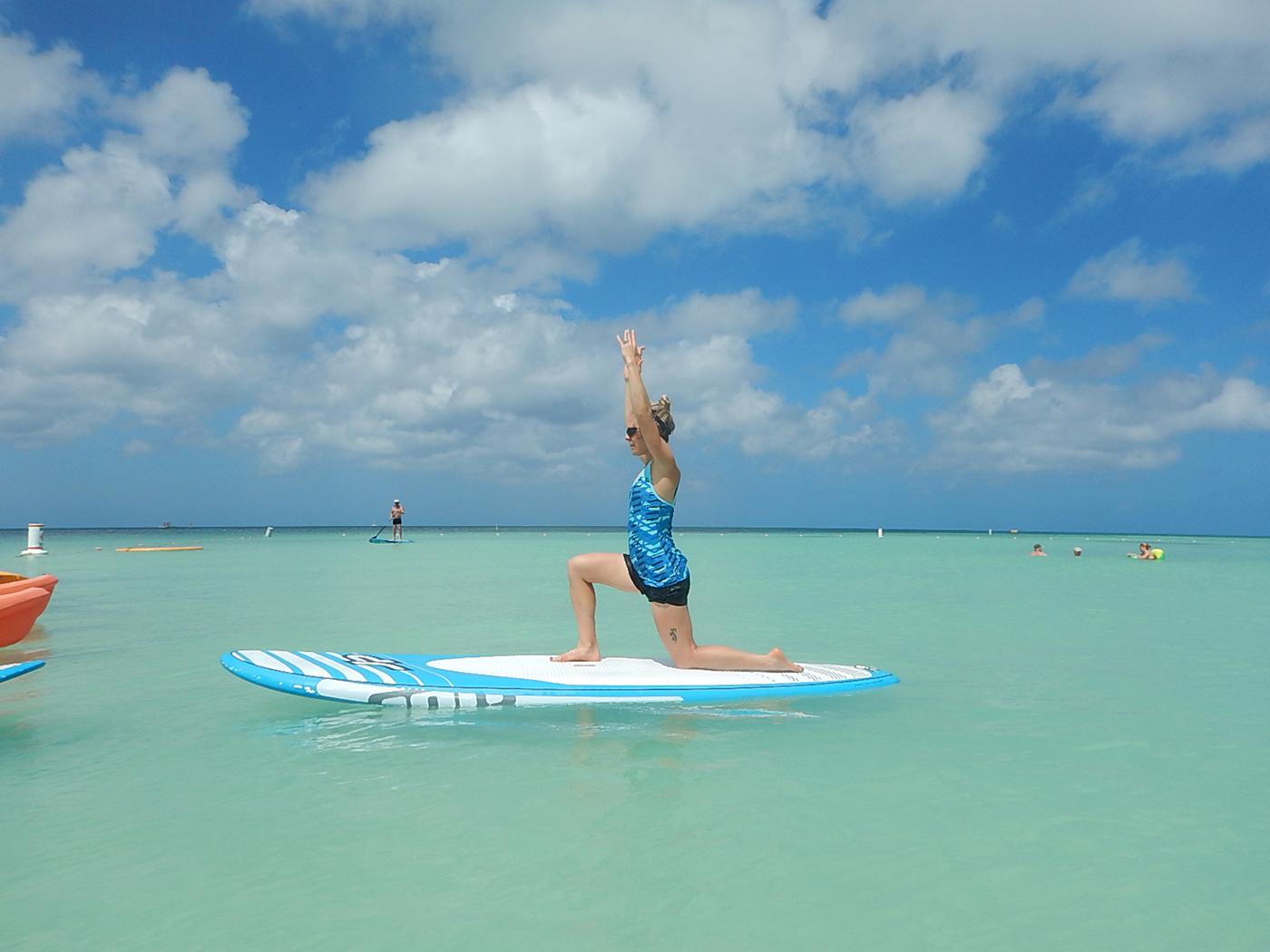 Retreat to your resort.
Most of the high-rise hotels near Palm Beach and Eagle Beach offer well-equipped health clubs. Ours, the Aruba Marriott Resort & Stellaris Casino, had a two-level gym stocked with a sauna, free weights, high-quality treadmills and air conditioning (those last two a must when you land in the afternoon but still want to get a run in). At the adults-only Bucuti & Tara Beach Resort, guests can enlist the services of a wellness specialist to tailor-make a vacation supporting their nutrition, fitness and relaxation goals. And at Manchebo Beach Resort & Spa, on the westernmost tip of the island, yogis go through their vinyasas in free daily classes held in open-air waterfront studios.
Take a hike.
Arikok National Park takes up about one-fifth of the entire island and offers more than its fair share of incredible views. We took a very bumpy Jeep ride — you wouldn't want to attempt this shortcut without four-wheel drive — but you can also navigate to some of the most popular landmarks on foot. After what seems like a lengthy journey through an arid landscape, you'll stumble across something like Dos Playa, two limestone coves with water so clear you can see the bottom of the ocean from high above. Or trek to the Natural Pool and leap off a cliff into quiet waters protected from the surf by a rocky boundary.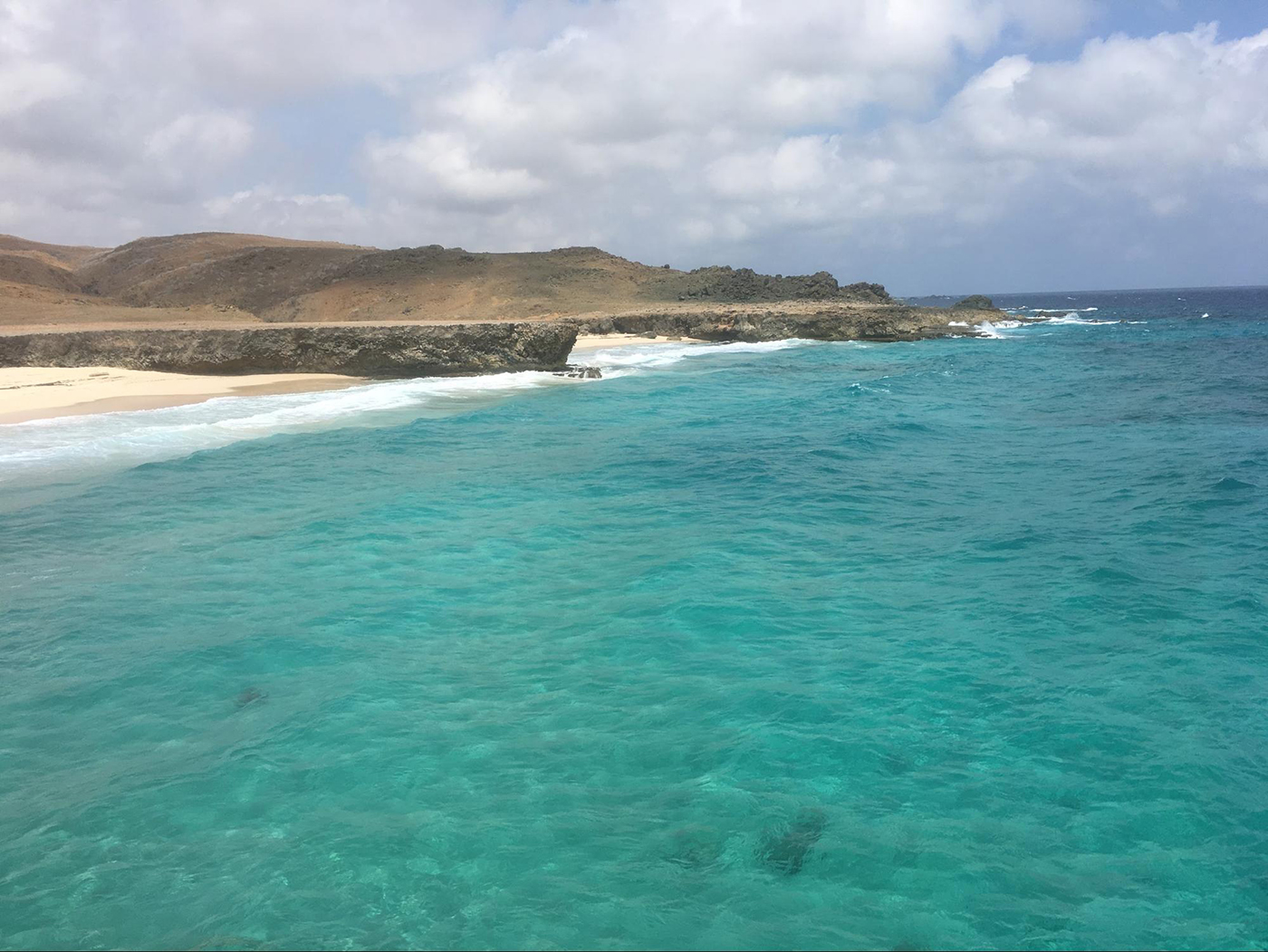 Play a game.
Our resort had a grown-up playground full of beach games — shuffleboard, ping-pong, bocce and gigantic checkers, just to name a few. If those don't quite torch enough calories to justify that extra piña colada, grab a partner for a game of beach tennis. This hybrid of tennis and beach volleyball is played with a stringless racket called a paddle bat. Rules forbid the ball from bouncing, so you'll have to move swiftly to keep it in play. Take a lesson or watch a tournament at Beach Tennis Aruba, on MooMba Beach. Thirsty afterward? Rehydrate at nearby Hadicurari Restaurant or MooMba Beach Restaurant & Bar, which both offer happy-hour specials and spectacular sunset views.
Have you been to Aruba — or another Caribbean island? What was your favorite active adventure?