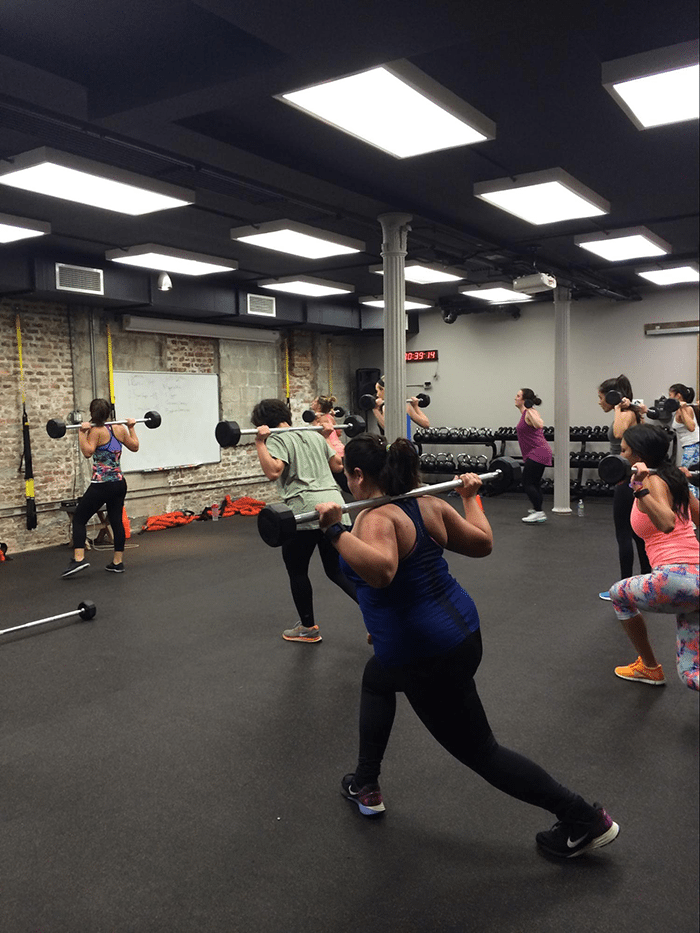 [email protected] Fitness (read it as you like – it's a 55 minute boot camp, and it will also kick your ass) just opened one of Chicago's newest group fitness gyms, which now houses an already established fitness following. Located on Hubbard Street in River North, this gym's simple setup is deceiving; it will no doubt be one of the more humbling 55 minutes you spend.
There are no breaks, although you are encouraged to rest when needed. The amount that [email protected] instructors can fit into a class format is truly impressive. The whole goal, as owner Rebecca Gahan says, is for 55 minutes with them to be your hardest workout ever – operative word being your. That means you get to decide how hard you want to work, but while that devilish red timer is counting down from 55 to 1 in the corner of the room, you're all theirs, and they're doing everything they can to ensure that not a second goes to waste.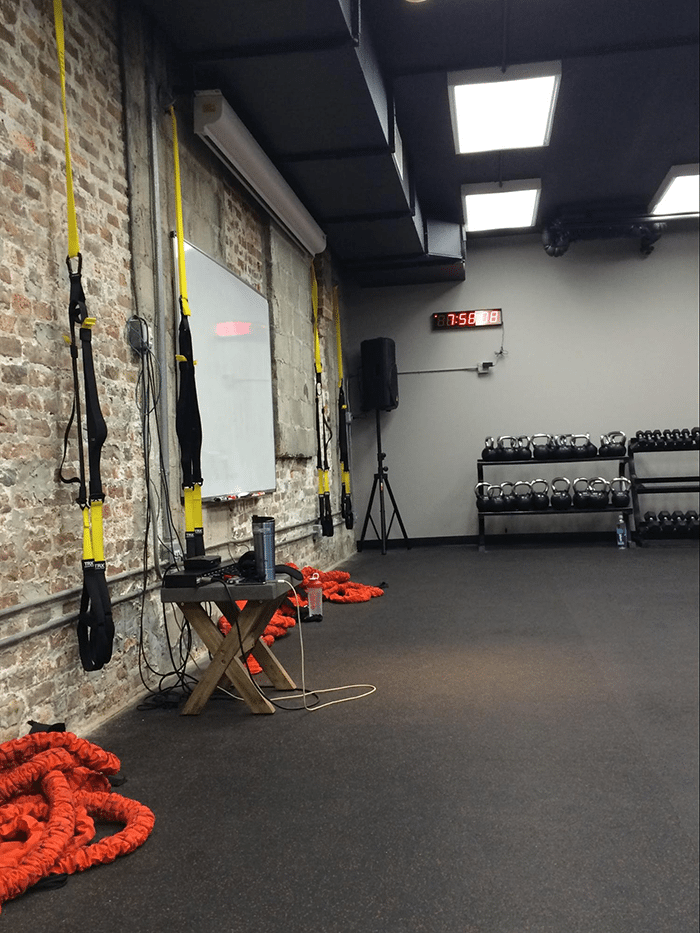 Gahan became interested in personal training when, after having children and working hard to return back to normal weight, she decided she could help other women going through a similar experience. Personal training turned into boot camps made up of Gahan's friends and their friends during holidays and summer vacations. Those boot camps turned into regular weekly classes in a rented space inside another gym. The number of weekly classes grew in size and number over the course of two years, until she began looking for and eventually opening up her own space on January 2nd, 2016. The new [email protected] Fitness studio now has twice the classes and at least twice the patrons.
And when you hear how this gym came to be, it makes all the sense in the world. Because when you walk in, you're made to feel as though you've known everyone and everyone has known you forever.
"When people come in, it feels like a home. Everybody there is there for the same reason. And the physical space is circular so it brings everybody together," Gahan said.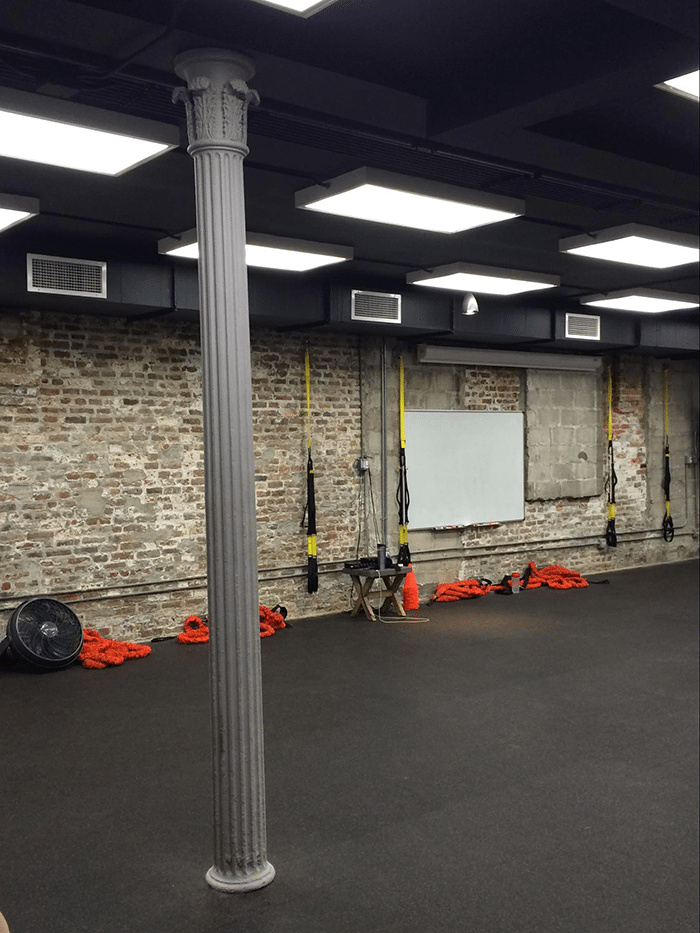 Only now that they're in their own space, they have more toys to play with. TRX bands, accelerators, monkey bars, barbells and kettlebells are all inevitably going to be a part of your workout. An interesting element about the gym is its choice for mirrors – there are none. It fosters a community of working hard simply for yourself and nobody else. And don't worry, there are plenty of seasoned athletes who can help out with form if you have questions about what something should look like.
I've always been impressed with the way the team of instructors uses the equipment. They take more traditional moves and bump them up a notch (or 30). When I asked Gahan what her secret was, she replied that she gets her moves by trying them all herself first. When no one is in the gym, she plays around with all the equipment until she figures something out she hasn't seen before.
"I go in with the mindset of hardest workout possible," Gahan said, "and I ask myself, 'how can I get people in even better shape?'"
A theme you'll find in a lot of classes is using heavier weights to increase the heart rate. As Rebecca said to me, using a 40-pound barbell to do timed drills of front squats and back squats with cardio intermixed is hard! Even very strength-focused moves have the power to get your heart rate up and get you sweating.
But when I asked Gahan what her favorite exercise is currently, it was a no-brainer: pull-ups.
"Everyone needs to know how to do them. And there's something empowering about being able to pull your entire bodyweight up," she said.
Should you choose to check it out, you'll leave with a feeling of intense accomplishment for making it through (despite maybe blacking out during a few of those precious minutes). When it comes down to the final 10 seconds of work, no matter what everyone is doing, you're encouraged to count down with the timer until the clock runs out. In those final seconds, everyone gives any little extra bit they have left. And when it's over, even though you're completely wiped out, you can't help but smile (evidenced by a post-workout photo below).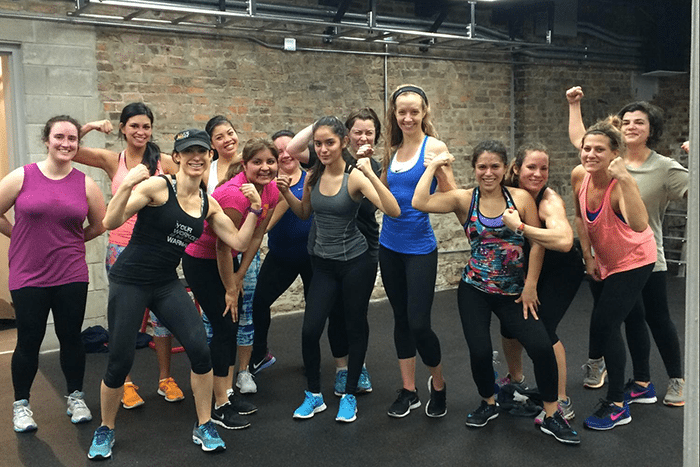 Let us know!
Did this post help you get closer to achieving one of your goals?