Halo Top Ice Cream Just Won Summer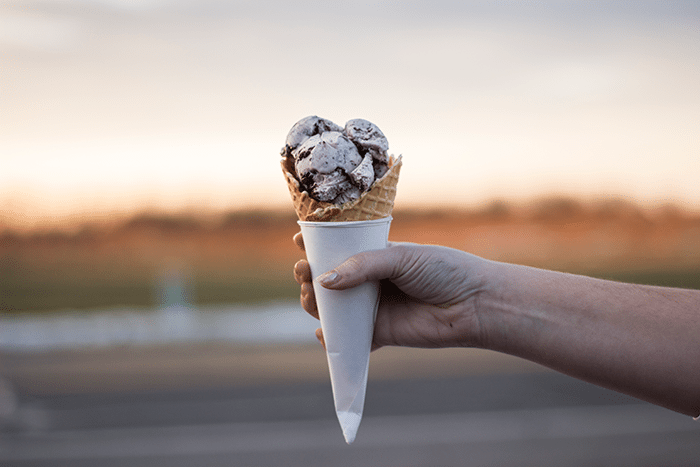 Growing up, stopping at our local ice cream shop, Graeter's, was a weekly after-school occurrence. With my Cookies and Cream and rainbow sprinkles (in a cup, please), my sister and I would bask in the sunshine, our uncomfortable Catholic school uniforms forgotten in our sugar rush.
Now, stopping at Graeter's is still a must-do anytime I'm home, and they even sell it by the pint in a few Chicago grocery stores. However, I've branched out in my ice cream explorations since leaving Lexington. Annette's in Lincoln Park has a special place in my heart, as does Cone and its cones made out of Oreos in the West Loop. I've even attempted to tackle an ice cream challenge called the Kitchen Sink that I saw featured on the Food Network. It made me cry twice in one sitting – once when it came out and I saw how beautiful it was, and once when I realized how incredibly sick I felt and that I wasn't even going to come close to finishing the sundae. Seven softball sized scoops of ice cream is about 6.5 more than my body can realistically handle.
In summer months, nothing sounds as nostalgically delicious as a scoop of ice cream on a warm day. And even though we're "everything in moderation" people, the amount of sugar in ice cream is hard to ignore, especially when my old age has made my body more resistant to sugar than I'd care to admit.
Halo Top Ice Cream is billed as the low sugar, low calorie, high protein ice cream that's not the hero we deserve, but the hero we need. Each pint has around 240 calories – read that again. Each PINT has around 240 calories. Not each serving size. Each PINT. (Each pint also has around four servings, if you're one of those weird humans who can stick to suggested serving sizes).
This ice cream is also low in carbs and low fat, and each pint (last time, I swear) has around 24 grams of protein. Halo Top comes in several amazing flavors that I will be trying before summer ends:
Vanilla
Chocolate
Strawberry
Birthday Cake
Lemon Cake
Mint Chip
Chocolate Mocha Chip
How do they do it? Here's the scoop: Halo Top uses organic stevia as a natural sweetener. They also use erythritol, which is another natural sweetener found in some fruits (warning – Erythritol is technically a sugar alcohol, although it doesn't affect blood glucose or bloating. However, if you're sensitive to those, maybe wait before buying a pint of each flavor to make sure your stomach can handle it).
I've done the taste testing of a couple of flavors myself, and I'm in love enough to envision myself eating Halo Top on a near-daily basis – as an evening snack, after a hot and sweaty run or Hardpressed when I need protein LIKERIGHTNOW, and maybe even smothered on top of GU's new Stroop Wafel pre-workout. I may even drag out the old blender and make a milkshake with vanilla almond milk.
The possibilities are endless, but one thing's for sure- the summer tradition of ice cream just got a healthier option.
Find where you can buy Halo Top here.