How to be a Healthy Wedding Guest This Summer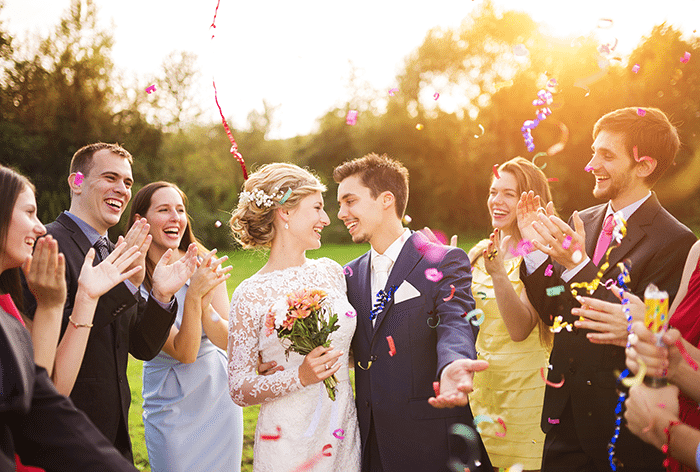 If you're trying to maintain an active, healthy lifestyle, you probably adore summer for the abundance of outdoor activities, fresh fruit, and how amazing a smoothie bowl tastes on a 90-degree day.
However, a lot of us are at the age where summer weekends are reserved for one thing: weddings. You're likely to attend more than one wedding (I know friends who have up to 7 from Memorial Day to labor Day), and the decadent food, limitless booze, and of course, wedding cake can make for an overindulgent Saturday.
Plus, that previously stated limitless booze can cause crippling hangovers on Sundays, leading to a Game of Thrones marathon overruling your previous plans of long runs on the lakefront. Not that we speak from experience or anything.
Once a summer, this celebratory weekend is no big deal – after all, it's a special occasion, and you don't want to deny yourself any of the pleasures that go along with weddings. However, if you've got several weddings in one summer, overindulging regularly can wreck your healthy habits and make it even harder to get back on track during the week.
Here's a better idea: get into the habit of making healthy decisions early on in wedding season, so it doesn't become a free-for-all once the bride and groom walk down the aisle. Here are a few of our favorite healthy wedding tips to get you started.
Work Out the Morning of the Wedding
Make a point to get up and get a sweat going before you have to start getting ready for the festivities. Even if it's just a long walk or a quick 20-minute at home bodyweight workout, you'll feel better for having done it and you'll be more motivated to make healthier choices the rest of the day (or not, in which case, whatever, you worked out).
Don't Go to the Reception on an Empty Stomach
I know, blasphemy, right? You probably think that starving yourself all day means you have more room to eat the yummy stuff at the reception. Au contraire, my friends. If you go that route, you'll end up overeating (which is NOT comfortable when it's time to hit the dance floor later).
Instead, about an hour before the reception, eat a decent-sized snack – maybe an apple with peanut butter, a smoothie with protein powder, or some Greek yogurt with berries. Then, enjoy a couple of bites of everything instead of filling your plate to the brim and piling more on your bread plate. You'll get to try everything without stuffing yourself.
Make Your Plate Veggie Heavy
Here's a rule of thumb: make at least half your plate veggies, one-fourth protein, and one-fourth carbs.
If the wedding has a cocktail hour, choose your appetizers wisely. Wait to see everything on those little silver platters go past you, and then decide what you REALLY want to eat.
Booze Wisely
Alcohol is great. It makes you the funniest person around, the best dancer on the dance floor, and we wouldn't have 95 percent of the amazing photo booth pictures that you see the day after a wedding without it.
But, the ugly truth is that alcohol has calories. A glass of champagne has about 84 calories. A light beer has about 100, and red wine has about 125. Your best bet? Seltzer water with a splash of liquor, flavored with lemon, lime, or a splash of juice. Keep in mind that the more you drink, the more your inhibitions are lowered, which can make that late night Dimo's sound like a much better idea than it would stone cold sober.
Bust a Move
In my humble opinion, one of the signs of a really amazing wedding is waking up the next morning barely able to move because you danced so much. Aim for that the night of, and tear up the dance floor with all of your friends. Don't forget to SnapChat everything.
How do you stay healthy at weddings?
Let us know!
Did this post help you get closer to achieving one of your goals?