Tree Climbing With EarthJOY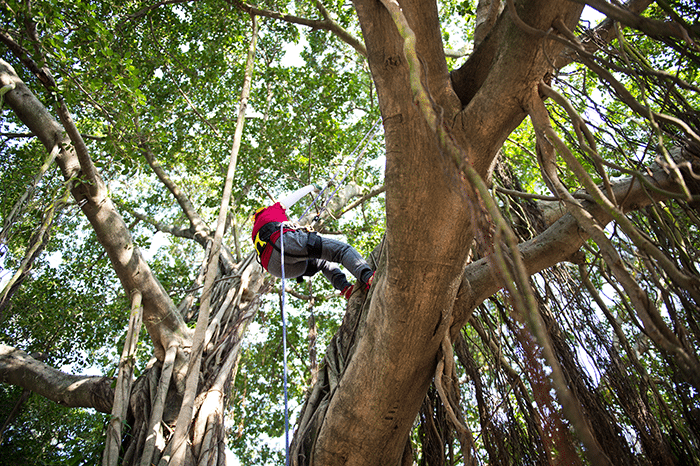 If you're going to be in the northern Kentucky area anytime soon, channel your inner child and climb a tree. EarthJOY provides several different tree climbing experiences for fitness and outdoor lovers looking for something different to do.
Since I was new to it, I signed up for the beginner session that takes place at AJ Jolly Park in Alexandria, Ky., just outside of Cincinnati. I quickly found out that the tree climbing done here isn't exactly like the scrambling from branch to branch that occurred when I was a kid.
Walking up to the tree, I saw several ropes hanging from the branches. All I had to do was put on a helmet and harness, clip in (with the assistance of an EarthJOY staff member) and inch my way up the rope, which was more strenuous than I anticipated.
There were two ropes involved for each climb, or route. One rope was the support, so to speak, allowing for the second rope's knots to be continually inched upwards.
One of the knots on the second rope had a loop at the end of it to stand up on. To ascend, I moved the lower knot up, put my foot into the loop and stood up. The top knot was then inched higher to straighten out the slack that was created. Then, I just kept alternating between moving the knots and standing on the loop until I was as high into the tree as I wanted to be. Or, more accurately, as high as I could be. The highest point was 75 feet, but I only made it about 15 – 20 feet off the ground.
While in the air, we were encouraged to sit back in the harness and chill out, swing back and forth, and hang out on a branch or in the hammock that's already in place. I even saw one person descend upside down. That was done under a staff member's supervision, of course.
The session was an hour and a half long, but I could have been done after a half hour. Pulling my body up by grabbing on to the rope, as well as pushing down onto the loop with one foot took a lot energy and strength. I immediately knew I wasn't going to last long.
I didn't want to be a total wimp though, so I climbed a couple of routes, but only after a few minutes of rest on the ground in between. To come down, a staff member held the hanging rope, while I grabbed both knots and slowly slid down. That was definitely the easiest part.
By the end of the session, which was a self imposed half hour early, I was exhausted, sore and hungry. All signs that climbing with EarthJOY was time well spent.
EarthJOY also offers intermediate and advanced tree climbing courses that teach knot tying, tree to tree transfers and other skills necessary to teach tree climbing yourself. They also offer a Women's Warrior Program, stays in a TreeHOUSE and overnight climbs.